ACLU Filing Lawsuit In Wisconsin Seeking Marriage Equality
"Wisconsin's discriminatory exclusion of same-sex couples from marriage does not serve any compelling, important, or even legitimate government interest," the lawsuit argues.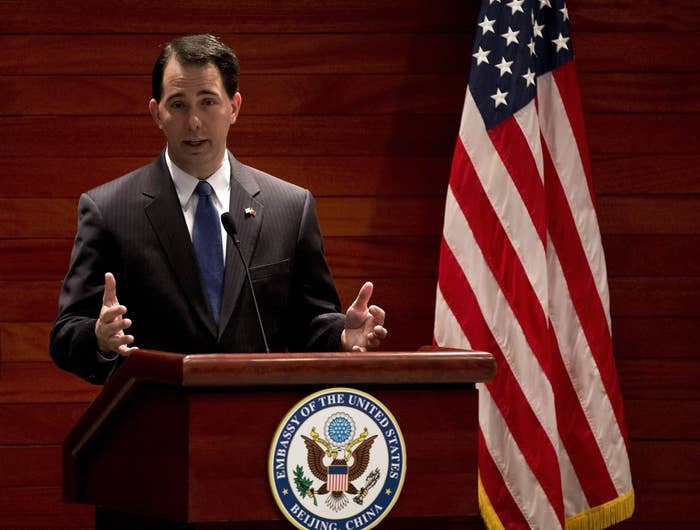 WASHINGTON — The American Civil Liberties Union is going to federal court Monday in Wisconsin, suing Gov. Scott Walker and other officials to secure marriage rights for same-sex couples there.
Challenging the state's marriage amendment, similar to those in other states, the lawsuit also challenges another provision of Wisconsin law — a "marriage evasion law" — which makes it a crime "to leave the state to contract a marriage that is prohibited or void" in Wisconsin, per the lawsuit.
The lead plaintiffs in the lawsuit, Virginia Wolf and Carol Schumacher, married in Minnesota. The lawsuit details the problems they face from these laws now, following the federal government's actions since June 2013 to begin providing benefits to married same-sex couples. According to the lawsuit, a copy of which was provided to BuzzFeed:
By solemnizing their love and commitment in a state that acknowledges the dignity of their relationship, Carol Schumacher and Virginia Wolf risk criminal prosecution in their home state. The unmarried Plaintiffs are forced to choose between the risk of prosecution and foregoing access to any federal spousal protections. Once again, Wisconsin has no justification for this treatment other than Plaintiffs' sexual orientation and sex.
The lawsuit alleges that the state's marriage ban violates due process protections because it limits the right to marry and equal protection based on sexual orientation and gender discrimination.
Mayer Brown is co-counsel with the ACLU and ACLU of Wisconsin in the case, Virginia Wolf et al. v. Scott Walker et al. The case is the first federal case that would be heard by the 7th Circuit Court of Appeals, which includes federal courts in Indiana, Illinois, and Wisconsin. Mayer Brown partner Hans Germann and two associates at the firm, including a former clerk to 7th Circuit Judge Frank Easterbook, are working on the case.