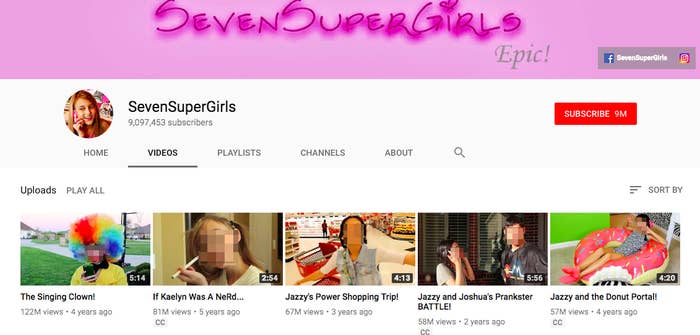 For weeks now, SevenAwesomeKids, part of one of YouTube's biggest and most active tween/teen girl channel networks, has been suspiciously dormant. The reason: Its owner and proprietor, Ian Rylett, was arrested this August in Florida for "lewd and lascivious molestation" involving one of the young girls who makes videos for his channels.
According to an arrest warrant obtained by BuzzFeed News, detectives were called to Rylett's Orange County hotel room on the morning of Aug. 16, after Rylett allegedly verbally abused the girl, demanding she undress in front of him against her will and "practice wrapping her breasts down, to make them appear smaller for the video shoot." According to the report, the girl, who is under 16, claims Rylett touched her breasts and fondled her while repeatedly making her undress, eventually attempting to forcefully remove her underwear. The arrest report also alleges that Rylett "threatened to use the contract to fine her if she did not comply with his demand." Rylett pleaded not guilty to the charges at an arraignment last month. He has surrendered his passport and will stand trial later this year. Rylett's lawyer did not respond to requests for comment.
Rylett's channel remains live on YouTube; the streaming video company learned of his arrest in mid-August.
Rylett, a 55-year-old who resides in the United Kingdom, is one of the founders of the SevenAwesomeKids brand. Established in 2008, the franchise boasts a collective 17 million subscribers over seven channels, including SevenPerfectAngels, SevenFabulousTeens, and SevenTwinklingTweens. The largest channel — SevenSuperGirls — currently has roughly 9 million subscribers and 5 billion views. Each features daily videos from a rotating stable of more than 20 young girls, ranging from 8 to 18 years old. Rylett pays them a monthly salary in exchange for filming videos he directs.
Rylett's arrest is the latest in a series of unsettling revelations involving YouTube content aimed at teens and young children. In 2017, after public outcry, YouTube began cracking down on the child exploitation videos it was hosting, many depicting young kids in disturbing and abusive situations, all with millions of views.
While the videos featured on Rylett's SevenAwesomeKids channels appear innocuous, the allegations against him raise questions about the safety of underage vloggers on YouTube and whether the company — which profits from advertising sold against the videos — is doing enough to protect its most vulnerable talent from exploitation.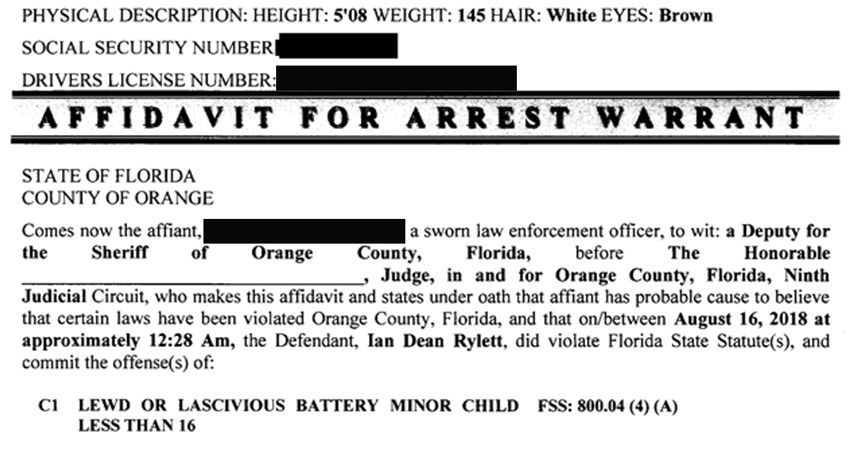 A number of young women who previously starred in Rylett's videos told BuzzFeed News they were frustrated by the platform's lack of oversight. "I was telling my mom two years ago that, if this was a real entertainment business — you know, with rules — I'd report him in an instant," one said. "But I can't because there's nobody here to help me."
YouTube's handling of Rylett's channels in the wake of his arrest was largely cursory. The company told BuzzFeed News it demonetized SevenAwesomeKids shortly after Rylett's arrest in August, but there's no evidence that the platform reached out to any of the teen girls and young women involved following the incident.
"We take safety on YouTube very seriously. We work closely with leading child safety organizations and others in our industry to protect young people. When we're made aware of serious allegations of this nature we take action, which may include suspending monetization, or, upon conclusion of an investigation, terminating the channel," a YouTube spokesperson told BuzzFeed News in a statement. The company offered no further detail beyond a pointer to its tool for flagging abusive content.
None of the former performers on the SevenAwesomeKids network who spoke with BuzzFeed News said that Rylett abused or assaulted them. They did, however, describe a pattern of "awkward" behavior that many said made them uncomfortable. Two former SevenAwesomeKids girls told BuzzFeed News that Rylett frequently pressured them to wear smaller swimsuits on camera. One said that Rylett asked that she send him sizing photos for each new bathing suit she planned to wear in her videos. Rylett, she said, told her it was for "sponsor approval" and requested numerous front, back, and side photos. Two former performers recalled that Rylett frequently made girls uncomfortable with jokes about "wardrobe malfunctions" when he would accompany the girls on group trips to shoot videos. One former SevenAwesomeKids girl noted "constant pressure to make myself look younger."
"On trips we used to joke about him being creepy, but we never thought he'd act on it," another said.

Three former SevenAwesomeKids girls told BuzzFeed News that they became concerned about the channel in June 2017 when comedian Daniel Tosh devoted a segment to SevenAwesomeKids' channels on his show Tosh.0. Tosh's segment focused on the over 12 billion views going to the tween channels and suggested the channel was being viewed by creeps and child molesters.
"Then some of us started to get the feeling we were being groomed for some darker audience," a former SevenAwesomeKids performer said. "Things that didn't feel weird at the time — like the themes, the leotards, and the camera angles — started to feel strange. I started to get that feeling especially when you think that some of these girls are 9 years old."
Rylett, according to multiple young women who worked for him, often used the size and popularity of his channels to steer their behavior. Two alleged that Rylett didn't allow the girls to talk to each other online in channels unless he was present. "His reactions were out of proportion and manipulative," one former actor told BuzzFeed News. And though he created a parents committee to steward the young talent, Rylett also wielded authority over a number of the adults, according to one SevenAwesomeKids vlogger. "Parents had no power," the former vlogger told BuzzFeed News. "[It was] all Ian."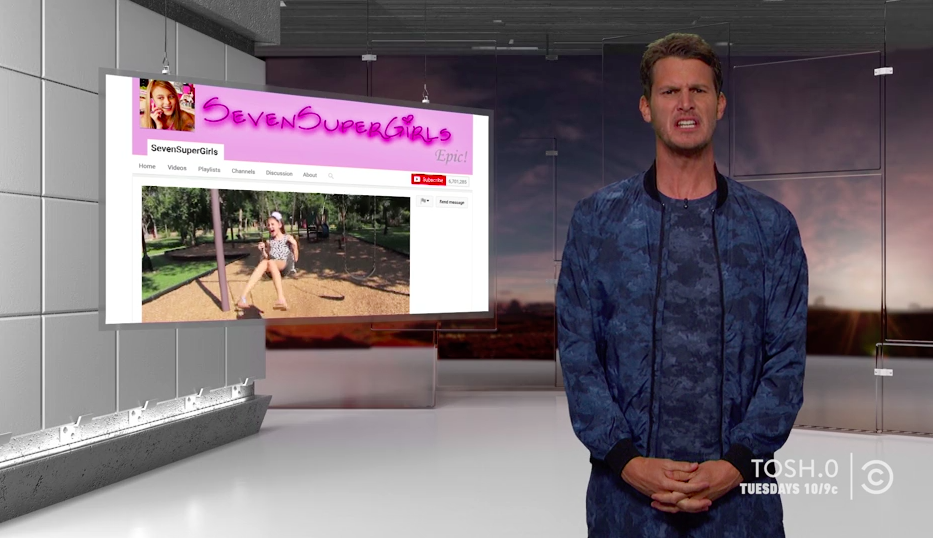 "He'd talk to our parents and tell them to yell at us; he'd threaten to take our videos down; his language was so hostile and the way he talked about the girls' bodies, clothes, and makeup," she said. "It was scarring — you have to understand, these are 12, 13, 14-year-old girls he's doing this to." Another SevenAwesomeKids vlogger said Rylett often dealt directly with the younger girls himself, outside of the view of parents. "A lot of parents early on didn't understand or know what YouTube really was and they weren't really involved. My parents would've flipped out if I told them how Ian behaved, but I was so in love with YouTube I didn't want to freak them out."
Two former SevenAwesomeKids vloggers told BuzzFeed News that Rylett often "dangled the carrot" of promoting girls to one of his more popular channels. "He was in charge and dictating the lives of so many lives and families," one former employee said. Two former performers told BuzzFeed News that Rylett would pressure the girls to spend their money on expensive set equipment and lights, suggesting that if they did, they might be given a coveted spot on SevenSuperGirls — Rylett's most popular channel. "We were being mistreated so much, but we stayed because we were told it'd be good for our careers and we were making so much money," one former channel performer said.
The SevenAwesomeKids network was lucrative for Rylett. One former performer told BuzzFeed News the average monthly paycheck for appearing on a top channel was about $20,000. But two former channel actors alleged that Rylett was cryptic about finances. "When we inquired about revenue split, he didn't return our emails — we just got a check that varied each month," one former SevenAwesomeKids girls said. Another former associate told a similar story. "It was always very shady — he once changed my cut without telling me and he never told people how much money was coming from sponsorships and royalties. It felt like he was taking a lot more from the girls than he said he was. There are plenty of girls who did the work and aren't getting paid now because of this mess," the former associate said. "It's another example of how YouTube isn't doing anything for us — I've contacted them and heard nothing back."
And as many of Rylett's former actors process the shock of his arrest, they're left questioning the system that enabled his SevenAwesomeKids franchise. "With a place like YouTube, there were just no regulations or protections," one former SevenAwesomeKids girl told BuzzFeed News. Another girl said she'd contacted YouTube with concerns about SevenAwesomeKids' gymnastics channel, which was taken down shortly before Rylett's arrest for violating YouTube's rules. "YouTube's responses were not satisfactory," she said. "I think it was like barely three sentences with no real information."
Across many legacy branches of the entertainment industry, unions like SAG-AFTRA offer formalized protections, including negotiating terms on wages and working conditions. Organizations like SAG-AFTRA also offer resources to young actors for education, work permits, and outside benefits like the Actor's Fund, which can help provide financial and mental health services, like addiction and recovery facilities.
"In all my years filming for the channels, there was never any conversation with YouTube. There was no kid rep support that I know of and no number to call to report things to," another former SevenAwesomeKids said. "We were on our own."
Danny Fratella contributed reporting to this story.