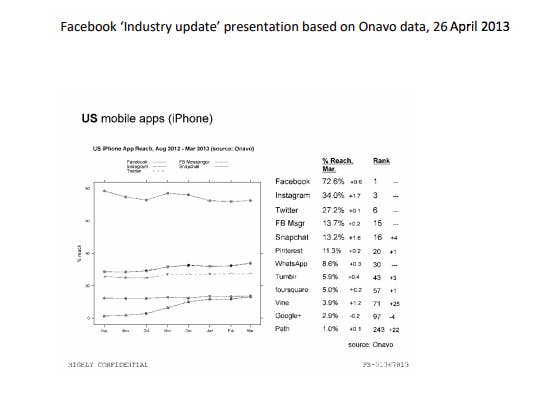 In February 2014, Facebook purchased the messaging service WhatsApp for $19 billion. The acquisition price was staggering for an app that made little money and was largely popular outside the United States.
Now, newly published confidential Facebook emails and charts show exactly why CEO Mark Zuckerberg spent a small fortune for the messaging app. For months, the company had been tracking WhatsApp obsessively using Onavo, a VPN and data analytics app, whose data showed that the messaging app was not just a rising competitor, but a potential Facebook killer.
The "highly confidential" charts — part of a trove of documents released today by the United Kingdom's digital, culture, media, and sport (DCMS) parliamentary committee — show WhatsApp was a growing juggernaut in the messaging app wars of the early 2010s.
The previously sealed documents, obtained by the DCMS committee from an app developer who is currently suing Facebook in a California court, shed light on a variety of previously unknown-to-the-public practices used by the social network between 2012 and 2015, including providing favorable, whitelisted access to user data to large app partners. The emails and papers, obtained by the plaintiff in legal discovery, also show that Zuckerberg once considered charging developers for access to user data, though that policy was never implemented.
While Facebook (and then newly Facebook-acquired Instagram) topped Onavo's US mobile apps charts for iPhone, WhatsApp was growing steadily in its percentage of market reach, beating out popular mobile apps including Tumblr, Foursquare, Vine, and Google+, while encroaching on Pinterest.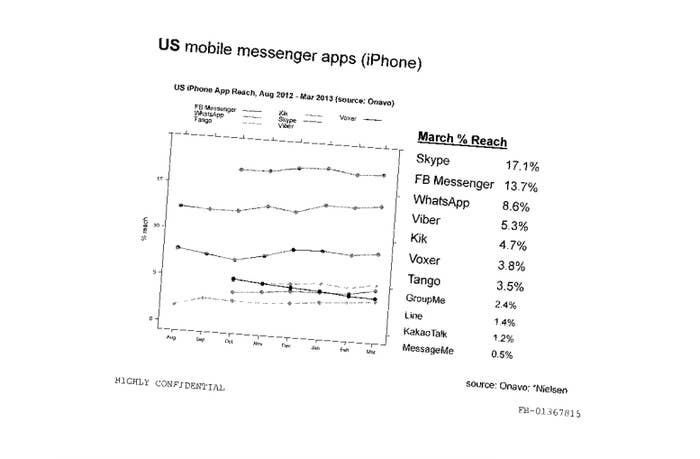 More importantly, though, Onavo data from April 2013 showed that WhatsApp was heavily outpacing Facebook Messenger on mobile in certain areas. Another newly released confidential chart shows that WhatsApp was sending 8.2 billion messages a day compared to Facebook Messenger's (on mobile) 3.5 billion.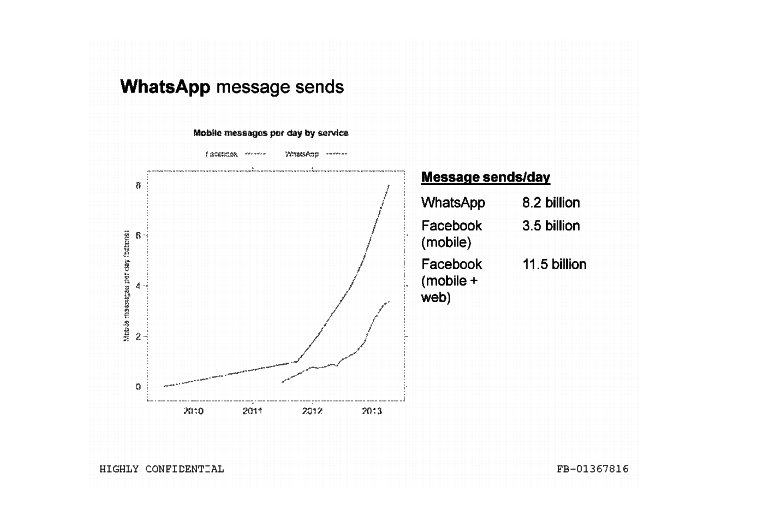 Similarly, Onavo usage engagement charts from Facebook showed WhatsApp surpassing Facebook Messenger in engagement time.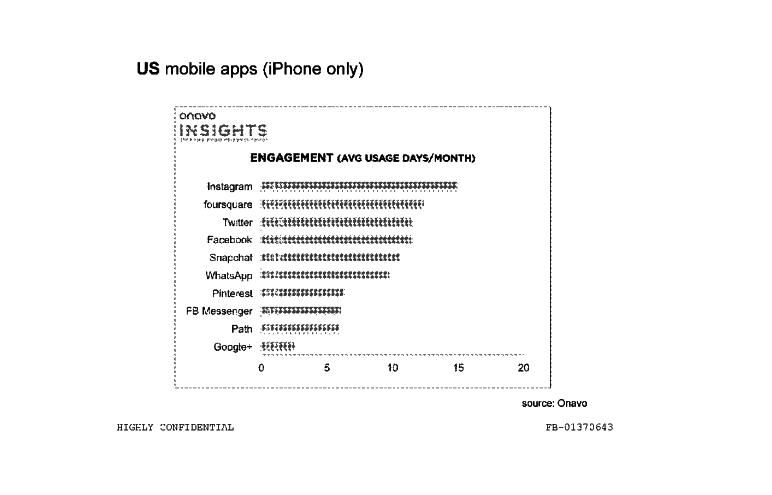 WhatsApp's rise came at a crucial moment — just as Facebook was fully realizing its ambitions as a mobile-first company and making messaging a core service. WhatsApp was quickly demonstrating that it could compete with Facebook on its most important battleground.
Moreover, WhatsApp — which lacked the market reach of Facebook — was drawing from the same pool of limited attention. And with the rise of other messaging apps like WeChat, Kik, Line, and Viber, which all showed promising signs of growth (especially in markets like Asia), Facebook saw both vulnerability and opportunity in WhatsApp.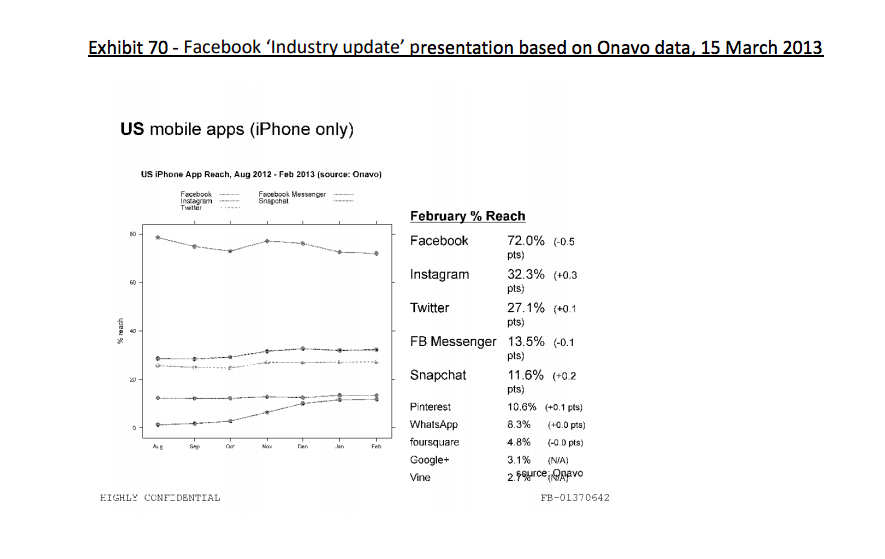 And in Facebook, Onavo saw an opportunity of its own. The company, which started out as a data compression and VPN outfit, quickly proved its value as a data analytics provider, tracking app usage across hundreds of thousands of devices.
In identifying mobile usage trends, Onavo became a crucial tool for Facebook to survey its competition. The only issue? The data wasn't exclusive to Facebook. But that all changed in October 2013, when Facebook purchased Onavo for $100 million.
By acquiring Onavo and turning it into a private tool, the company took away one of the best avenues for understanding mobile trends outside of Facebook's ecosystem. The social network was then free to track app usage and trends even at very early stages. If a potential Facebook killer was on the rise, Facebook could hypothetically spot it before anyone else.
Five months later, in February of 2014, Facebook acquired WhatsApp.