When "Recommendations" Go Too Far
Tech companies think they know what you want, and they're going to give it to you. And, dammit, you're going to like it.
At some point during the past few days, Spotify officially killed its "What's New" tab, an all-purpose hub for new music and a staple of the streaming music service. As a paying user for nearly two years, I was particularly disheartened to find a favorite feature gone with little warning.
I wasn't alone. On Twitter, a number of people I follow expressed their frustration with Spotify's new recommendation engine, and the company's community message board is littered with user comments like this:
I don't care what people that follow me listen too [sic] ... I want to pick the NEW stuff I want to choose not what YOU think I want to listen too [sic] ...

So you are saying there will never be a place where you are going to highlight new music? New Artist? We will never get to see who is new out there again? You are going to push all of us that are looking for that over to iTunes now ... not gonna' happen here, I don't do iTunes -- that is why I came to and paid for Spotify ...
Yet despite very concrete requests from real, paying customers, Spotify still has "no plans to bring back the 'What's New' page."
Like I said, I'm a big fan of Spotify, and the service has completely transformed the way I listen to music. For a cool 10 bucks a month, I've virtually stopped buying songs off of iTunes — I'd just fallen into the habit of browsing the "What's New" tab each week for new albums. I'd sample a few songs and throw one or two full albums into their own playlist every Tuesday. The "What's New" tab allowed me to "discover" new music in the truest sense of the word.
Executed perfectly, a good discovery or recommendation system mimics a trusted, like-minded friend — a reliable and tasteful arbiter, who chooses to share something with you. If it works, the process should be exciting and, just maybe might make you feel slightly "cool."
Spotify's recommendation engine, on the other hand, seems to have nearly the complete opposite effect. Rather than a trusted friend, it appears as series of nagging, desperate, even manic attempts to sell to you. "You listened to Japandroids. Want to catch a live show?" "People who listen to Justin Timberlake are also listening to Jay-Z." "You listened to Classixx. You might like this song." "You haven't listened to Macklemore in a while. Play now?" "Play now?" "PLAY NOW?"
What used to be an effective, natural way to find new music has been replaced by a series of recommendation algorithms, driven in large part by the proclivities of my Facebook friends, an outdated social graph that I rarely maintain. In this instance, it would appear that the "Discover" tab, which has more faith in my online social connections than I do, has killed organic discovery.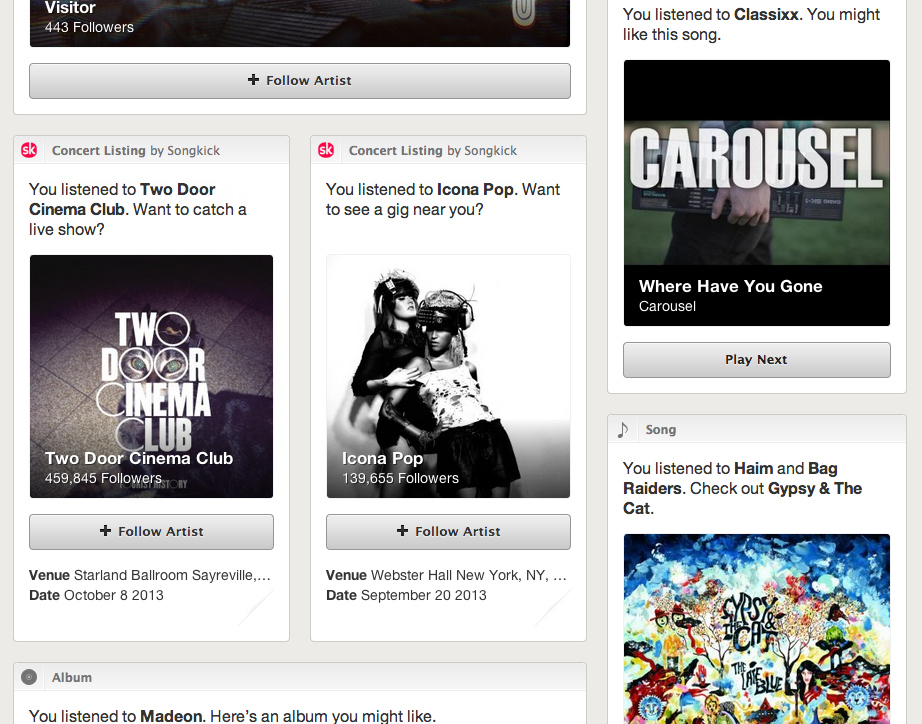 Just like the avalanche of increasingly specific notifications geared toward increasing engagement and interest, companies are looking to "expose" users to new, more "relevant content." We didn't ask for it, but they don't seem to care.
Recommendations have become a staple of nearly every social site, and some are pretty good. Twitter, a network that lends itself to following people you may not know, often serves up smart, relevant recommendations. Facebook's suggestions are often spot-on, but intrusive. (Do you know this person? The answer is almost always yes, but there's usually a reason why you're not friends.) It's different for each site, and there's a fine line between providing a smart, useful service and being a pest.
It makes sense, though, to hear Spotify explain it. "Discovering your content is going to be easy for the user," it reads on the company's developer and premium partner page. "Users will continuously be matched with relevant content, which in turn will generate a lot of exposure and interest around your brand and product." It goes on to recommend you read the following words: "Spotify is the place where friends, artists, trendsetters, editors and experts come together to listen to music. It's quite simply the best place on earth to discover and enjoy music. And a great place for your brand [emphasis added]."
Recommendation can be cumbersome and inefficient, but for a service like Spotify, it's good business. Exposing users to new music means that more artists get heard and — more importantly — it provides incentives for partners to advertise through the feature.
A company spokesman for Spotify hinted at a fix to the problem to BuzzFeed, noting, "We're constantly listening to user feedback to improve the service and music discovery in general. We're currently looking to integrate a better way of showing new releases into the new Discover tab."
One thing is clear, though: that "Discover," like the myriad other recommendation engines across the web, is here to stay. As the service continues to collect your data, Spotify's engine will presumably get better, just as others have. But when it comes to real discovery, there's still no good substitute for the feeling of poking around and finding a hidden gem on your own.
Update: Spotify's project manager tweeted Friday afternoon in response BuzzFeed's story that the company plans to bring back its new releases. "We've heard our users loud and clear, and definitely plan on bringing back new releases to Spotify."