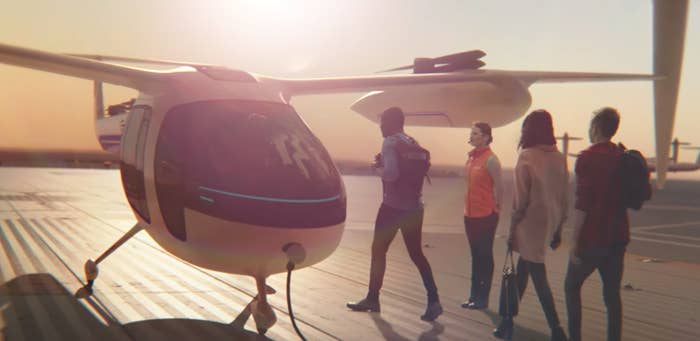 At its Uber Elevate conference today, the ride-hail company unveiled a prototype of its next big bet: an electric air taxi that it plans to launch some trial runs as early as 2020 and have full rollouts in Los Angeles and Dallas in five years.
Yet as futuristic as it sounds, the Uber Air project remains — at this point — still in its conceptual phase. Uber, for one, acknowledges in its white paper (written in October 2016) that it has a way to go and that events like this week's Elevate conference, where it will convene innovators alongside regulators, are steps forward.
As such — and as is often the case with Uber — there are bound to be a number of massive political and policy hurdles in a plan that attempts to change cities' transportation infrastructure. While others like the Larry Page–backed autonomous taxi company Kitty Hawk are making fast advances in the air taxi space, much of the logistical work of reshaping air travel in cities has only just begun.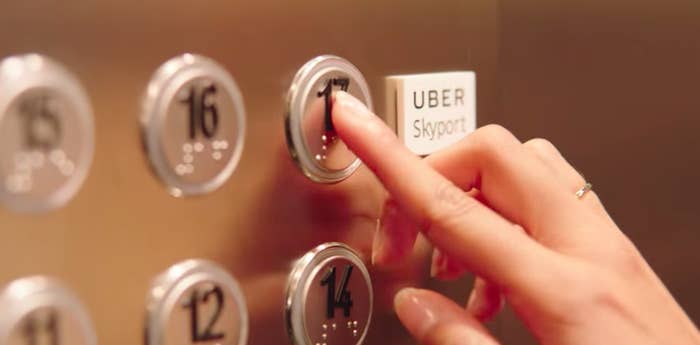 At its most basic, Uber Air is a flying taxi that looks a lot like a drone. The prototype concept revealed on Tuesday holds four riders per vehicle and operates in a carpool style (which theoretically keeps prices down). A short concept video on its website details the potential hailing process: A rider books the Uber Air inside the app, heads to a building rooftop that has an Uber skyport, and scans into the facility using the app. Once there, the rider is transported to the nearest skyport to their endpoint and arranges "last mile" transport to their final destination.
Lost in Tuesday's announcement are details of Uber's actual role. According to the company's white paper on its air taxis, Uber won't look to launch the nascent air taxi industry all by itself but will act as an intermediary to help bring the new transportation industry to life. "We instead look to collaborate with vehicle developers, regulators, city and national governments, and other community stakeholders, while bringing to the table a very fertile market of excited consumers and a clear vehicle and operations use case," the white paper reads.
Countless logistical questions remain (air traffic control systems, battery life, pilot and aircraft certifications, city ordinances, to name a few) including just how convenient the early iterations of Uber Air might be. Uber acknowledges that it's still in its early days for the project but that since producing its white paper, the company has made a number of strides, including partnerships with NASA and R&D branches of the US Army, as well as a plan for "open collaborative design" concepts for the taxis.

Still, it's easy to imagine a lack of available rooftops, which could cause riders to travel to remote and clogged skyports, for instance. And those looking to travel from the cities to their homes could easily find themselves taxiing to a suburban skyport only to then require transportation from the skyport to their homes — at an additional cost.
And then there's the issue of who will be able to afford it. Currently, Uber suggests that its carpooled air taxi will be priced similarly to an UberX trip of comparable mileage (in one example, the company estimates that a 55-mile Air ride from San Francisco to San Jose will cost $129; an Uber X, which the company estimates would take 90 minutes longer, would cost $111).
The company suggests that "as ridesharing prices on the ground decline with advancements in self-driving technology, our analysis indicates that [Air] pricing will decrease even more steeply." Ultimately, the company hopes the same Air trip from San Francisco to San Jose could be as low as $20.
That's a big hope, especially given the early stages of the project.