Twitter Users Are Furious At New Breaking News Alerts
"You've been marked as spam and blocked."
Twitter has recently been experimenting with breaking news alerts, pushing news tweets out to thousands of unsuspecting users. What sounds like an obvious boon for both Twitter and news organizations, however, hasn't exactly been well-received by users.
This afternoon, the service seems to have pushed a Reuters tweet (seen above) out to users who've enabled push notifications via Twitter. The response has been harsh by any standard – many people seem confused by the breaking news notifications and find them intrusive, rather than helpful. Reuters' Twitter feed is currently overwhelmed with accounts blaming, blocking and reporting @Reuters as spam for injecting this news into their feeds without permission.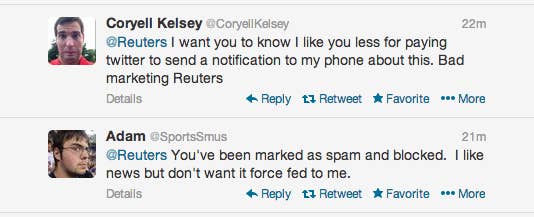 This isn't the first time the experimental service has backfired. Back in November, @BreakingNews fell victim to the push alert, which prompted a blog post from the service apologizing for for the intrusion. Similarly, Reuters has taken to Twitter to do some damage control.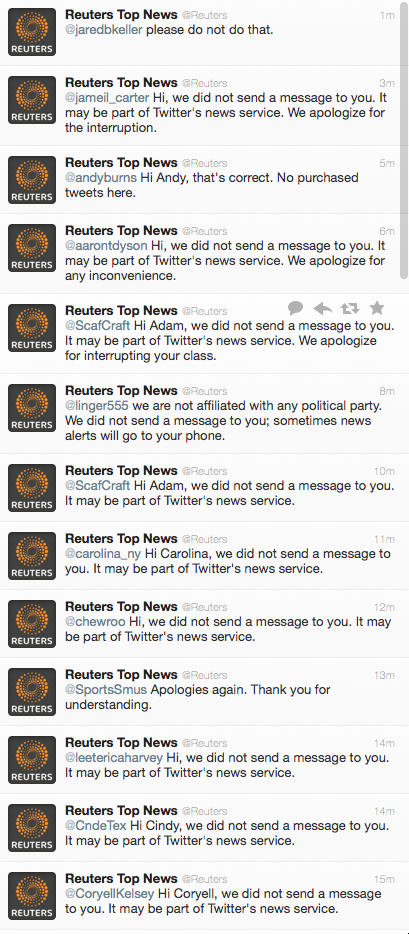 Reuters' social media editor, in any case, seems to think the exposure is "worth it."

Update: Reuters social media editor clarifies: