Twitter Tests Breaking News Alerts After Pittsburgh Shooting
Push notifications are being sent to users who've never signed up for breaking alerts.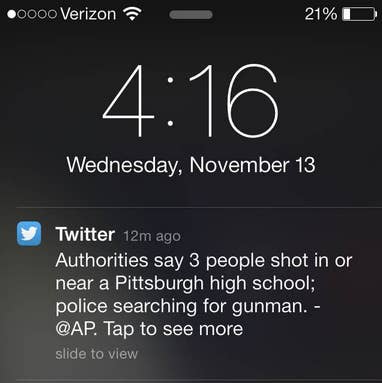 Only moments after confirmed reports of a shooting near a Pittsburgh high school crossed the wires, some Twitter users were startled by a breaking push notification tweet from the Associated Press. But unlike the 35,000 users who've currently subscribed to Twitter's breaking news alerts, these users weren't expecting any sort of notification.
One BuzzFeed employee who received the push alert above noted that he had not signed up for Event Parrot, the company's experimental direct message news alert service. Nor had he signed up for MagicRecs, Twitter's experimental follow and tweet recommendation service.
While it's clear Twitter is testing and refining its breaking news system — perhaps in order to roll it out broadly to mobile users in the future — it's unclear if it is targeting users at random or based on influence or previous behavior, such as whether the user frequently tweets, clicks on, or subscribes to breaking news accounts.
Judging by the users on Twitter who are complaining the alerts are invasive, it seems entirely possible the test pool could be randomized.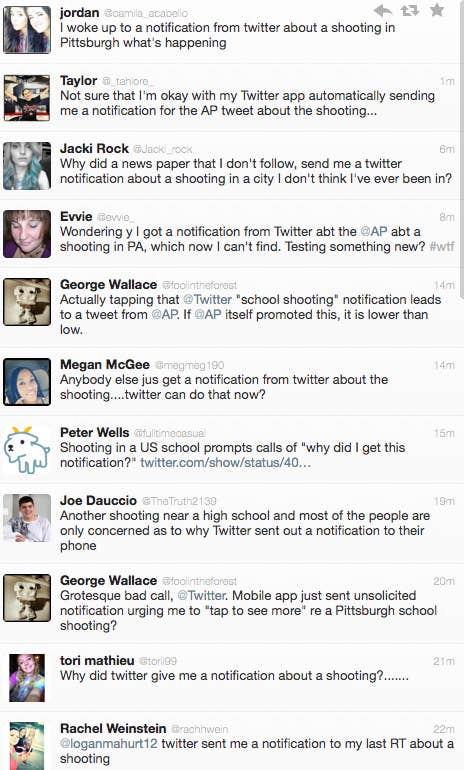 While it's unclear if the alerts went out to every @AP follower, Twitter can only push you notifications if you've enabled it in your settings. Here's how to turn it off on iOS 7.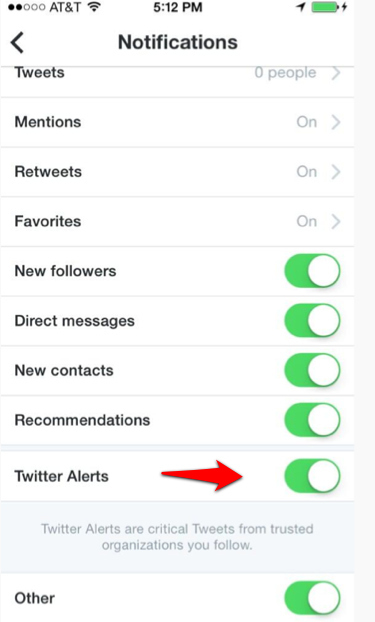 When reached, Twitter did not provide comment.