Twitter Is Limiting Porn In Top Search Results
Users can still tweet adult images and links, but "Top" searches for terms like "#porn" and "#vagina" draw very few results. Update: Twitter tells BuzzFeed News the limited search results seem to the be the result of a bug. "We're working to correct the issue," a spokesperson said.
According to a Twitter spokesperson, the limited search results on adult content were the result of a bug that occurred during some algorithmic tweaks to Twitter's search function. "We recently made some changes to improve the algorithm that fetches the most relevant content for Top Tweets in search results." The spokesperson told BuzzFeed News. "A bug was discovered that caused us to aggressively filter some content from Top Tweets inadvertently. We're working to correct the issue."
Twitter appears to be blocking sex and porn terms from its "Top" search results.
While users can still tweet adult content, BuzzFeed News has found that "Top" searches on terms like "fucking," "#porn," and "sluts" draw few, if any, results. Top searches on associated anatomical terms like #penis and #vagina also return dramatically fewer results than they once did.
Changes still appear to be in flux. Some search terms that did return image results when BuzzFeed News began investigating no longer did over the course of the day. For some terms, such as #penis, we began to see wildly different results minute to minute as images dropped out.
It's unclear when the changes to Twitter's search function were first made, and if they are an experiment or part of a broader effort to limit pornographic content. The company did not respond to requests for comment.
But filtering search results without actually removing content would fit in with Twitter's stated goal of letting people continue to speak freely, but making it harder for some kinds of content to be seen and heard.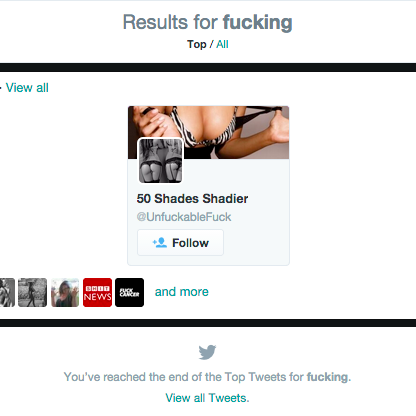 Also dramatically reduced or eliminated: "Top" search results for "#revengeporn," "revengeporn," and "revenge porn." The move comes less than a week after Twitter announced plans to crack down on stolen nude pictures and revenge porn — an important initiative, but one that needs to be executed tactically, lest it filter out useful news and information about the issue.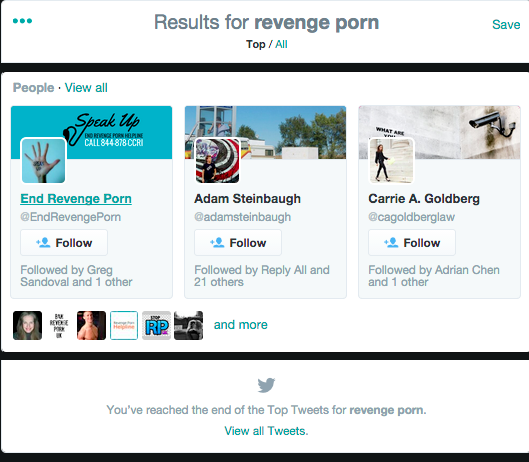 The move has also raised alarm in some quarters. For the adult industry, which largely sees Twitter as one of the last uncensored mainstream homes for adult and pornographic content on social media, this change to search results is troubling. "It's almost exactly the same tactic that Tumblr took several months ago, which pretty much crushed adult content producers on that platform," Boodigo.com founder and adult industry veteran Colin Rowntree told BuzzFeed News via email.
BuzzFeed News will update this story with more information from Twitter as we receive it.