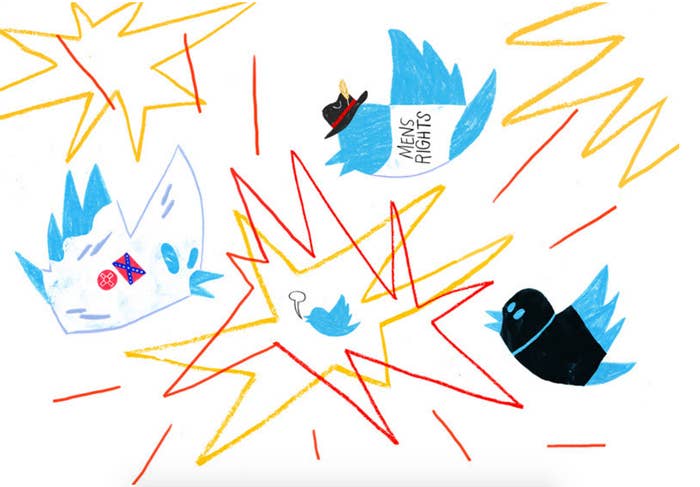 Last night, Twitter suspended a number of prominent alt-right accounts, including alt-right leader, Richard Spencer (@RichardBSpencer), his think tank, called the National Policy Institute, and his magazine (@radixjournal). The suspensions come only hours after Twitter announced an new set of abuse tools, including an expanded mute future and a retraining of how its safety staff handles hateful abuse.
Other suspended accounts include Ricky Vaughn (who was previously banned after a BuzzFeed News story detailing his campaign to disenfranchise voters with false information), former Business Insider CTO Pax Dickenson, and John Rivers.

Though the abuse tools were received tepidly as a small first step that was in many ways cosmetic, the decision to begin to ban some of Twitter's more prominent alt-right and white nationalist voices is a signal that the company may be getting serious about reclaiming its platform from trolls.
It's unclear whether Twitter will continue the wave or issue any mass bans quietly throughout the coming months but there is precedent for such a decision — in order to crack down on ISIS, Twitter banned 125,000 Isis-linked accounts between mid-2015 and February 2016.

Twitter bans of small, anonymous accounts are frequent when the company decides that the account is in violation of the company's rules, which forbid hateful conduct (though Twitter's reporting processes are notoriously opaque and often result in reports of violence and hate speech going unanswered and unenforced).
But Twitter rarely bans prominent and especially verified accounts — this Summer Twitter banned Breitbart writer and noted troll Milo Yiannopoulos after his role in inciting a targeted harassment campaign against actress Leslie Jones. The move was seen then as a sign that Twitter was poised to crack down on it's racist, misogynistic, anti-semitic underbelly.
Until last night, the company had done little to stem the tide of harassment, especially during a heated election season in which alt-right accounts — many supporting the President-Elect — spread hate and misinformation.

Just Last month, the Anti-Defamation League released a report citing a "significant uptick" in anti-Semitic harassment toward journalists. The study showed roughly 2.6 million anti-Semitic tweets, creating more than 10 billion impressions across the web between August 2015 and July 2016. The words that were most frequently found in the bios of the users sending those tweets were, according to the report, "'Trump,' 'nationalist,' 'conservative,' 'American,' and 'white.'"

The bans have riled some alt-right communities. "The Great Shuttening" he predicted has occurred," one commenter in Reddit's alt-right subreddit lamented. Another suggested that Twitter is a valuable lifeline for the movement arguing that, "the benefits of Twitter are interacting with normies, influencing discussion and getting alt-right memes trending." In a YouTube video, Richard Spencer said he's "alive physically, but digitally speaking, there has been execution squads across the alt-right."

Twitter has not yet responded to a request for comment as to whether more bans are forthcoming — the company does not, as a policy, comment on individual accounts.

UPDATE
In a statement given to BuzzFeed News, Jared Taylor — founder and editor of American Renaissance and self-proclaimed "white advocate," and Richard Spencer — president of the National Policy Institute, a white nationalist think-tank, called Twitter's purge of accounts associated with the Alt-Right "outrageous" and "politically motivated."