The Right Is Building A New Media "Upside Down" To Tell Trump's Story
Armed with its own set of facts, the right has created a parallel media universe that's risen all the way with Trump to the White House.
At last Thursday's DeploraBall, Gateway Pundit editor Jim Hoft stepped on to the event podium, smiling wide in a maroon blazer and '70s-style wide-collared party shirt. He had an exciting announcement. "We've been in contact with the new administration and they're doing something different," Hoft said, referring to a Trump administration decision that would award real legitimacy to his popular, ultra-conservative political site. The Gateway Pundit made a name for itself during the election with headlines like "BREAKING: 71% of Doctors Say Hillary Health Concerns Serious, Possibly Disqualifying!" (she had pneumonia), and served as an engine for rumors of Hillary Clinton's poor health during her presidential campaign. And now that coverage, and its set of alternative facts, was being rewarded.
"We got word that Gateway Pundit is going to have a White House correspondent position," Hoft said, whipping up the crowd. "We had 1 million readers a day coming in. And the reason was because I was telling the truth and the mainstream media was telling the fake fucking news!"
The crowd — a loose collection pro-Trumpers gathered to "celebrate memeing a president into existence" — went nuts with a deafening chant of "Real news! Real news! Real news!"
If you've been paying attention during the long run-up to Trump's unexpected victory, you may have noticed a new dynamic in the already fractured and chaotic political media ecosystem. There is a new new media. Its branding ("news you can trust," "we report the truth"), design (sleek, media-rich webpages), and distribution (heavy social and video presences across Facebook, Twitter, Periscope, YouTube, podcasts) all feel familiar. But its message is very different. It is unedited and unabashedly pro-Trump, and it often posits an interpretation of reality dramatically different from that of the mainstream media.
Welcome to the New Media Upside Down: a parallel universe (think the Upside Down from the Netflix series Stranger Things) that operates as a mirror image of its mainstream counterpart with its own "alternative facts," audience, and interpretation of truth. The New Media Upside Down looks a lot like the media it's trying to undermine and replace, but it's darker in vision — and raw. If you live in the mainstream media world, the New Media Upside Down can be hard to find — the only real crossover between the two worlds is on Twitter, where its leaders lambaste mainstream news reports often with the aim of discrediting them. It's (reasonably) young and hungry, and has risen with Trump all the way to the White House — where Steve Bannon, who helped construct this upside-down media world while running Breitbart News, now holds sway as senior counselor to the president himself.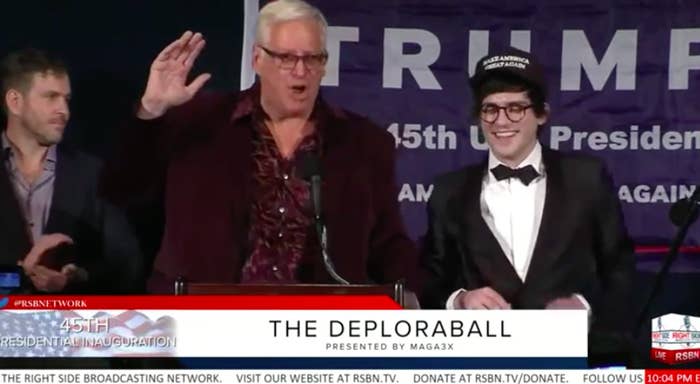 The New Media Upside Down is hardly concentrated or uniform in its voice. It's helmed by a number of charismatic personalities, among them "New Right" blogger, self-described sometimes troll, and self-help author Mike Cernovich; undercover journalist James O'Keefe, conspiracy theorist and radio personality Alex Jones; conservative radio personality Laura Ingraham; pro-Trump Twitter pundit Bill Mitchell; Twitter provocateur and #Pizzagate truther Jack Posobiec; and online conservative media personality Hoft. The New Media Upside Down is diffused across mostly anonymous, massive conservative Facebook pages. But it's also a beacon for young news organizations like One America News Network (a cable channel that recently hired former Trump campaign manager Corey Lewandowski as a talking head) and Lifezette, as well as more established fringe outlets like InfoWars, the Gateway Pundit, Conservative Treehouse, and Breitbart News.
"We've really created parallel institutions."
"We've really created parallel institutions," Cernovich told BuzzFeed News. "Trump supporters didn't think they were being treated fairly or accurately by the media. So many of us weren't sure we could trust the basic facts of what's being reported in the news. And so we created the answer, which is something I call 'reality news.'"
Reality news, as Cernovich describes it, is the sort of raw, low-production-value/high-entertainment-value content that leaves little to the audience's imagination. According to Cernovich, it's easier to trust than flashy, highly produced news. "Audiences are skittish and they want to see you to walk up to a person live on Periscope," he said. "They want it GoPro'd and Facebook Live'd — they want it unfiltered." Social media, he argues, makes that possible.
Bill Mitchell, a fervent Trump supporter, sees this raw approach to news as the New Media Upside Down's competitive advantage. "What we do is very immediate and not as filtered as the traditional media," he said. "What we do tends to be more organic and in the moment. It sounds like real folks talking." Mitchell sees the New Media Upside Down as similar to Trump's controversial Twitter feed, which is reactive and confrontational, and plays fast and loose with facts but ultimately feels authentic.
"I'll see everything through Trump-colored glasses."

"Trump's Twitter is a very personal connection, like sitting in his living room," Mitchell said. "We're like that — we're real and people see themselves in us. That's why they're willing to forgive us and to forgive Trump for his faux pas. They see themselves in us and if they're willing to forgive themselves, they're willing to forgive us."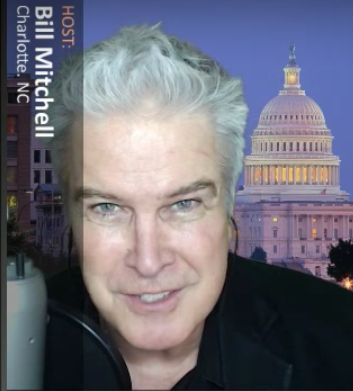 In the New Media Upside Down, legacy media notions of impartiality have been dispelled. "I'm very biased toward Trump," Mitchell said proudly. "I'll see everything through Trump-colored glasses." Cernovich agrees: "I'm biased, but honest. I'm not in the business of smearing Trump, so don't come to me for that — I won't be the guy to provide Trump criticism."
The New Media Upside Down and the traditional media sphere may differ in philosophy, but they share plenty in terms of presentation. Noted alt-right troll Chuck Johnson's new website WeSearcher — a crowdfunded reporting site aimed at raising bounties to expose mainstream journalists and political opponents — is so slickly designed it feels a bit like Kickstarter's evil twin. Mitchell's radio show, Your Voice Radio — which is distributed mainly via YouTube and the DIY podcast platform Spreaker — is basically indistinguishable from terrestrial political talk radio. And video-centric outlets like InfoWars, Right Side Broadcasting, and OANN sport high TV production values with chyrons, swooping jib shots, and flashy sets similar to those of cable news offerings. Other figures are more deeply rooted in new media, like Cernovich's frequent live Periscopes and the constant, frenetic live-tweeting of the day's news.
In the era of fake news, a defining characteristic of the New Media Upside Down is how it presents its arguments and biases. Borrowing language from its legacy counterparts, it frames the information it broadcasts as sourced reports, using a collection of like-minded writers and video personalities out in the field to tell its version of the truth. Unlike the patently false news coming out of political content farms in places like Macedonia, the New Media Upside Down's work is based, to some extent, on actual reporting, despite its shaky sourcing and questionable, often misleading framing.
Last week, for example, InfoWars — the unabashedly conspiracy-touting radio and video empire dedicated to fighting the globalist New World Order — reported that BuzzFeed News was planning to release a damning tape of Trump just 48 hours before the inauguration. The piece was reported out by InfoWars' editor-at-large, Paul Joseph Watson. Yet the tip was discovered to be a hoax by a 27-year old marketer who wanted to see how fake news was generated.
Rarely are such false reports so clear cut; most stories percolating inside the New Media Upside Down exist in a gray area, deftly walking the line between salacious framing/innuendo and falsehoods, but rarely stepping into the dangerous territory of fake news. All signs suggest the ecosystem will only grow murkier. Breitbart News — arguably the largest and most visible publication of the New Media Upside Down — is staffing up across its politics and entertainment desks and is poised to attract mainstream voices to its masthead; just this month, it poached a respected Wall Street Journal reporter to head its business and finance coverage.

The New Media Upside Down's mirror-image embrace of mainstream language, presentation, and tactics has also helped undermine the traditional media's credibility. Earlier this month, when BuzzFeed News published a salacious, unverified intelligence dossier on Donald Trump, the New Media Upside Down — often accused of being purveyors of fake news — repurposed the term to denounce reporting by outlets including BuzzFeed News and CNN.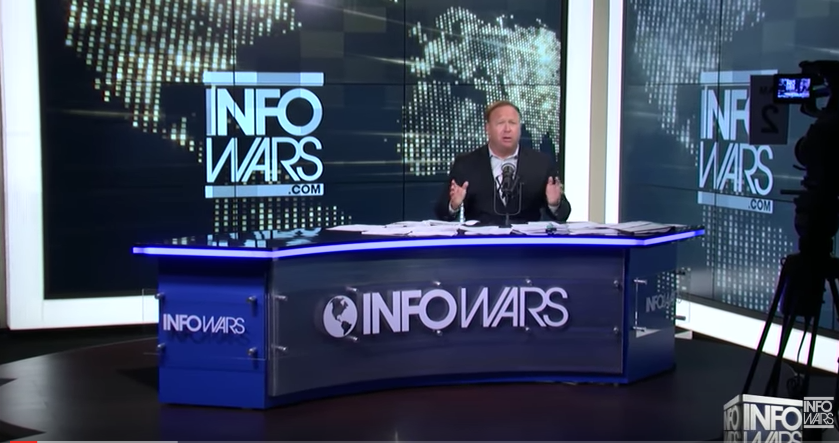 The result was a disorienting role reversal. Less than an hour after BuzzFeed's report, InfoWars' Alex Jones, a man described as "America's leading conspiracy theorist," sounded more like a media columnist, chastising BuzzFeed News and CNN for a lack of journalistic restraint and "completely discrediting themselves." On Twitter, personalities like Cernovich and Posobiec — both active early participants in the #Pizzagate conspiracies floated on Reddit, 4chan, and 8chan — attempted to debunk the dossier by suggesting that the intelligence document was a hoax planted by trolls to trick the mainstream media.
It's early, but so far the Trump White House has given every indication that it will be friendly territory for the New Media Upside Down. Trump has personally touted outlets like OANN and Lifezette, sharing their friendly stories via his powerful Twitter account as a rebuttal to negative news.