The Problem With Police Scanners
In unfamiliar hands, a familiar breaking news tool can wreak havoc.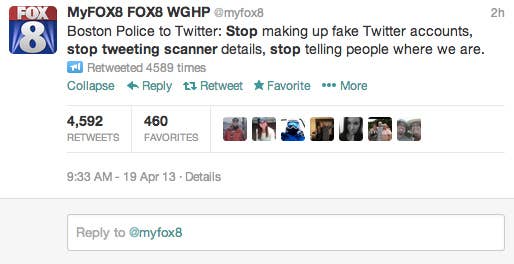 For the past 12 hours, much of Twitter's information torrent surrounding the Boston manhunt has been powered by a familiar source. The only problem is, it's in unfamiliar hands.
For local beat reporters, police scanners are one of the oldest and most reliable tools of the trade, serving as both an early alert system and a virtual ride-along. Now, thanks to a host of easily accessible livestreaming scanner sites and mobile apps, access to this stream of information is everywhere, turning anyone with an internet connection and a Twitter account into their own central dispatch and inundating social streams with false and potentially dangerous information.
It's a disturbing trend that seems to be a new reality in the online age of breaking news. Numerous false reports from police scanners surfaced and were refuted during Hurricane Sandy, and Monday's bombing brought about a rash of disturbing and unconfirmed scanner reports in the marathon's chaotic aftermath. Scanners are a patchwork of unconfirmed information, being relayed by on-the-ground sources using, more often than not, an abundance of caution and broadcasting information without verification.
False scanner reports like this one from Monday's bombing were all over Twitter:
To make matters worse, law enforcement's reliance on Twitter to chase down potential leads has created an echo chamber of misinformation. Much of the speculation early this morning that one of the suspects at large was a missing Brown University student originated on Reddit. It was then broadcast by Twitter and eventually picked up via scanner, closing the loop of false feedback and perpetuating the rumor at large scale.
In Florida, the issue is drawing the attention of law enforcement, who are imposing restrictions on scanner traffic. Last month the St. Johns County Sheriff's Department introduced a new scanner policy, encrypting sensitive hospital and tactical channels and imposing a 15-minute delay so as to not mislead the public with incorrect information. "All kinds of misinformation can get repeated before all the facts are known. Some of that can be damaging to individuals," Assistant Fire Chief Jeff Prevatt told the St. Augustine Record.
Throughout the shoot-out and ensuing manhunt that began last night, Boston law enforcement has tried to stanch the flow of false scanner reports with little success. Early on, the police appeared to switch frequencies, rendering scanner livestreams useless, until a fresh link made the rounds on Twitter. This morning, too, Boston police blacked out scanners as SWAT and tactical teams conducted sweep operations, but the livestreams were quickly replaced by UStream accounts broadcasting live from individuals using their own physical scanners.
While it's potentially dangerous and disruptive for both news outlets and law enforcement, the scanner problem seems almost impossible to stop. For the media, it's just another example that it no longer controls the story in a world where information is omnipresent and publishing is frictionless.