Hello! Hello! Welcome to WWDC!
As always, it's an absolute MADHOUSE at the Moscone Center in San Francisco where the event is being held.
• It's called Yosemite because it's fun to imagine being outside and not tethered to your computer!
• Basically, it's supposed look a little more like iOS 7. It's cleaner and flatter. The big Apple buzzword is "translucent."
• There's a "dark mode," which is a nice little feature and looks like this: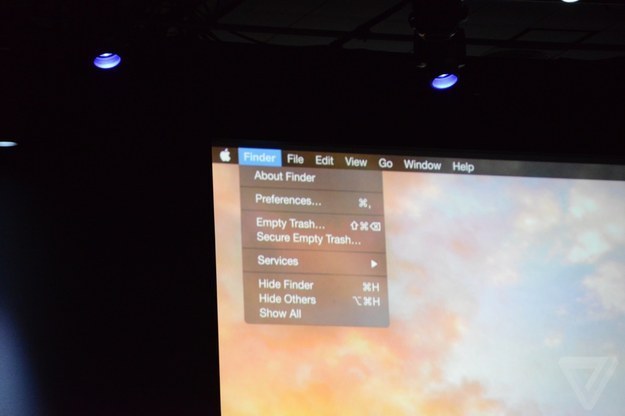 Here's what Apple Maps will look like on Yosemite:
• There's a new OS X notification center, which looks a lot like iOS 7's notification center. It's got plenty of customizable widgets as well as integration with your calendar.
• Spotlight search is advanced too. It's got integration with way more stuff, including instant search results.
• iCloud Drive is new and will allow for synchronizing all your content across your Macs. It's all accessible via iOS devices as well. (Plus, it will also sync over Windows devices.) Neat! Documents sync across multiple devices in iCloud. Apple, however, is not typically great at services, so Dropbox may only be OK.
• Mail has some tweaks and a nifty new feature called "Markup" where you can draw on your emails and PDFs using the trackpad to take notes (or draw dirty pictures lol).
• Safari now has a cleaner design and better search integration. You can share with people you've recently messaged, and and there is a new tab view that shows thumbnails of all open tabs. Now you can have more tabs open than ever before. Not sure if that's a good thing or a very bad thing.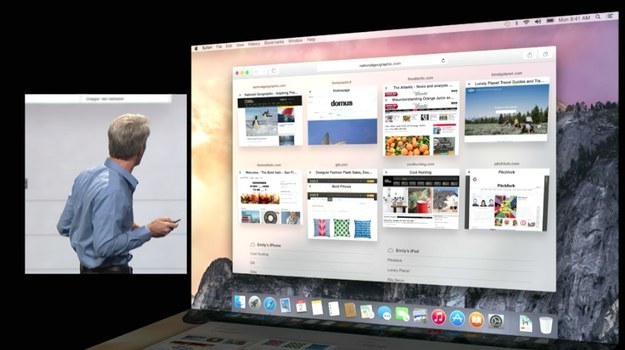 Continuity was a big theme for Apple this year.
• ...which basically means switching seamlessly between iOS and OS X (makes sense considering they're starting to look the same).
• Airdrop — which we honestly didn't think people used — now has integration between iOS and OS X. There's a new program called Handoff, where you can take work you are doing on your Mac and immediately move it to your phone and vice versa. It's useful if you're using ALL Apple products.
• The best part of Airdrop is that your Mac now knows about what you are doing on your iPhone. When you start an email on your iPhone, Mail on a Mac running OS X Yosemite will let you to finish the message on your laptop/desktop.
• That means you can pair your laptop to your phone and send texts, screen calls, and call people from your computer using your mobile number!
Oh, and to test the new desktop phone call feature, Apple called its newest executive, Dr. Dre. What a world.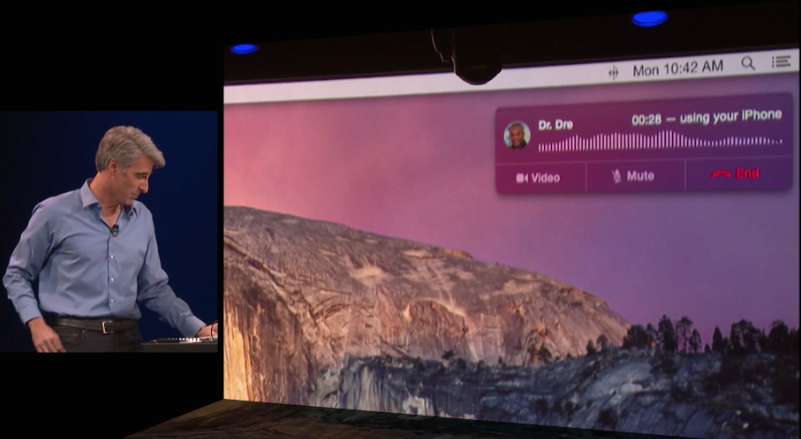 Apple's also introduced iOS 8.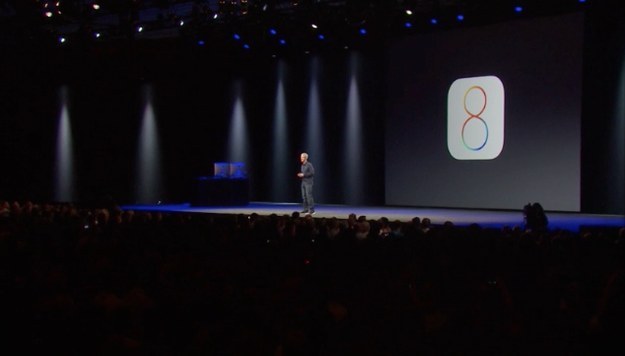 • Notifications are even easier to use: You can respond to texts and even Facebook posts straight from the top of the screen notifications. They're called "Interactive Notifications," and they're nice and good.
• The lock screen is also far more responsive to notifications. This is Apple listening to developers who are clamoring to reach users at the earliest point of contact; the lock screen is the new homescreen.
• iOS 8 has a new feature that will allow you quick access to your favorite contacts. It looks a little like Facebook's Chat Heads, but it makes wayyyy more sense here.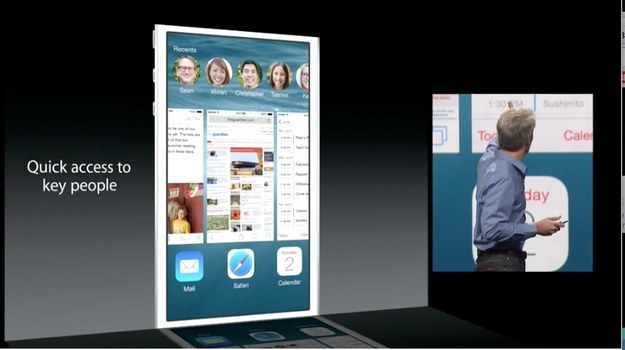 • Spotlight is better too: Think of it like Siri, but without having to talk to Siri. Search and get questions synced with Wikipedia, Apple Maps (lol), and a whole bunch of other services.
• QuickType is a new feature that will help you type faster. As you type you'll get suggestions for the next words in the sentence. It'll be personalized and based off context. Welcome to the birth of a whole new set of autocorrect fails!
• iMessage has some new tweaks. There's a new "Do Not Disturb" feature, so you can finally get out of group texts. Fantastic. Wonderful. This is a future I can get behind. Bravo.
• You can add voice messages into iMessage as well. It's like a phone call but through text. So, yeah...
WhatsApp's CEO had some words about the new messaging tweaks...
And there's MUCH, much more (we know, it's a lot)...
• Apple announced HealthKit: a single place where your apps can interact to give you a real-time picture of your current vitals.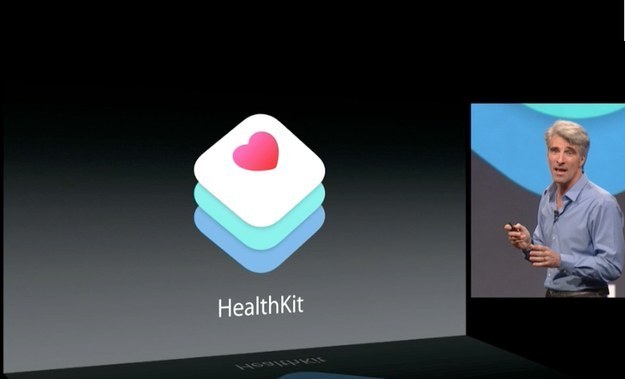 • You can monitor all your metrics and activity and use third-party applications like Nike + to integrate with HealthKit. Apple also announced a partnership with the Mayo Clinic. Doctors can get updates (with your permission) to monitor your health when there's an abnormal spike in something like, say, your blood pressure. Creepy, but maybe useful!
• Family Sharing will allow you to share photos, calendars, reminders, and configure things like "Find My Friends" (or your kids' devices). There's also the new ability to share all your iTunes media with up to six people in your family. It's all done on the same credit card, but parents will be able to remotely approve kids' purchases. No more running up mom and dad's card, kids. Sorry!
• Good Old Siri will have Shazam song recognition and streaming voice recognition; now there's support for 22 dictation languages.
A few small tweaks to the App Store
• There will now be an "Explore" tab with trending topics.
• The App Store will also now have previews so your favorite apps can make short videos. Nifty.
So, quick recap!
• MAC OS X 10.10: iCloud Drive is going to make a play to kill Dropbox. Should be interesting. Overall, Yosemite looks a lot more like iOS and it's a continued movement to streamline mobile and desktop operating systems. It's flatter and more translucent. You can pair your phone to your computer now. You can draw on your mail.
• iOS 8: Lots of tiny tweaks with messaging and notifications. The lock screen is continuing its quest to be the new home screen. There are major app integrations focused on monitoring your health. You can share all your media with your family. The kids won't be able to purchase things like crazy without an adult's permission.
• iCloud and Photos: Cheaper storage options and some slick options for advanced on-the-fly photo editing.
• Things we didn't see: No new devices! No Apple TV (which was rumored). Apple's going to have a VERY busy second half of 2014, I think.
OK. That's it. See you next time!