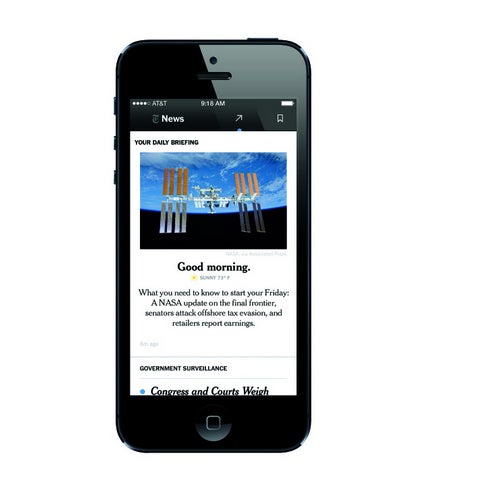 NYT Now, the New York Times' soon-to-be-released mobile app, is ambitious, sleek, and, for the most part, quite useful. More important, though, it's a wager. And this time the Times is betting on its own brand and reputation.
The app, which will cost subscribers $8 per month, aims to serve up roughly 30–40 Times articles per day, all of which will be chosen by NYT Now editors and concisely summarized with a headline and a few bullet points in a continually updated stream. It will also feature a morning and evening "briefing," which reads like a Cliff Notes version of your favorite morning email newsletter. The app will also include a curated feed of articles, quotes, tweets, and other news items pulled from outside sources — the first time the paper has experimented with any large-scale curation. It will be available to the public starting April 2.
Almost everything about NYT Now feels like high stakes. The app's support comes from the top of the paper's masthead and top corporate leadership, and its team of nearly 20 is captained by two-time Pulitzer Prize-winning Times veteran Cliff Levy. The app is still a week from its public release but the company has already spent considerable time and money to promote it through a series of teaser interviews, as well as a party earlier this month at the South by Southwest festival in Austin.
Even more interesting, the source of most of the hype seems to be coming from within the company. Earlier this month, Levy called NYT Now "a seismic moment of change" at the Times. In any case, it's hard to shake the feeling that there's a great deal riding on NYT Now.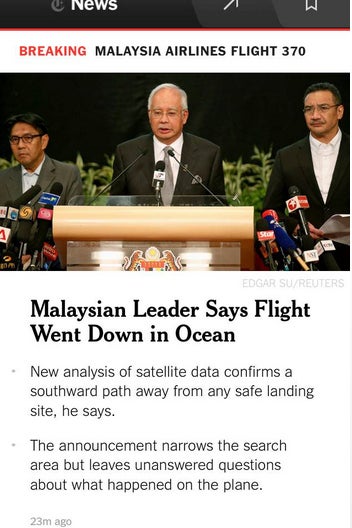 The articles in NYT Now's main feed have headlines and summaries written by Times editors exclusively for the mobile app.
Currently, there may be no more precious space in media and tech than the smartphone user's homescreen and NYT Now is a very public effort by the legacy news organization to not only acknowledge this reality, but to offer up a new style of native mobile publishing. "The challenge of this is that we've evolved from a print newspaper and newsroom to web-first newsroom," Times' Executive Editor Jill Abramson told BuzzFeed.
"I think the next step in our evolution is to become a mobile-first news operation," she continued. "When big news happens you want to get a full story up as quick as possible, but you now also want to synthesize it and edit it down to its essence for people who want to quickly digest it."
I spent almost two days previewing the product and, in terms of the app itself, NYT Now follows through on its promise of delivering easily digestible news on a smartphone. Its design is sleek and restrained, with ample white space, but the app is fast and, most important, intuitive to use. Clicking through from summaries to full Times articles is seamless as well (non-subscribers will only have access to 10 full articles per month in accordance with the paywall).
The Times' news stream serves up a good mix of breaking news as well as features and stories that are working their way into conversations across social media, and the curation stream features a surprisingly diverse sampling of content. As someone accustomed to regularly using Twitter, the slower, lean-back experience was pleasant and useful, especially in the mornings as the first thing to check to ease into the news cycle. On its own merits, NYT Now is the most enjoyable of the summary-style mobile news apps that I've encountered.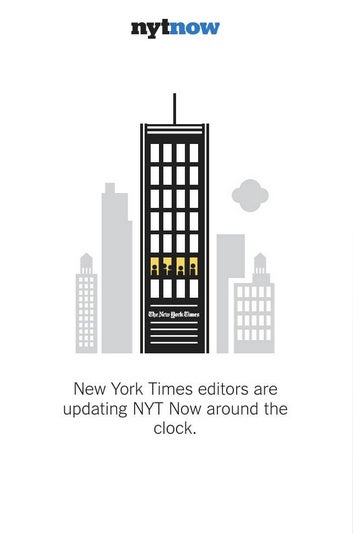 The problem, of course, is that NYT Now doesn't exist inside a vacuum. The mobile news landscape is packed with other major news organizations offering their own apps, as well as mobile-first competitors like Circa, Inside, and Yahoo News Digest, many of which are free. Then there's Twitter, which has dominated mobile for news junkies and, of course, Facebook's towering mobile presence with News Feed.
It's among this field that NYT Now seems awkwardly positioned. At $8 per month, it feels too expensive for its target audience, which the company defines as mobile-minded and interested in staying informed via the Times, but unwilling to shell out $15 for a digital subscription. So-called digital natives are increasingly comfortable paying for content online in the form of services like Netflix, but are used to having unlimited access and might scoff at the idea of paying $8 for summary content. News junkies likely to obsess over this particular type of app and shell out nearly $10 already have free services like Twitter and tend to favor full articles over summaries, which leaves what feels like a narrow window of potential subscribers.
"I think when you're dealing with a general news consumer it's much tougher to get people to pay for this type of content unless it has a lower price tag," the editor-in-chief of rival app Circa, Anthony De Rosa, told BuzzFeed. "A lot of people in this space snack on 99-cent apps with no questions asked, but I have trouble thinking that the Times is going to get a lot of general news consumers to pay that kind of steep monthly fee. It seems like they might have envisioned this type of user that doesn't actually exist," he said, though De Rosa noted that he hasn't yet seen the app in action.
The app features a morning and evening "briefing," as well as features timed for different hours of the day such as a "Lunchtime Read."
But Abramson, Levy, and the Times staff don't appear to be fazed by any particular competition. In fact, it's not clear they see much competition at all.
"The thing that's missing on Twitter — and I don't mean for this to sound arrogant or highfalutin — is the New York Times and the editing smarts of the New York Times," Abramson said. "What makes this product different and well worth the $8 is the New York Times content and editors led by Cliff. No one else doing news apps right now has that same level of experience, talent, and editing know-how," she said, addressing the concerns of the crowded field.
Similarly, Levy believes that the Times' reputation and quality provide the ultimate competitive advantage. "People are going to come to this app because we're the New York Times," he said. "And I think they're going to delight in the presentation and in the fact that we've really developed a strong sense of what the mobile reader wants. But at the end of the day they're going to come to this app because we're the Times and they believe in the New York Times and trust that we're there."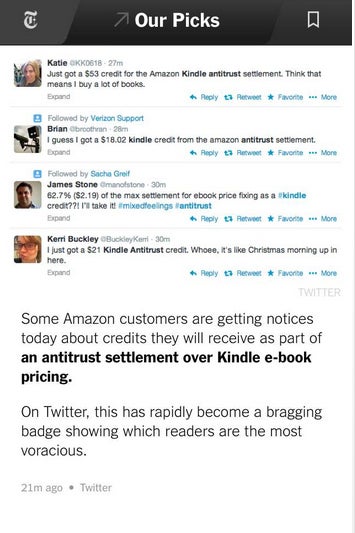 "Our Picks" is NYT Now's curated feed, pulling in content from vetted sources from other publications and social media.
To the company's credit, the Times has defied paywall naysayers before and now boasts a growing number of over 720,000 paid digital subscribers. And after months of rigorous product testing and financial calculations, the company seems not only sure of the app's price tag, but of it's position in the market. Executive Vice President of Digital Products Denise Warren noted that the company will also work to court new subscribers through the Times' existing platforms, as well as experiment with a variety of promotional offers.
NYT Now is a sturdy, efficient, and useful news app, made all the more likable by its ambition to bring about a truly native mobile news experience. But as the app gets ready to debut, it feels as if all those achievements are secondary to the Times' brand. When discussing the challenges of building the app, Levy said he believed that the quality of his team's work will determine its success, noting, "NYT Now will succeed or fail based on strength of our core news operation."
More likely, though, it seems success will be determined by the power of the Times' legacy and reputation. In this light, the triumph, failure, or indifference to NYT Now may prove to be a good measure of the paper's status in a crowded mobile landscape, which might be why the stakes feel so high.