Rejoice! You Can Now Embed GIFs On Facebook
The internet's favorite image format comes to your News Feed. Update: Facebook denies this is true.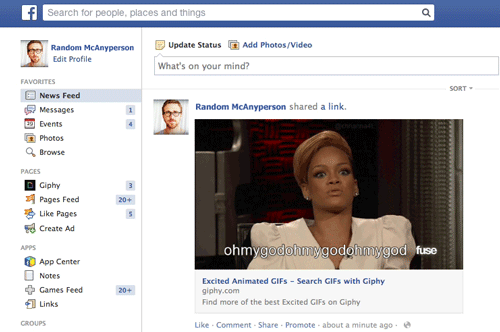 GIFs are now on Facebook. Well, sort of.
Today, Giphy, a Betaworks-owned GIF search engine, announced that users will now be able to embed their favorite looping images directly to Facebook. Previously, if you tried uploading a GIF to Facebook it would usually look something like this:
While GIF enthusiasts have reason to celebrate, don't expect Facebook to turn into a ceaseless, Tumblr-esque GIF torrent over night. The embed tool is more of a workaround than a total overhaul and you'll still need to press play, just like you do now with News Feed videos, to animate the image. But hey, progress!
Update: A Facebook spokesperson reached out, flatly denying that the company collaborated with Giphy on the embed tool. "Facebook does not support animated GIFs," the spokesperson told BuzzFeed. Instead, the company seems to be treating the Giphy embeds like any other video posted to the News Feed — perhaps a sign that it might still be a while before Facebook comes forward and truly accepts the GIF.