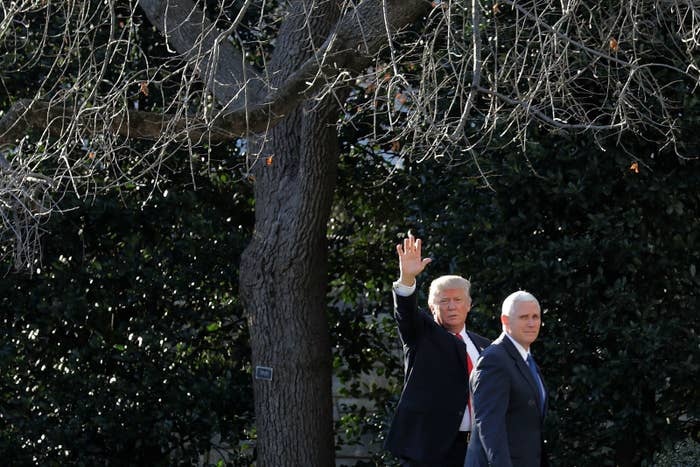 Until Thursday afternoon, Donald Trump's official @POTUS Twitter account was registered to a private, non-government email address, raising concerns about the security of the White House's primary social media account. The account registration was changed after journalists flagged the registration on Twitter.
The registration was first noticed by TV Guide's managing editor, Alex Zalben:
Others have confirmed that the password reset link directs to what appears to be the personal Gmail account of White House social media director Dan Scavino.
The White House press office has not yet responded to a request for comment. Scavino has not yet responded to BuzzFeed News' query asking if the account will be transferred to a different, government address in the future.

The registration to a personal account rekindles concerns about the security of the Trump administration's social media accounts, especially Trump's Twitter accounts, arguably the president's most important communications tools. The account, which changed hands from the Obama administration just moments after Trump was sworn into office last Friday, has quickly amassed 14.3 million followers and is obsessively tracked by journalists and even financial trading algorithms. Though Trump has opted to use his personal @realDonaldTrump account as his primary method of personal communication, the @POTUS account is largely seen as the official Twitter account of the administration.
This week a hacker who identifies himself as as WauchulaGhost told CNN that he had been able to easily find the emails associated with @POTUS, @FLOTUS, and @VP accounts and suggested the White House update security settings. WauchulaGhost told CNN that the accounts "haven't selected a basic security feature on Twitter that requires you to provide a phone number or email address to reset your password."

And just this morning, White House press secretary Sean Spicer appeared to accidentally tweet out the password to one of his accounts. Some have suggested that Spicer was trying to log in to his Twitter account using two-factor authentication and accidentally copied in his password.
BuzzFeed News reported earlier this month that the @POTUS account has special security protocols. The security tools, according to the White House Communications Agency, include multiple password layers and also limit the number of encrypted devices that can post to the official account.

"It's a small handful of devices that are under significant security and handled with extreme care," a former director of online engagement told BuzzFeed News this month about the account. The new registration under Scavino's email would suggest this protocol changed when the account was transferred.
UPDATE
It appears the White House has changed the registration of the account to a White House email address.