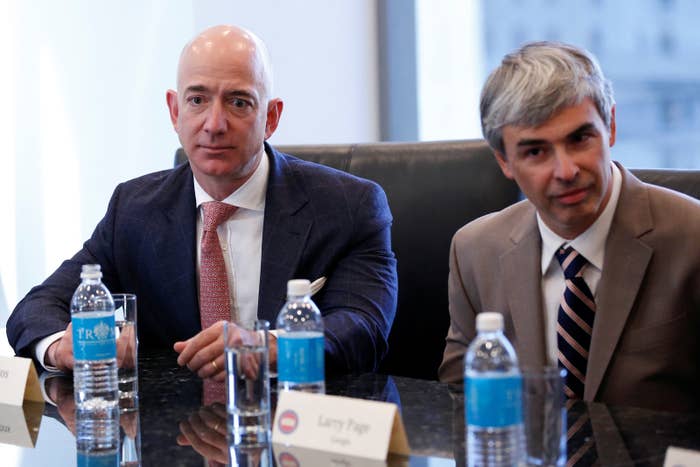 Inside Amazon, tensions are mounting as employees push management to stop running ads for Amazon products on Breitbart News.
On March 22, a group of Amazon employees took issue with the company's ads on Breitbart in an email to CEO Jeff Bezos and SVP Jeff Blackburn. Entitled "Amazon Must Stop Advertising on Breitbart News," the email included a petition opposing Amazon's continued advertising on Breitbart, with some 564 signatures.

According to the email, an Amazon employee confronted Blackburn at the company's March all-hands meeting about advertising on a site that the employee said "regularly publishes hateful and bigoted content."
"What is it going to take for us to stop advertising on Breitbart News?" the employee asked, to applause from coworkers.
Blackburn's response, according to the email, was met with "utter silence." He suggested that Amazon's advertising relationship with Breitbart was complicated. "It's making those decisions for us through a third party, industry standard filter that we use," he told the employees. "And that's what you're seeing. Some of the pages on the site that you mentioned are passing through those filters."
While Amazon doesn't have a direct relationship with Breitbart, the company does select the exchanges through which it buys ads, and presumably has some say in how they are targeted. According to the internal email, ongoing employee outcry may have caused the company to review its decision to allow ads to run on the site. "I want you to know that it is something we are looking ... at very regularly," Blackburn said. "We have our eyes on it."
Blackburn's remarks did little to quell unrest among Amazon employees disappointed by the company's ads on Breitbart. In their email to Bezos and Blackburn, the employees attached a PDF of personal comments from "52 additional Amazonians." A few excerpts:
"I am a woman, immigrant, person of color. My employer needs to stand up to this site which is nothing but full of hate."

"When people find out I work at Amazon, the first question they ask is -'How can you justify working for Amazon when they advertise on a hate site?'"

"As a transgender woman, I find it deeply troubling that my employer has not yet pulled advertising from this site."

"'There's no hiring bias against women in tech, they just suck at interviews' - the fact that the company's dollars pay for headlines like this make it very difficult for those of us putting in efforts to recruit and retain more women in technical roles."
Since last year's election, Amazon's leadership has faced consistent pressure from customers and employees to cut its ad ties to Breitbart. A petition on the website SumOfUs.org urging Amazon to "stop investing in hate" now has more than 550,000 signatures. Meanwhile, an anonymous collective of marketers called Sleeping Giants has called out over1,600 advertisers who have since moved their ad dollars away from Breitbart.
When BuzzFeed News first reported on Amazon employee unrest over Breitbart ads in February, 34 employees had filed individual complaints to management. With a petition now in circulation with nearly 600 signatories — many of whom are women, people of color, or LGBTQ — momentum is clearly growing. Amazon has over 340,000 employees worldwide.
Amazon employees told BuzzFeed News that the company had previously been largely unresponsive to their complaints. "They'd been brushing us off," one told BuzzFeed News. But recently there appears to be a movement to address the issue. Sources said Amazon leadership met with an employee representative of the group behind the petition on Tuesday morning.
"They are now taking it very seriously," an Amazon employee familiar with discussions told BuzzFeed News. "It's not a finalized decision, but it's at least moving in the right direction."
Amazon did not return multiple requests for comment on the internal email obtained by BuzzFeed News.