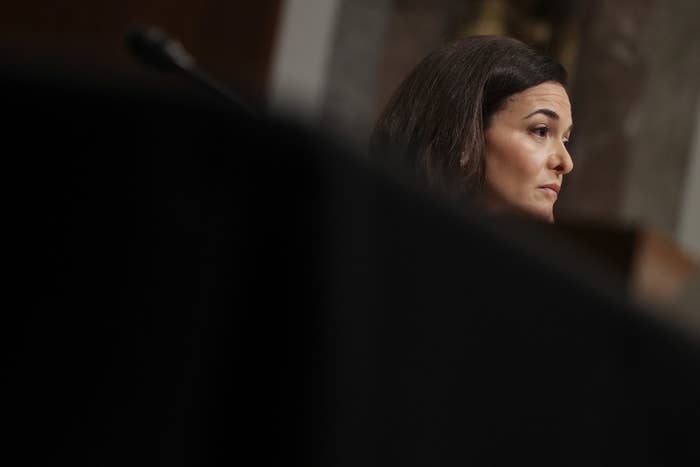 Facebook's recent opposition research scandal against billionaire George Soros is revealing, but not for the reasons you might think.

Since the revelations that Facebook used Definers Public Affairs to conduct opposition research on Soros were first reported by the New York Times last month, the company has been hard at work recalibrating and revising its story. Initially, CEO Mark Zuckerberg and COO Sheryl Sandberg said they had never heard of Definers until they read the Times report. But then last week, Facebook's outgoing head of communications and policy Elliot Schrage published a memo taking blame for hiring the firm in 2017. On Thursday, however, an internal email described to BuzzFeed News and confirmed by Facebook revealed that Sandberg requested research on Soros after negative remarks the billionaire made about the social network at Davos last January.
While that doesn't directly contradict her previous denial, this was never a scandal about the company's choice of agency. And, as we're learning, it's hardly even a scandal about the opposition research itself.
The controversy revolves around the contents of a small number of Definers opposition documents. On Saturday, BuzzFeed News published one of the documents — a two-page collection of press clippings focused on a collection of progressive organizations that formed to create the Freedom From Facebook initiative and their possible funding ties to Soros.

Far from an anti-Semitic conspiracy screed, as some imagined it, the document is a fairly innocuous bit of opposition research grounded in previously published information from mainstream news outlets. Based on what we can see, it's the type of email blast that reporters might expect to receive from an advocacy organization. It's dense but contains few, if any revelations.

Which makes the fact that Facebook didn't publish these documents immediately following the Times story all the more perplexing. And the company's decision to stall for weeks is proof that, despite having amassed significant political clout and filling its ranks with establishment figures and elite communications professionals, Facebook doesn't seem to understand how to meet its political moment.

By releasing the Definers documents right after the Times report, Facebook could have cleared the air and countered some of the claims of anti-Semitism coming from critics. Instead, it stalled, which led to this bizarre scandal that seems almost solely of Facebook's own making — one where the more that's revealed, the less scandalous the original appears to be.

Ultimately, the strategy is revealing of Facebook's larger problems. The deflections, much like the decision to commission research on Soros and Freedom From Facebook, are indicative of an internal instinct to attack critics rather than to address or even ignore their claims. And its dodging PR strategy reveals what seems to be a crippling obsession among its leadership with optics rather than outcomes. Again and again, this has dragged the company further into a spiral of bad publicity.

Now, Facebook stares down the fourth week of a scandal that ultimately seems to have been mostly preventable. In the process, the social network has confirmed much of what the initial Times story alleged about the company's timid, sclerotic leadership in times of crisis. Indeed, the piece's headline: "Delay, Deny, and Deflect" feels more accurate with every passing day.