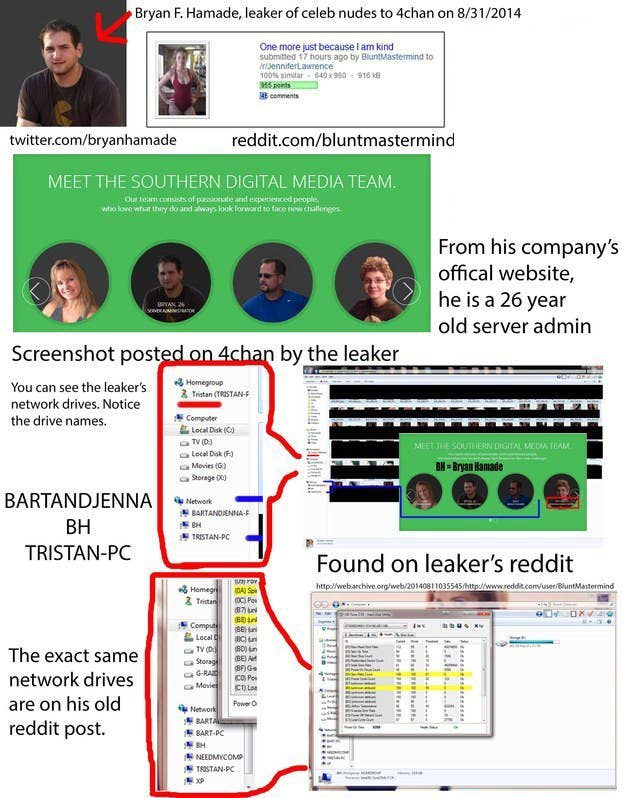 As the online hunt for the persons responsible for yesterday's massive celebrity nude photo leak continues, some redditors and security researchers have pointed to Bryan Hamade, a 27-year-old from Lawrenceville, Georgia, as the culprit.
According to a post that's circulating on the photo-sharing site Imgur, Hamade — who goes by the the username BluntMastermind — posted a screenshot of his computer to show off the leaked picture folder, accidentally exposing his hard drive and network drive. A few redditors then went through Hamade's previous Reddit posts and recognized the hard drive and PC name, outing Hamade as the one responsible for the original 4chan leaks.
But Hamade vehemently denied the claims in an interview with BuzzFeed this morning.
"I am not behind this. It was so stupid — I saw a lot of people posting the actual leaks and bitcoin addresses and I've read a lot about bitcoin and how they are valuable and I thought, Oh cool I'll get free bitcoins," he told BuzzFeed.
"I am just an idiot who tried to pull one over on 4chan and lost big time and stupidly left this identifying information. They took my proof and back traced it — it isn't remotely true. I am not a hacker. I have no idea how the hell someone could hack into all those accounts," he said.
Hamade, speaking on the phone as he was driving around trying to find an open law office so he could hire a lawyer, told BuzzFeed he and his family have been harassed by 4chan users since his allegedly photoshopped post went live.
"It's been a nightmare and I haven't slept in 34 hours now. 4chan users are harassing me with nonstop phone calls and emails. They email me constantly, emailing saying they'll hack my personal websites and keep calling my phone, calling me a fag and then hanging up. They also said they'll hack my mom's site, so I took it down," he said.
Hamade also said the supposed 4chan users caused him to take down his LinkedIn and Twitter accounts. "They were posting comments on my YouTube channel and some were praising me as some guru for leaking photos — I don't want praise for that, especially since I didn't do it. I really had nothing to do with it."
According to Hamade, who has been trying to find the alleged original leaker to clear his own name, it's possible the leaker of the photo sets and those who actually breached the hacked iCloud accounts are entirely different people.
"The real guy is on 4chan posting intermittently. He's most likely the one behind it, but it does seem the photos passed around to multiple people before being leaked, so it may just be someone who has them and didn't hack to get them. They seem to have amassed a huge collection trading picture for picture and it's possible that whoever they sold it to started leaking the pictures yesterday — at least that's what it seems like," Hamade said.
As for the original plan to profit off the leaked pictures, Hamade tells BuzzFeed it was a total failure.
"I regret it so much," he said. "I didn't even get any bitcoin out of it. It's the stupidest thing I've done and I hope it won't ruin my life, though it probably will since it's just the biggest news story."
Contact the writer of this post at charlie.warzel@buzzfeed.com
Since publication, BuzzFeed has been sent multiple screenshots of Hamade's now-inactive Twitter account messaging celebrities, including McKayla Maroney, who was a victim of the leak.
Regarding the Maroney tweet, Hamade told BuzzFeed the April Twitter interaction was a coincidence. "She posted a video of her doing some gymnastics moves where she was doing arm dances, and I replied then she retweeted it. I was an active user on Twitter before all the craziness. That's pretty much it," he said.
Despite Hamade's vehement denial, speculation continues online with many still pointing to the 27-year-old, who is listed on his employers' website as a "technical expert" who "specializes in PHP, MySql, HTML, and Java."
A screenshot sent to BuzzFeed from a deleted Reddit threat shows Hamade — under his username, BluntMastermind — arguing with another redditor over the timestamp of the post in order to take credit for the leak.

Another screenshot sent to BuzzFeed of anon-ib.com, a separate anonymous image dump message board with a loose association to 4chan, alleges that a user, referred to as "OriginalGuy" (who was seen ransoming censored leaked pictures for bitcoins), is Hamade, based on screenshots of the leaked photos that have only appeared on Hamade's postings.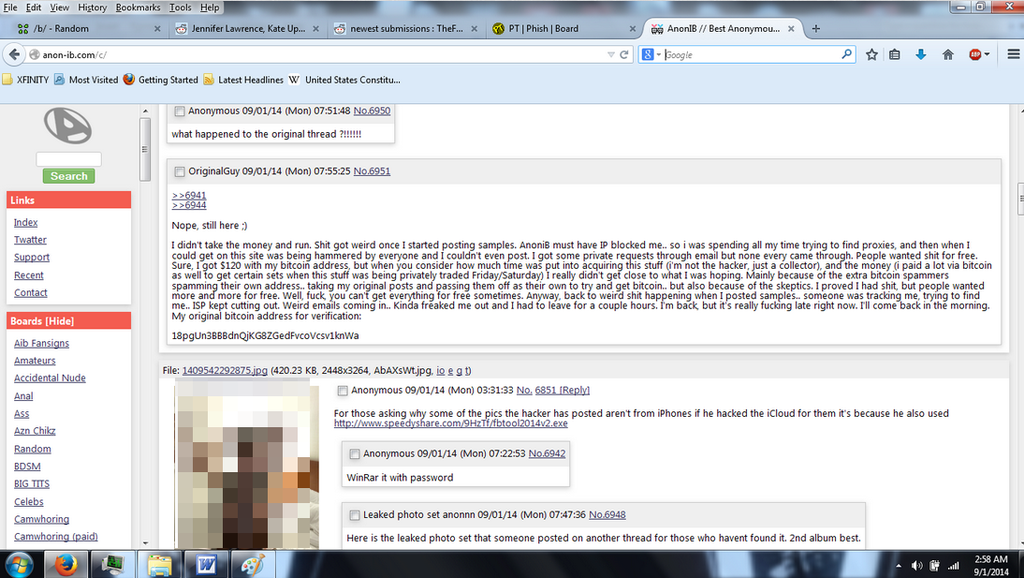 The bitcoin address in the anon-ib.com post shows the user received 0.25 bitcoin from seven different people, though it is unclear if the account is Hamade's. Hamade told BuzzFeed he would provide his bitcoin wallet as proof that he'd received no donations from ransoming the pictures but recent calls to Hamade's cell phone have gone unanswered.
According to tips BuzzFeed has received, Hamade and Southern Digital Media (the company that lists Hamade as a team member) may have a connection to a photography studio that specializes in nude art photography. The ​studio's web​site — Shiggity Diggity Photography — is registered under WHOIS to Jenna Bennett, an employee of Hamade's.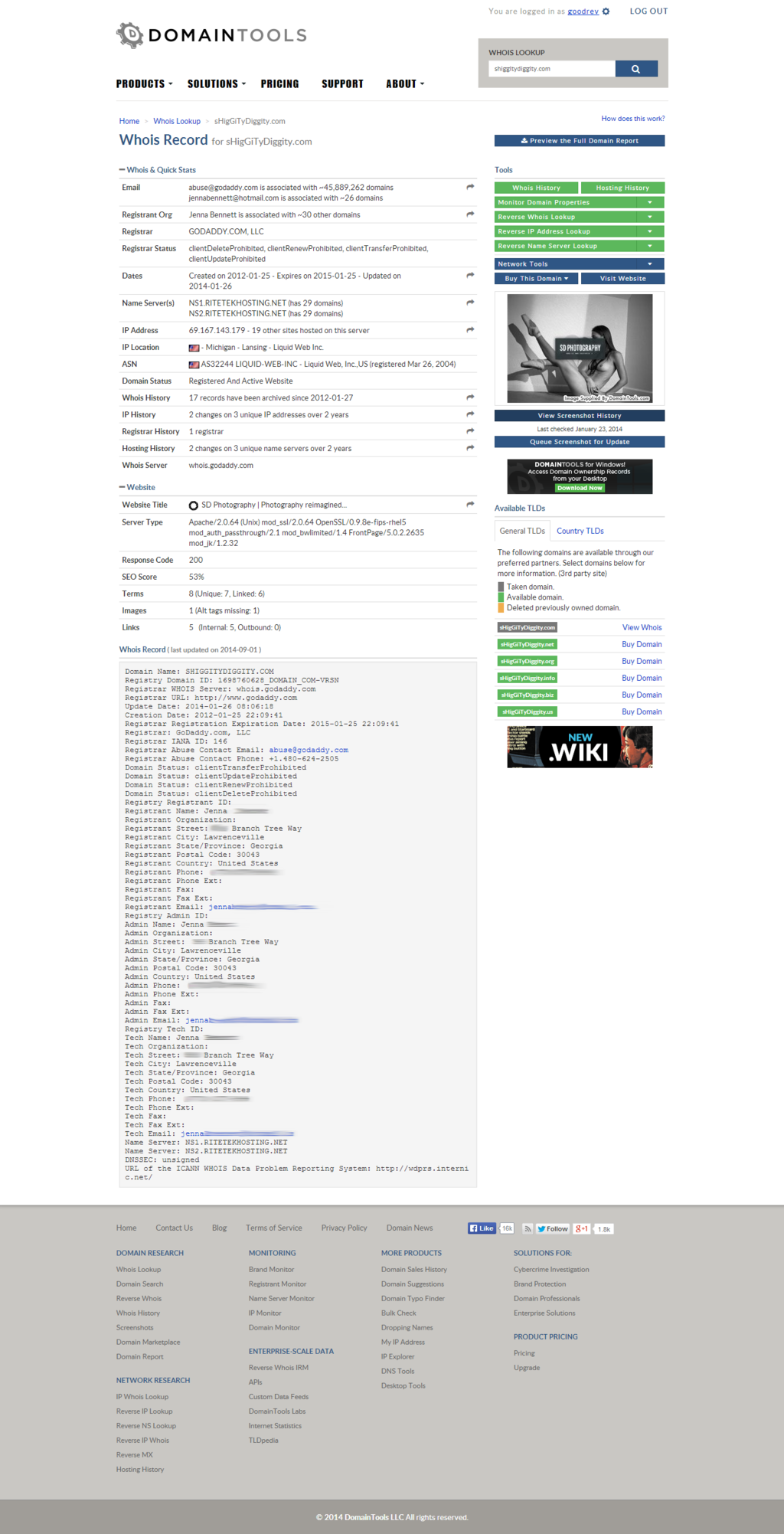 The domain for the photography studio was registered on Jan. 25, 2012. Fifteen days earlier, according to an archived webpage found by reader Adam Steinbaugh, Hamade used the same phrase, "shiggity diggity,"​ in a now-deleted Reddit thread.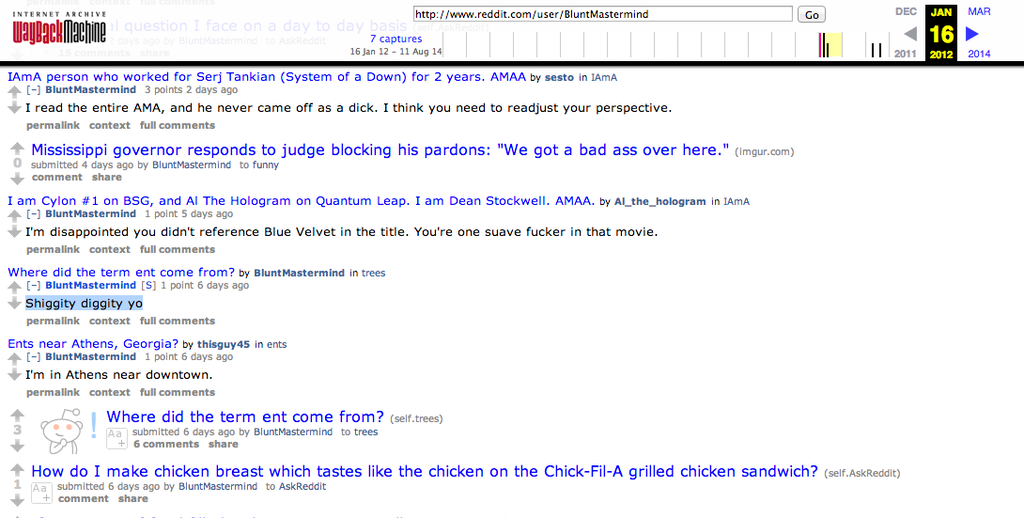 In a separate Reddit thread, Hamade references a photography hobby, specifically involving taking photos of bikini-clad models.

A wedding photography site, subliminalproductions.us, is ​nearly identically designed to the Shiggity Diggity site and is ​registered under Hamade's name.
While it's possible the sites were registered as part of client work for Southern Digital Media, the coincidence has lit up discussion threads online as people continue to track down the source of the leaked images.
Hamade, Jenna Bennett and Bart Bennet have not returned BuzzFeed's calls or emails.
Tips? Contact the writer of this post at charlie.warzel@buzzfeed.com