Avatar Advocacy: How Facebook Turned Red In Support Of Gay Marriage
2.7 million people showed their support by switching profile pictures. But what does it all mean?
Just before the Supreme Court marriage equality arguments Monday, the Human Rights Campaign (HRC) urged Facebook users to show support for the movement by switching their avatars to specially made pink and red equal signs. As anyone on Facebook can attest, it caught on.
According to Facebook's data science team, "roughly 2.7 million (120%) more, updated their profile photo on Tuesday, March 26 compared to the previous Tuesday." It's important to note that this reflects overall profile picture changes and is not specific to marriage equality. Facebook, however, supposes that good bit of this is due to HRC's push.
The dotted line is 1 pm, when the HRC posted its profile pic switch post: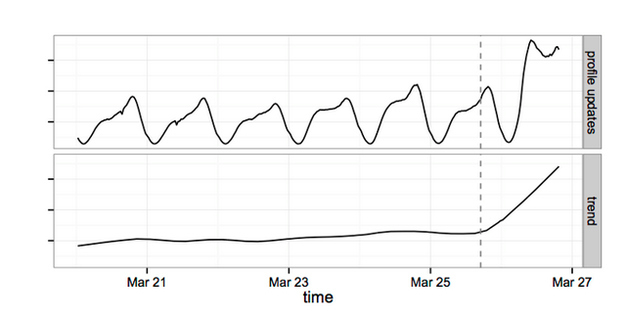 As expected, Facebook data shows the young crowd were the most active avatar switchers. According to Facebook, "on average, roughly 3.5% of 30-year-old Facebook users updated their profiles in response to the events surrounding the HRC campaign" (again, this is estimated).

Finally, Facebook broke down its data by county, using estimated profile switching data. Again, it's a rough estimate, but there's evidence to suggest the campaign reached a large swath of young, college aged users.
Avatar changes were most common in counties with large universities with Washtenaw County (home to Ann Arbor and the University of Michigan) leading the pack: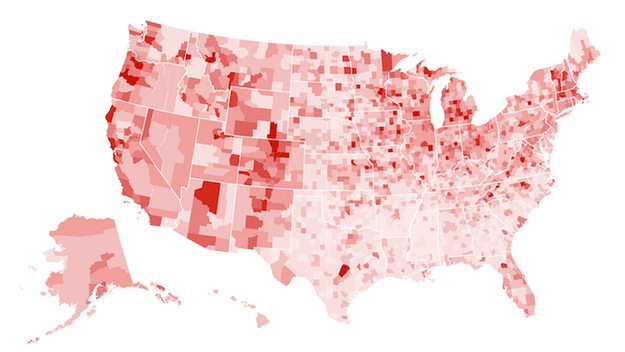 So what does it all mean? All evidence suggests that the campaign succeeded in rallying supporters online, but its effects are unclear. The campaign got underway on Monday, after the case had already reached the highest court in the land, perhaps the group least likely to be swayed by a Facebook avatar trends.
However, as Melanie Tennenbaum at Scientific American notes, social movement like this can have an interesting psychological effect. "The best way to convince people that they should care about an issue and get involved in its advocacy isn't to tell people what they should do — it's to tell them what other people actually do," Tennenbaum writes.
So go ahead and join the avatar switch movement, if you feel so inclined. You most certainly won't be alone.