Apple's new HomePod smartspeaker has only been available to buy for less than a week, but the $350 gadget is already making its mark. Quite literally.
Specifically, some users are complaining that the speaker's silicon base is leaving a white ring after being placed on wooden tables.
In a HomePod review on the site Pocket Lint, one user reported that "within 20 minutes the HomePod had caused a white discoloured ring to appear on the wood that some days later has faded, although still hasn't completely disappeared." The the New York Times–owned review site Wirecutter also noticed a "defined white ring" after placing the speaker on both an oiled butcher-block countertop and a wooden side table. "
A BuzzFeed News employee discovered Wednesday that after five days with the HomePod, a slight ring had formed on her wooden table. An attempt to wipe it away with a cloth was unsuccessful.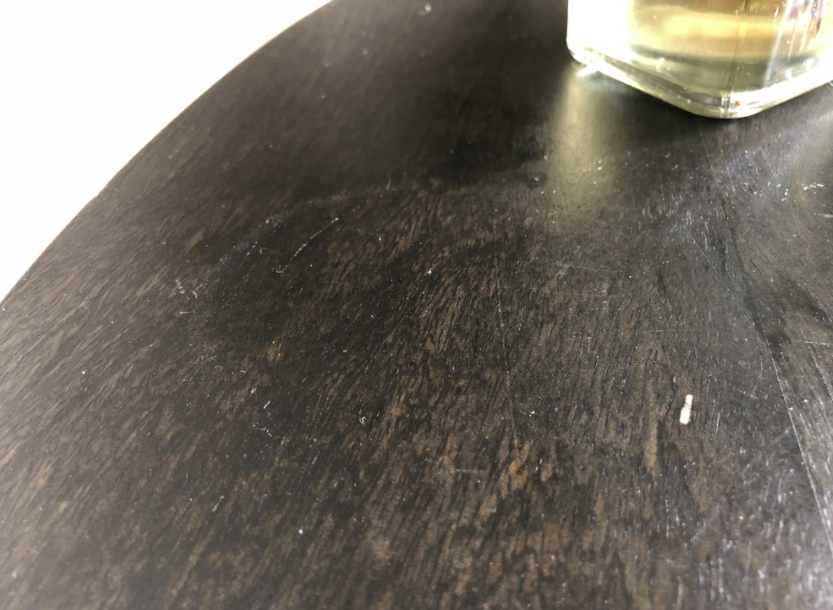 The coloration of the ring seems to vary depending on the table and the amount of time the HomePod has been on the surface.
When reached for comment Apple directed BuzzFeed News to its support page for Homepod, which notes that "it is not unusual for any speaker with a vibration-dampening silicone base to leave mild marks when placed on some wooden surfaces." The FAQ pages said that "the marks can be caused by oils diffusing between the silicone base and the table surface, and will often go away after several days when the speaker is removed from the wooden surface." The company also said that If you're concerned about this, we recommend placing your HomePod on a different surface."
It is similar to the guidance the company offered to the Wirecutter, which suggests the company is aware of the problem. Specifically, it told Wirecutter that "the marks can improve over several days after the speaker is removed from the wood surface" and that users should "try cleaning the surface with the manufacturer's suggested oiling method."
UPDATE
This post was updated with information from Apple's support page.