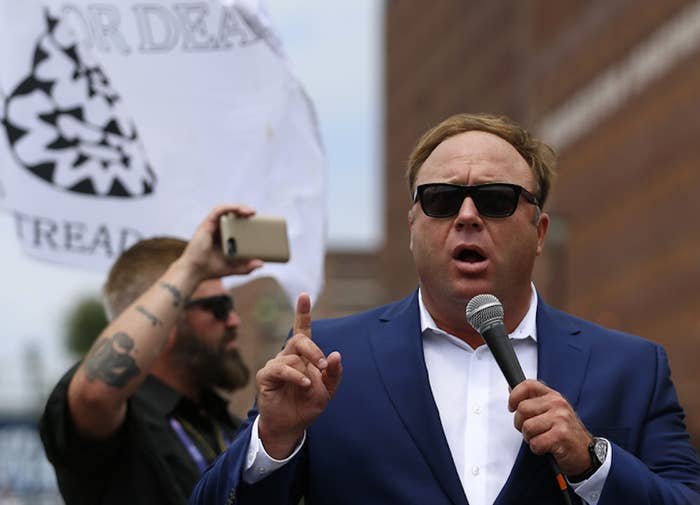 AUSTIN — Alex Jones' cross-examination in his 10-day custody trial began today with an unusual question:

"You haven't had any chili this morning, have you, Mr. Jones?"
"Is that a serious question?" Jones shot back.
The question was in reference to Jones' March 4 deposition, in which the 43-year-old radio and TV personality was unable to recall the names of his children's teachers after eating a big bowl of chili.
It's just one of a series of surreal moments that have dominated the early days of Jones' custody trial.
While the custody case is, at its core, about Jones' three children, national media attention has been thrust onto the case over a defense laid out by Jones' lawyers in jury selection — that Alex Jones' most offensive and provocative rants may be "performance art" or "political satire."
But Thursday on the witness stand, Jones denied this and chastised the media — many of which were in attendance in the gallery — for their spin. He said he agreed with his lawyer's statements "in general" but added, "I disagree with the media's interpretation of the term 'performance art.'"
While on the stand, Jones compared himself to John Oliver and Stephen Colbert and pointed out in frustration that Colbert had accused him this week of being a performance artist and fraud.
Jones testified that Infowars — his company, which traffics in conspiracy theories, libertarian punditry, and some satirical skits — is "90% hard news." At issue was whether Jones brought his work home with him into his family life. Jones testified that it does not: "I don't even want to think about work when I get home. I just want to be with the kids, swim in the pool, and eat hamburgers."
During cross-examination, Jones' personal life was questioned aggressively by ex-wife Kelly Jones' attorney. The subject of Jones' alcohol and drug use came up.
Jones said he smokes pot yearly "to monitor its strength, which is how law enforcement does it."
Jones said he sometimes smokes marijuana — nearly yearly — "to monitor its strength, which is how law enforcement does it." He then added that he tested it because he believes it is now too strong — a development he blamed on billionaire and political donor George Soros, whom he claimed in court has "brain damaged a lot of people."
Jones addressed his marijuana use last February on the popular Joe Rogan podcast, noting that it was legal in California where the show was taped and that "everybody smokes marijuana on that show."
On the subject of alcohol use, Jones said his intake varies but that he is not intoxicated around children and rarely ever drunk. When shown a clip of him outside the Capitol building before the inauguration looking intoxicated, Jones suggested he was not and that he does not get intoxicated on the set of his show. "Sometimes I'll have a drink every day and then other times I'll go without it for months," he said.
The details of Jones' sex life came up as well. Kelly Jones' attorneys suggested that in his March deposition, Alex said he had sex with another woman while engaged to his current wife. Jones disputed this claim, noting that the sexual relationship was prior to being engaged. Ultimately there was confusion with the dates and timing, and the line of questioning was dropped. "I'd have to see a calendar," Jones told the court.
"You get it wrong more than I do."
Jones, however, grew frustrated regarding the dates and statements in the deposition. "You get it wrong more than I do," he said exasperatedly to his ex-wife's lawyers.
Jones also appears aggravated by media coverage of the trial. During one break in the proceedings, Jones walked past a corral of reporters in the hallway and muttered, "Lotta famous fiction writers out here!"
Part of Jones' frustration appears to be that he is unable to respond to reports in the news — a staple of Jones' radio program and numerous Infowars daily YouTube videos. All parties and lawyers in the trial are under a gag order not to speak to press — though there is speculation that Jones could have violated that order with at least two videos he has posted addressing the "performance art" claims. "I am completely real and everybody knows it," he said in one video posted Tuesday morning as he was driving to the courthouse.
The gag order is an interesting wrinkle. While Jones is a witness and principal party of the custody trial, Jones is also a news personality, famous for commenting on news coverage. And as the trial has become big national news, an argument has been made that he, as a journalist, should be allowed to cover it as well.
While it's currently unclear if Jones or his ex-wife have violated the gag order — or if they've been reprimanded in any way — Judge Orlinda Naranjo has spoken to press numerous times about reporting sensitive details. On Wednesday afternoon, she barred cell phones, computers, and all electronic devices from the courtroom, limiting the ability for reporters to cover the trial without leaving the room.
Still, the frustration seems to mount for Jones. After the court recessed for lunch, Jones walked past this reporter in the hallway and shook his head. "God, you're desperate, man," he said, before leaving with an attorney.