A Rainbow Flag Emoji Might Be Coming Very Soon
The proposal was crafted by Unicode's president.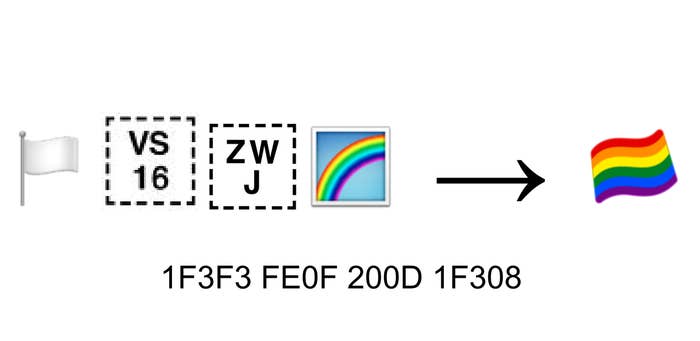 A rainbow flag emoji could find its way onto your devices in the not-too-distant future.
This morning, a Google employee submitted a formal proposal to the Unicode Consortium — the organization in charge of the evolution of emoji — suggesting a quick hack that would allow the consortium to design and implement a rainbow flag emoji before the next emoji update (slated for June 2017). The proposal's author, Mark Davis, also happens to be a co-founder of Unicode and its current president.
Here's the key excerpt from the proposal:
Because existing Unicode characters are used, vendors can begin design and implementation work now and can deploy before the end of 2016, rather than waiting for Unicode v10.0 to come out in June of 2017.
Translation: It's a bit complicated, but you can essentially use the code for currently existing emoji — in this case a blank flag and the rainbow emoji — and mash the two together using a process called zero-width joiner (ZWJ). Unicode used the same process to help create varying skin tones for emojis. The result, in this case, is a rainbow flag that doesn't need to be designed from scratch and can thus be implemented onto your device far sooner than an original emoji. As Davis notes in the proposal, "the process of adding new characters is slow."
Of course, this is all very technical, so thankfully Davis has drawn a sketch of this process.


While the proposal isn't final, it's just the latest in a series of quick moves by Unicode to evolve the character set to be more inclusive and representative of its users.
This isn't the first time that a rainbow flag — the longstanding symbol for LGBTQ pride — has been suggested to the consortium, as the proposal notes. Davis's proposal, however, will carry significant weight coming from the organization's president. In April, Davis was part of a team of Google engineers that proposed a series of emojis designed to better represent the diverse roles of women in the workplace. That proposal was approved last week by Unicode.