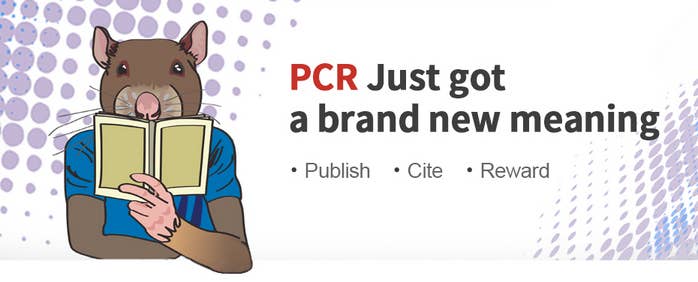 Most companies keep their kickbacks on the down-low, but Silicon Valley biotech Cyagen has it right up front on its website.
"Cite us in your publication and earn $100 or more based on your journal's impact factor!" reads the company's website, which offers a form to fill out for scientists to get their rewards.
The payments come in the form of vouchers that are redeemable for products or services at Cyagen, which sells animal models and other lab materials. The size of the reward is $100 multiplied by the journal's impact factor, one measure of the popularity of the journal. Top-tier journals have impact factors ranging from about 30 to 55, meaning these rewards could add up to several thousands of dollars.
The company claims that this financial incentive is not a kickback.
"There was a lot of misinformation, thinking that it's some sort of a kickback or personal incentive, when really it's a store credit for future purchases," Austin Jelcick, a product manager for Cyagen, told BuzzFeed News.
"We didn't feel there was a conflict of interest, because we're essentially rewarding researchers for doing something they're already ethically required to do," Jelcick said.
But scientific experts told BuzzFeed News that these vouchers raise troubling ethical questions.
"Purchasing citations in this way may be a clever marketing ploy, but this is not appropriate in scientific literature," Angela Cochran, president of the Council of Science Editors, told BuzzFeed News by email.
"Authors who accept money and support after publication have skirted conflict of interest requirements by not disclosing these payments," she added, citing her organization's white paper on publication ethics.
Cyagen's promotion, revealed Friday by scientist Ben Goldacre, has been live since July. But it hopped onto the radar when the company sent out this email to a number of scientists: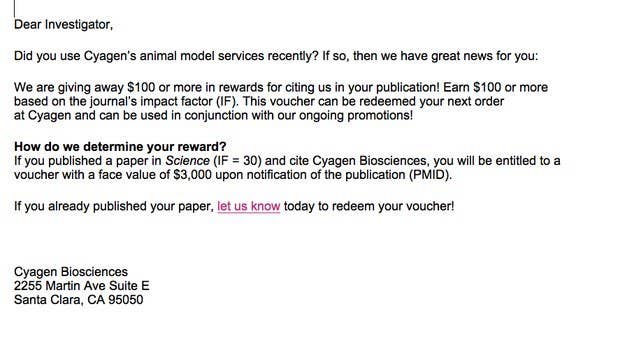 Targeting journals with a high impact factor may have backfired for the company, as this promotion has earned them extra scrutiny from at least one major publisher: Science, which has an impact factor of about 31.5.
Payment for product mentions is not "constructive to advancing science," Marcia McNutt, editor in chief of the Science family of journals, told BuzzFeed News via email.
"We will be extra vigilant for any product mentions in articles that are gratuitous and/or that go beyond what Science considers good practice for materials and methods transparency," McNutt added.