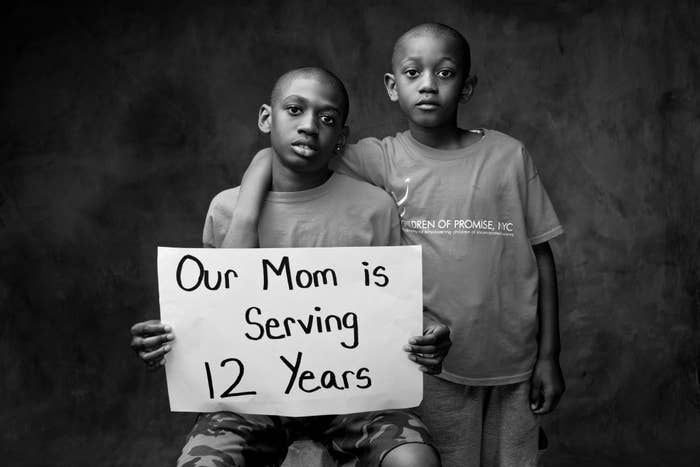 Arlene Adams killed her partner with the knife she kept in bed with her.
Adams, then 21, had just put her two daughters, Armani and Jameeyah, to bed when their father came home drunk and belligerent. As the girls slept in another room of their small apartment, their parents began arguing.
They fought, Arlene remembers, and he punched her repeatedly in the head. She doesn't remember stabbing him, only the image of him on the floor, his insides spilling out, blood pooling around him as he died.
Her daughters remember that too.
It happened in 2010, when Armani was 4 and Jameeyah 2. Armani remembers the violence in the days leading up to his death, and stepping around her father's body as they waited for an ambulance.
Armani and Jameeyah lost two parents that night: their father to death and their mother to prison. To most people, that kind of trauma is unimaginable. But it's not as rare as one would hope.
As incarceration rates in America have skyrocketed, so have the number of children the imprisoned leave behind. According to a report by The Pew Charitable Trusts, more than 2.7 million children had a parent in jail or prison in 2009. That's 3.6% of all kids in the U.S. population, up from 0.8% in 1980. Many of those kids develop post-traumatic stress disorder (PTSD) and related psychological disorders, such as depression and anxiety.
These traumas are similar to what's experienced by the children of soldiers, whose parents leave and then come home changed. A flood of research over the past decade has focused on the mental health of military kids, and in 2012 President Obama issued an executive order to expand mental health services for military members and their families.
Parental incarceration, in contrast, is deeply stigmatized, and its mental health effects are not well-studied. Outreach programs tend to focus on mentoring instead of mental health care.
But Armani and Jameeyah, as well as their mother and grandmother, are part of the lucky few who are getting comprehensive treatment. They found it at Children of Promise, a nine-year-old after-school and summer program in Brooklyn that mixes a basketball court with a full-service mental health clinic to reach local kids with a parent in jail.
Children of Promise has helped more than 1,000 children and their families to date, thanks to government grants, donations from individuals and local companies, and the endorsement of the Brooklyn Nets. But high costs, low political capital, and a lack of research make comprehensive programs like this vanishingly rare.
"It's a forgotten population," Margaret Oot-Hayes, a Regis College researcher who has studied parents in prison, told BuzzFeed News. "Incarceration is extremely destructive to families, but it's very difficult to find research funding."
Percent Of Children With An Incarcerated Parent Over Time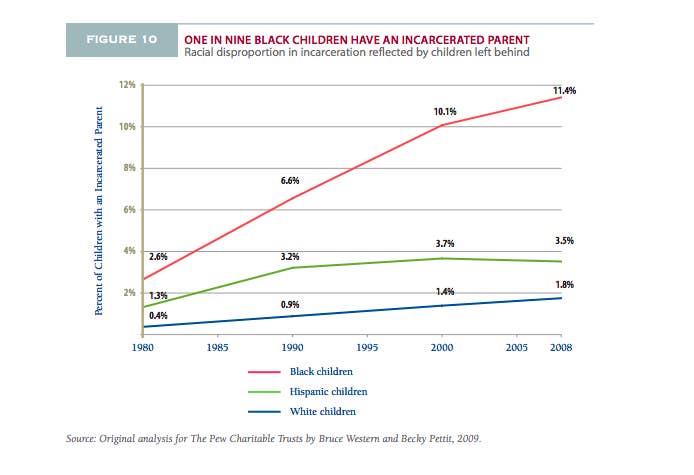 Some kids whose parents are incarcerated watched them get arrested, or were exposed to criminal activity. Others have been abused, neglected, or shuffled through an ever-shifting web of caretakers and foster homes, some more capable of caring for a child than others. Even in the best of circumstances, the kid is still losing a parent.
Together, these make children of incarcerated parents three times as likely to suffer from depression, and twice as likely to be diagnosed with learning disabilities. They are also at greater risk for a wide variety of physical health problems.
The type of trauma children experience depends on the age at which their parent is locked up, according to Gary Blau, the head of the child, adolescent, and family services branch of the Substance Abuse and Mental Health Services Administration, a U.S. federal agency.
Infants who lose critical bonding time with a parent may be at greater risk for problems with emotional attachment, he said, while older kids may feel guilt and shame, leading to aggression, anxiety, or withdrawal.
The trauma of losing a parent is often compounded by a sudden loss of income, he added, as well as the stigma and shame kids feel about having a criminal as a parent.
Kids of incarcerated parents often act out at home or school, talking back to teachers or getting in fights. They're also at risk for drug use, violence, and even their own stint in prison (though, Blau cautions, it is likely the socioeconomic circumstances a child grows up in, not the parental incarceration itself, that makes kids of parents in jail more likely to wind up there themselves).
One of the best treatments for these children is trauma-focused cognitive behavioral therapy, which Children of Promise uses in its clinic.
Trauma-focused CBT, which can take weeks or months with a trained therapist before showing real benefits, helps kids and parents find what triggers their strongest feelings and worst behaviors, and teaches them how to redirect that energy in a more positive direction. They might learn, for example, to count to 10 before reacting to a stressful situation, or how to ask their parents difficult questions about their pasts.
While many programs focus on providing kids with mentors to give them healthy role models (because that's where much of the government funding is), research has shown that relationships with parents can help protect kids against childhood mental health problems.
"Parents are an incredibly important buffer from toxic stress," said Ann Adalist-Estrin, the director of the National Resource Center on Children and Families of the Incarcerated, which helped Children of Promise develop its program.
Being involved in crimes doesn't make you a bad parent, she added. Reconnecting kids with non-abusive parents in prison can be a valuable part of healing.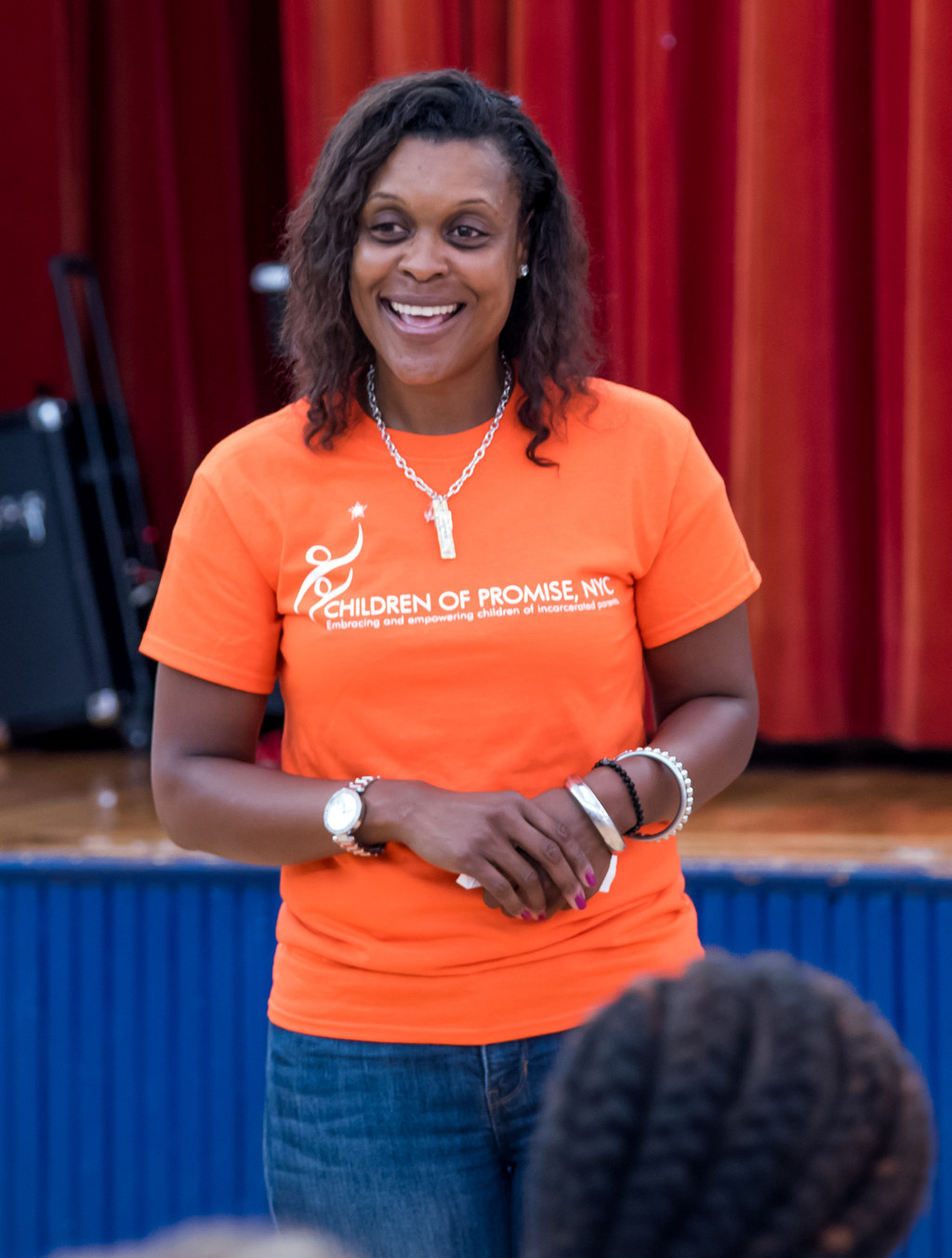 The founder of Children of Promise, Sharon Content (or "Miss Content," as the kids call her), came up with the idea while working for traditional after-school programs, including the Boys and Girls Club of America.
"Usually a grandmother would whisper, 'The reason he's having all these behavioral issues is because his dad is in prison,'" Content told BuzzFeed News. "And I just didn't have anywhere to send them."
In New York state alone, some 105,000 children have a parent in prison or jail. Nationwide, 1 out of every 28 kids has a parent in jail or prison. For black kids, that jumps to 1 in 9.
Content first started Children of Promise in 2006. After three years spent fundraising, hiring staff, and screening and training mentors, the organization opened its doors in a church in Bedford-Stuyvesant, a Brooklyn neighborhood with one of the city's highest incarceration rates. It's the only after-school program for this population in New York.
Content recruited kids by handing out flyers on the street. One of the first recipients was Widline, mother of 15-year-old Isaiah and 12-year-old Iyana. Their father had been in prison on murder and drug charges since Isaiah was 2 and Iyana was still in the womb. Isaiah had been acting out in school, becoming difficult for his teachers and mother to handle.
Children of Promise paired Isaiah with a mentor, Donald Garner, a Fordham Ph.D. student and recruiter for the New York Department of Education. Garner took Isaiah to class with him at Fordham, and went over to Sunday dinner at Isaiah's house. The mentorship was supposed to be for one year, but Garner still hangs out with the family, offering support and consistency.
Children of Promise also works with kids to help improve their relationship with their incarcerated parents. When he first began the program, Isaiah refused to talk with his dad. But with encouragement from Children of Promise staff, he began exchanging letters with his dad about his life and his progress in Children of Promise. Now, both he and his sister visit their father regularly in prison.
Since 2012, the program has operated a licensed outpatient mental health clinic for the families it helps, including one-on-one and family counseling, group therapy, and, if necessary, medication. The mental health care is sandwiched between dance classes and basketball, making it a normal part of the kids' days.
In 2014, Isaiah won an Urban Hero Award, given by the Catalog of Giving of New York City, a fundraising group for youth-focused nonprofits. This summer, he began an internship at a law firm in Midtown.
"I honestly can say I wouldn't be here without Children of Promise," he told BuzzFeed News, his sister beaming and nodding.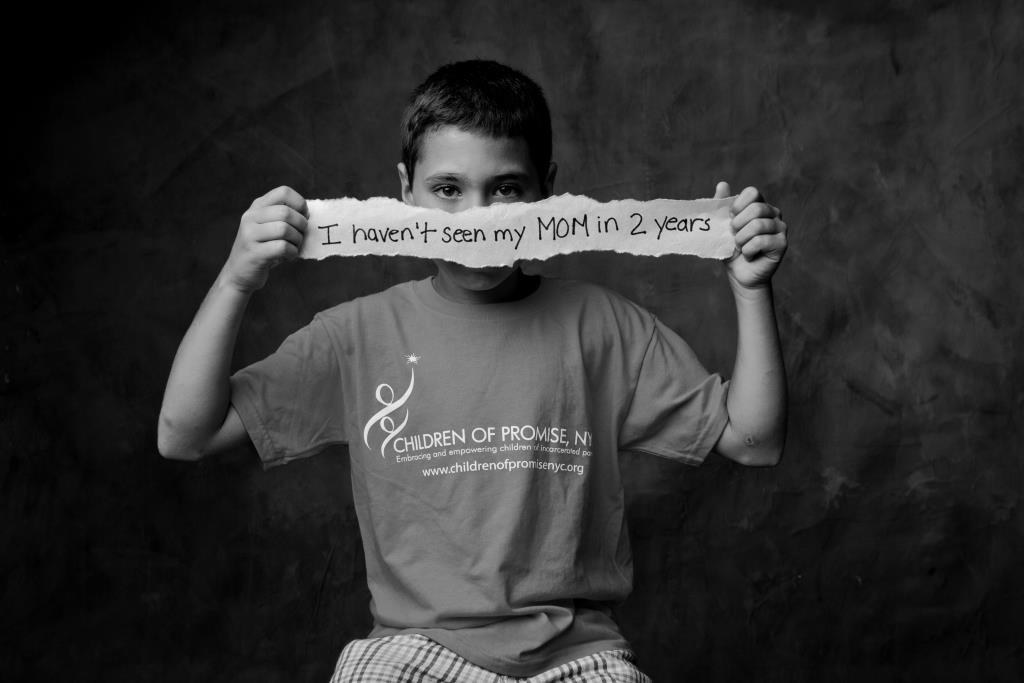 By last year, Children of Promise had outgrown the church, and moved into a large condemned school a few blocks away. Its vice president of mental health services, Anna Morgan-Mullane (or "Miss A"), and the other employees were skeptical that it would work out.
"We were like, come on Sharon, this building doesn't have ceilings," Morgan-Mullane told BuzzFeed News. "She said, 'No, trust me, this will be something special.'"
Staff, clients, friends, and family came together to paint, put together furniture, and otherwise get the building ready for its new job. Content's father did construction projects. And Morgan-Mullane's mother-in-law did the interior design, which Content insisted make families feel like they're on Madison Avenue.
Visitors today will notice the Nets-themed basketball court ringed with a balcony, and a stained-glass window overlooking the court from two stories up. Kids camp out at computer labs, take music lessons, or read in the library.
Earlier this summer, a local chicken chain, Wingstop, teamed up with the Brooklyn Nets to erect a $40,000 playground behind the new building. After Content cut the ribbon to much applause, Nets point guard Markel Brown played a pickup game with some kids, shouts and sneaker squeaks echoing through the halls.
But this kind of comprehensive support and care doesn't come cheap.
Children of Promise has three clinicians, two psychiatrists, a psychologist, and seven master of social work interns, as well as 20 non-clinical staff members to supervise kids during summer camp and after-school programs.
Clinicians have been known to go to their patients' school sports games and recitals, or take the kids to movies — personal attention that might be difficult to transfer to programs that could service the millions of children in need.
For most families of the incarcerated, intensive therapy isn't really an option. The few mental health care options that accept Medicaid and other forms of public insurance tend to be crowded, with long wait-times for care and overworked social workers or psychiatrists who must see many families in a short period of time.
"Most people are going to either get evaluated and then medicated, or seen and diagnosed and then that's it," said Adalist-Estrin of the National Resource Center on Children and Families of the Incarcerated. And caretakers, already feeling the financial strain from losing one person's income, have to take time off work to ferry their kids to and from appointments.
As an after-school and summer program, Children of Promise tends to fit with the busy schedules of working parents. For some of the kids, if they act out in school, their guidance counselors will call Miss A instead of their parents. That takes some of the stress off parents who can't afford to take time away from work to fish their misbehaving child out of trouble.
In 2011, while Arlene Adams was serving her time in Rikers, a New York City social worker paired her mother and her daughters with clinicians at Children of Promise. When Adams got out of prison two years later, she started going too.
At first, Adams kept the circumstances of their father's death a secret from her kids. But Armani and Jameeyah wanted — and needed — to understand the trauma of the night their father died.
A clinician worked with Armani to come up with a list of questions for her mother, and another clinician worked with Adams to decide how she would answer those questions. Then, in the spring of this year, they came together.
"I was afraid of her reaction, and afraid of how it might deteriorate our relationship," Adams told BuzzFeed News. Instead, Adams says, the session helped alleviate some of her anxiety, and made her feel mature for being trusted with such sensitive information.
The family has decided to wait until Jameeyah, now 7, is a little older to tell her what happened.
When asked if she thinks she could have had that conversation on her own, Adams began to cry. "Not at all," she whispered. "Maybe without the program I would have waited until it was too late to tell her, and she would have too much built-up anger and resentment towards me."
The staff at Children of Promise also helped Adams, struggling to find work, complete a college application. She's now in a bachelor's program in human services, on track for a master's degree in social work.
"I do plan on being on the other side of the table one day," Adams said. At Children of Promise? "Oh, yes," she and Morgan-Mullane said at the same time.
Arlene Adams' younger daughter is named Jameeyah, not Ariene.
Anna Morgan-Mullane is vice president of mental health services at Children of Promise, not director of mental health services.