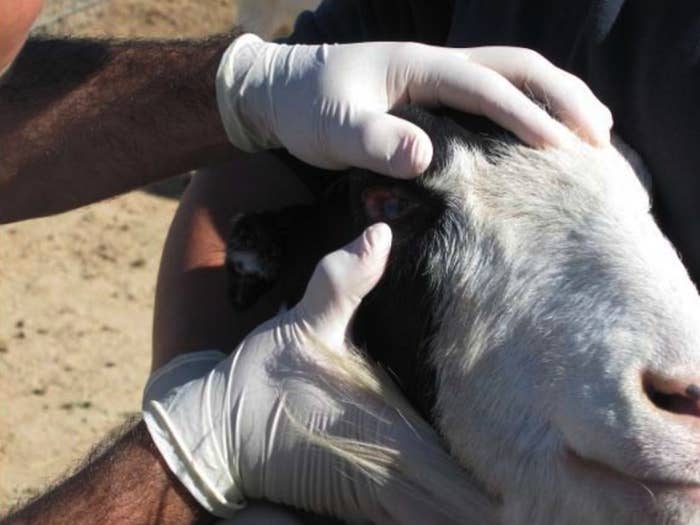 A hidden barn. A mystery witness. And two sick goats dying right in front of visiting federal inspectors — one of them shot in the head with a bolt gun.
The company at the center of this scandal is Santa Cruz Biotechnology Inc. in San Luis Obispo, California, a top science lab supplier of antibodies harvested from the blood of thousands of goats and rabbits. In August, after a years-long delay, the U.S. Department of Agriculture (USDA) held a hearing to address the complaints against the firm, including hiding a barn full of hundreds of ailing goats from federal health inspectors for years.
"Hiding a barn from animal welfare inspectors is a blatant violation. I don't understand why they didn't shut them down immediately at that time," David Favre, a law professor at Michigan State University, told BuzzFeed News.
The government is also accusing the company of dozens of other violations, including a lack of veterinary care for sick goats that led to suffering and even death.
The federal Animal Welfare Act, passed in 1966, governs animal care at more than 1,100 research, zoo, or pet operations around the country. But weak settlements and low fines, along with continued animal mistreatment, are the usual outcomes of these Animal Welfare Act cases, Favre said.
Santa Cruz Biotech's main business is the production of antibodies, immune system proteins that scientists commonly use in biology labs to tag, collect, or deliver treatment to cells. The company uses goats and rabbits as tiny factories for the molecules, filtering them out of their blood and purifying it for sale to public and private research groups.
The USDA doesn't have a lot of options for animal welfare violators. They can fine companies, file "cease and desist" orders, or take away their dealer's license, which would prevent them from continuing to sell antibodies under federal law.
But a December USDA Inspector General report found that the USDA typically reduced violation fines by 86% from the $10,000 maximum stipulated under the Animal Welfare Act, giving reductions for no reason and counting fewer violations than ones spotted by inspectors.
"The law is just not taken very seriously and the lack of enforcement is a big part of that," Favre said.
Often cited as an example by animal welfare advocates, Santa Cruz Biotech has demonstrated "repeated failures to provide minimally-adequate and expeditious veterinary care and treatment to animals," according to the USDA, which has filed three complaints against the firm since 2012. The company's continued violations, despite nearly a decade of federal pressure, underscore weaknesses in the nation's animal welfare protections, according to experts.
"So many problems over so many years, and such serious ones, on top of apparent deception — it is really unprecedented," Cathy Liss, president of the Animal Welfare Institute, told BuzzFeed News.
In an abbreviated hearing held at USDA headquarters from August 18 to August 21, the firm's attorneys and a Santa Cruz veterinarian denied allegations of maltreatment levied by a series of USDA animal inspectors. USDA animal welfare citations involving Santa Cruz Biotech go back more than a decade, including a 2005 agreement between the firm and the USDA promising to take better care of its animals.
USDA inspector Marcy Rosendale testified at the hearing that in late 2012, she received a tip that Santa Cruz Biotech had been hiding a barn — complete with hundreds of goats — from government regulators.
In an October inspection that year, Rosendale testified that ranch personnel initially played dumb about the barn, telling her it was remote and an hour away. But the drive really took just 15 minutes.
Once they found the location, "it appeared to us that the goats that were at that barn seemed to be some of the more geriatric animals," Rosendale later testified. "And generally just not in as good a condition as the other animals."
While Animal Welfare Act violations cited at the hearing dated from 2007 to 2014, the complaint wasn't updated to include the hidden barn until 2014 in a separate filing. A third USDA complaint filed only this year detailed how investigators in 2012 arrived at the ranch to find 14 sick goats untreated, one of them later so ill that workers shot it dead in front of the investigators because no veterinarian was available.
Rosendale said at the hearing that Santa Cruz Biotech, which she has inspected since 2003, was markedly worse in its care of animals than other antibody firms she inspected. She described seeing "the same problems over and over and over again" at the farm.
Robin Parker, the former Santa Cruz Biotech veterinarian who tipped off USDA inspectors about the secret barn, also testified at the hearing. She claimed that workers were ordered not to tell the USDA about the barn on the orders of the firm's owner, John Stephenson, because he felt USDA inspectors were "too nitpicky" about animal health. Parker was fired from the company in 2012.
She also said that the company relied on uncertified veterinary technicians to care for animals instead of licensed techs or veterinarians. She described the farm as a place where sick goats and rabbits bled for biomedical products went untreated for months.
In total, more than two dozen violations involving individual animals were discussed at the hearing. Accusations included a goat with an untreated coyote bite, a goat with a badly broken leg and no cast, and a goat dying of treatable pneumonia in front of an inspector. Another inspection report described a goat that had lost a quarter of its body weight after a rattlesnake bite to the face had left it unable to eat.
Before the suspension of the hearing, two experts testified on behalf of Santa Cruz Biotech. Antibody expert Robert Petersen of Case Western Reserve University in Cleveland testified that the lesions seen on rabbits at the farm probably didn't come from botched injections of antibody-stimulating compounds, as inspectors had suggested, because they weren't located near blood vessels.
Given the thousands of animals at Santa Cruz Biotech, he added, it wasn't surprising that investigators saw some sick ones during inspections.
Don Warden, who has been the veterinarian overseeing Santa Cruz Biotech's animals since 2007, testified that the goats the USDA cited were, in fact, being watched, but were simply being given time to recover from illness.
"I think they all show a lot of care and concern for the animals," Warden said of the Santa Cruz Biotech staff. "So they're very quick to let me know if something doesn't seem appropriate to them."
Santa Cruz Biotech's attorneys would not respond to a request for comment from BuzzFeed News at the hearing. On another break, the owner in attendance, Stephenson, expressed surprise that hearings were being held at all.
On August 21, the company asked for a suspension of the hearing. They have likely entered settlement talks with the government.
In their defense of animal care, Santa Cruz Biotech left the issue of their hidden barn unaddressed.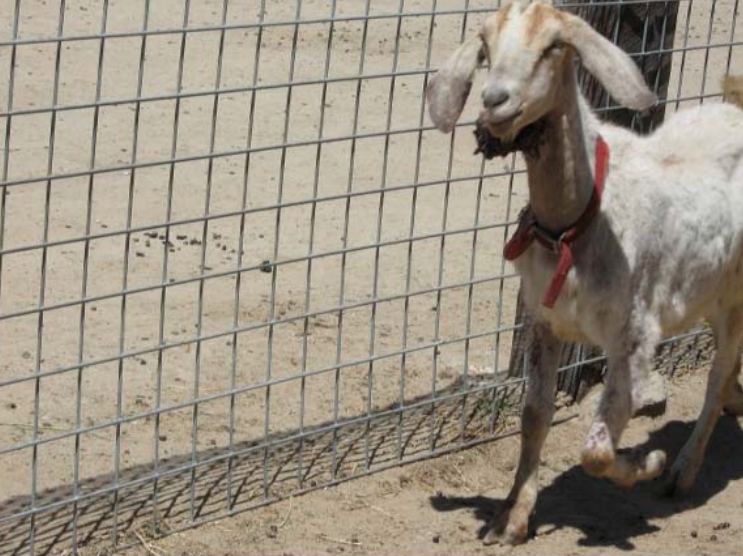 Santa Cruz Biotech Biotechnology is one of the largest players in the billion dollar market for scientific antibodies, selling nearly 20,000 kinds to labs worldwide.
But Santa Cruz Biotech isn't the only antibody company with Animal Welfare Act problems. Agency inspectors have reported this year that Equitech-Bio of Kerrville, Texas, left a rabbit with a broken leg untreated and kept 180 goats outside in freezing weather; ProSci, Inc. of Poway, California, failed to give diseased rabbits veterinary care.
Another antibody company, Rockland, Inc. of Gilbertsville, Pennsylvania, last year received a $32,000 fine from the USDA for "improper handling and abuse" of rabbits, guinea pigs, and hamsters. Federal inspectors cited company employees for beating animals' heads into walls and doing punctures of their hearts without appropriate efforts to make them unconconscious first.
"It doesn't appear to me we're talking about problems at one facility. I think we're looking at a problem with the antibody industry," Michael Budkie, the co-founder of Stop Animal Exploitation Now, told BuzzFeed News.
There are hundreds of animal facilities, large and small, that sell scientists these antibodies. At issue in the hearing is Santa Cruz Biotech's animal dealer license, which might be suspended or revoked as a penalty for losing the case. Losing this license would essentially put the company out of the antibody business. (Under the Animal Welfare Act, its separate research institution designation can't be revoked for animal welfare violations.)
The company is exempt from more stringent animal welfare requirements that the federal National Institutes of Health (NIH) requires from labs that it funds. Instead, its antibodies are considered "off the shelf" biomedical reagents exempt from NIH animal care standards.
The market for scientific antibodies ranges from big players selling multiple products to small operators selling only a handful, Jim Wells, a biochemist at the University of California, San Francisco, told Buzzfeed News. A few firms are well-respected for making sure the antibodies they sell actually work, but others don't.
"Santa Cruz is definitely one of the largest suppliers," Wells said. "So the USDA shutting them down, it would have a significant impact."
Leaving aside ethical concerns over mistreatment of animals bled for their antibodies, sick ones lead to bad science.
Both USDA inspectors and Santa Cruz Biotech's witness, Robert Petersen, testified at the August hearing that only healthy, unstressed animals deliver quality antibodies to labs. Since goats and rabbits are typically bled on weekly schedules, their weight and health need constant monitoring. The quality of their blood cells drop if they become underweight, anemic, or sick.
Untrustworthy antibodies are a big problem for scientists, Wells said. Antibodies in biomedical research are of such uneven quality that he and other researchers have started an effort to generate synthetic versions of antibodies for laboratories. Instead of ones filtered from blood, the antibodies would instead be churned out by genetically engineered bacteria.
That kind of standardization would help make sure follow-up research would be based on the same materials. "You would always know what you are getting," Wells said.
In the meantime, places like Santa Cruz Biotech will still have huge demand for their product, and are regulated almost entirely by the Animal Welfare Act, with its limited power and long delays.
At the end of August, Judge Bullard told both sides to check back on restarting testimony by September 30, which will indicate how close the two sides are to another Animal Welfare Act settlement. The judge, "will try to make it happen," Favre, of Michigan State University, told BuzzFeed News.
"The real shame of all this is that the American people do care about animal cruelty and want animals treated kindly," he added. "I'm not sure that the industry and the USDA as an agency care though."
CORRECTION
The USDA has filed three complaints against Santa Cruz Biotech since 2012, not all this year. And the hidden barn was first noted in a separate 2014 filing, not this year.