Eruptions From Indonesian Volcano Send Hot Ash And Lava Towards Local Villages
Locals within a three mile area of North Sumatra's Mount Sinabung's crater have been evacuated after multiple volcanic eruptions.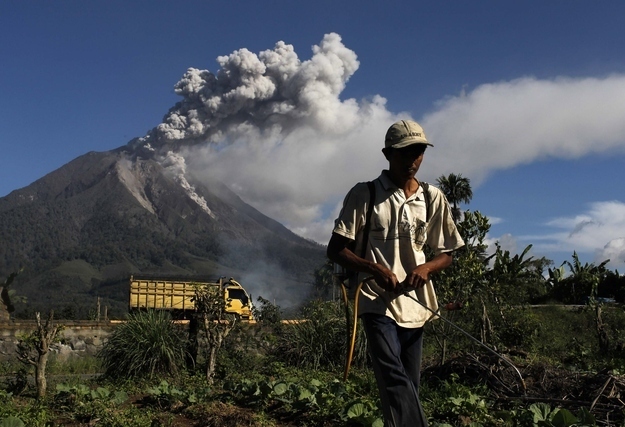 Bursts of hot ash and gravel erupted from Mount Sinabung in North Sumatra on Monday morning, sending villagers running for their lives.
There were six more eruptions that sent lava and gas up to .9 miles down the mountain, and volcanic material spewed as high as 6,500 feet in the air. The towns of Binjai and Langkat 43 miles north of Mount Sinabung's crater have been covered with thick, grey ash.
Around 15,000 people from 17 villages have been evacuated from a three mile "danger zone" around the crater.
Jatah Surbakti, 45-year-old farmer, has said his fruit and vegetable farms were destroyed by the ash and explained:
"Everything turned hot surrounding us. We were running in panic under the rain of ash and gravel... I heard many women and children screaming and crying."
Mount Sinabung is 8,530 feet high and has erupted occasionally since September.
Cate Sevilla is the UK managing editor for BuzzFeed and is based in London.

Got a confidential tip? Submit it here.