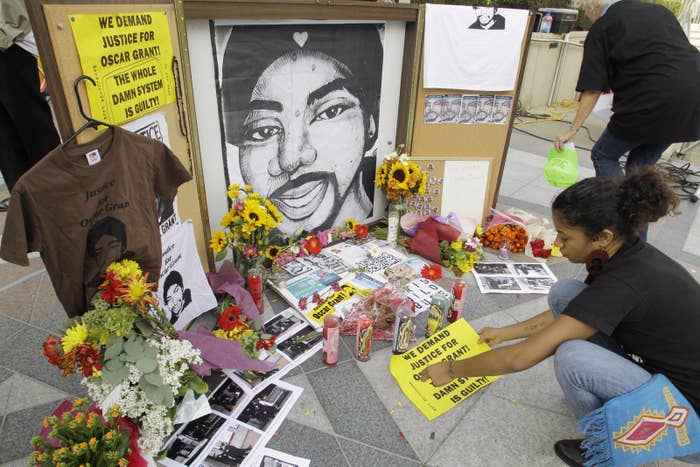 California is widely believed to be one of the most progressive states in the country. But it's also home to some of the most unjust laws in the nation, which allow police officers and prison guards to commit violence and even murder while remaining insulated from accountability — specifically when it comes to police misconduct and violence against the public they are supposed to protect and serve.
One of the worst of these is the Public Safety Officers Procedural Bill of Rights Act (POBRA), commonly known as the "police officers bill of rights." It provides cops in California facing criminal accusations with an extensive list of special loopholes and escape hatches that no other public employee or everyday citizen enjoys. These are not technically "rights," but rather ways in which police can get away with murder and misconduct.
What special benefits does POBRA grant to police? Even if an officer is questioned, they are entitled to early access to the nature of the investigation, who will interrogate them, and their name, rank, and command. They can even bring their own recording device and record the interrogation — good luck to a civilian who tries the same. There are tight time limits on how long an investigation can go on — if it goes beyond that, the officer cannot be disciplined.
Questioning must take place at a reasonable time, not during work hours — no evening interrogations. And if off duty, the officer must be paid. Can you imagine how many regular people have been forced to miss work or lose their jobs after being accused of even minor infractions, guilty or not?
It's time repeal the POBRA and the myriad of policies and practices that protect law enforcement and endanger our communities. Today, the Justice Teams Network is launching a campaign to inform and empower impacted communities across California about these laws, to support organizing with the goal of eradicating police violence. The campaign launches with the first in a series of videos, and will include town hall meetings across the state. Join us.
The movement to break this blue wall of impunity has been growing ever since Oscar Grant was killed by Johannes Mehserle, then a BART police officer, in Oakland, California, nearly 10 years ago. Since then, we've seen the explosive increase in killings of community members and loved ones, such as Sahleem Tindle, Cesar Cruz, Yuvette Henderson, Luis Góngora Pat, Mario Woods, Ernesto Duenez, Anthony Nunez, Wakiesha Wilson, Eric Rivera, Kenney Watkins, Redel Jones, Grechario Mack, Kisha Michael, Tyisha Miller, Brendon Glenn, and many more. They are just a few of the approximately 100 people who die each year at the hands of California law enforcement.
Protests outside police stations, candlelight vigils, and visits to state legislators to push for radical reform fell on deaf ears, and the inaction of those in power made it clear that change will only come through tactical organizing, coalition building, and a groundswell effort to radically transform the way our communities are policed and our bodies are incarcerated.
Law enforcement dodges accountability thanks to a matrix of state and local laws, police union contracts, and court rulings.
POBRA matters because criminal prosecutions of law enforcement are so rare — the only investigations that happen are generally the internal ones done by the offending agency. That's where POBRA comes into play. One of its many consequences is California's extremely tight window of one year, during which an investigation into foul play must be completed for disciplinary measures to be taken. The clock starts ticking the moment an agency discovers an officer's act, omission, or other allegation of misconduct, or once a criminal investigation or prosecution of that officer begins. If it fails to complete the investigation within one year, the public agency may not punish the officer or deny them a promotion on grounds other than merit. This window is way too narrow and provides district attorneys a convenient way to cover for police.

In San Francisco, it took District Attorney George Gascón two and three years, respectively, to conclude his investigations of SFPD's killing of Mario Woods, 26, and Luis Góngora Pat, 45. This is double and triple the time allotted under POBRA to ensure accountability for the officers involved. Woods was shot 20 times by five officers for holding a butter knife at his side, and Góngora Pat was shot with four bean bag rounds and seven bullets by two officers less than 30 seconds after they arrived on the scene and found him sitting on the ground, allegedly holding a knife.
Even when police departments or police commissions conduct investigations and find officers guilty of wrongdoing within the time window, the guilty parties rarely face any consequences, let alone leave the policing profession. More often than not, they engage in a "lateral move," transferring quietly to a police department and a community that know nothing about their history.
There is an unjust imbalance of power where the lives of police who commit wrongdoing are valued over the lives of the everyday citizen. Protect and serve is now kill and command. Adding insult to injury, a department must undergo an elaborate, complicated process to discipline an officer found culpable of wrongdoing. Some local police unions have won even more protections for wayward officers in labor negotiations with city officials. No other public employees have similar extra protections.
Things got worse in 2006 when the California Supreme Court ruled that records of a police officer who appeals a decision in an administrative hearing are confidential and cannot be disclosed to the public. In effect, it prevented the public from learning the extent to which police officers have committed wrongdoing and misconduct that endangers the public.
A recently passed bill, SB-1421, chipped away at this problem. However, it only breaks the seal on the most egregious forms of police misconduct — sexual assault, murder, and dishonesty. It leaves out a plethora of other forms of misconduct and does not compel police to immediately release information. The public — including journalists — will have to ask for such records proactively through public records requests, and even then, details can be redacted to protect the safety of officers and witnesses, as well as to prevent "invasion of privacy" or a pending investigation. Police can use these loopholes to delay or deny access to records.
Ultimately, the courts will decide how much of this is interpreted. But ultimately, we need new laws that expose misconduct and allow the public to see the records of past conduct by officers in their communities who may endanger them.
Beyond that, it is time not just to dismantle POBRA, but for politicians who claim to care about racial justice to stop accepting police union money. Officers, who are armed and tasked to serve and protect, should be held to a higher standard than the rest of us, not a lower one. In California, we believe in rights and dignity for all people, not just law enforcement.
It is clear, too, when we look at who is targeted and profiled by law enforcement — black, brown, indigenous, and LGBT community members, unhoused people, people with disabilities, people experiencing mental health crises, and people living in poverty — that these protections serve to uphold racism, ableism, anti-trans sentiment, poor-bashing, and white supremacy. Tackling these laws and policies means tackling some of the deepest and most harmful systemic forms of oppression that exist in America.
In a time when the list of names we mourn grows longer and longer, shouldn't we, the people who live in the communities where these police officers work and whose tax dollars pay them, be able to know about histories of abuse, torture, and murder before we hire them? The answer is clear.