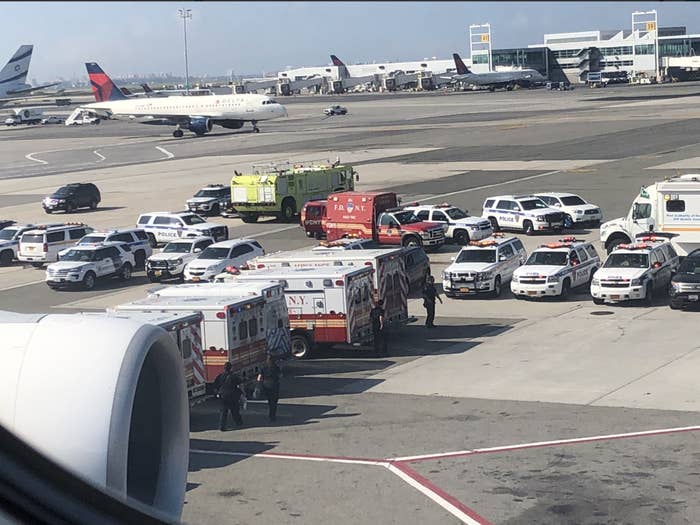 An Emirates airline jet traveling from Dubai to New York City was quarantined at John F. Kennedy International Airport Wednesday morning after about 100 passengers reported feeling sick.
The plane, Emirates Flight 203, landed at John F. Kennedy International Airport at approximately 9:15 a.m. on Wednesday morning and was immediately quarantined. The Airbus A380 was held at Terminal 4 and met by Port Authority police and personnel from the Centers for Disease Control and Prevention.
The double-deck jet, carrying 521 people, took off from Dubai in the United Arab Emirates early Wednesday morning on a nearly 14-hour nonstop journey to New York.
Larry Coben, a passenger on the flight, tweeted a photo of the plane being met by ambulances and police vehicles. Coben also posted a photo of a passenger locator information form from the CDC, which all passengers were asked to fill out.
In a statement sent to BuzzFeed News, CDC Senior Press Officer Benjamin N. Haynes said, "[A]pproximately 100 passengers, including some crew on the flight, complained of illness including cough and some with fever."
Emirates released a statement on Twitter nearly an hour after the plane landed, confirming that about 10 passengers had fallen ill and were attended by local health authorities upon arrival. The airline also said that all other passengers would be able to disembark the plane shortly afterward.
Emirates did not immediately respond to a request for comment.
At least 10 people were taken by ambulance to Jamaica Hospital.
Health officials checked passengers one by one as they exited the plane, according to Eric Phillips, the press secretary for New York City Mayor Bill de Blasio, who has been briefed on the the situation. Phillips reported on Twitter that all of the passengers are now off the plane and have been evaluated, and of the 19 people who are sick, 10 went to the hospital and nine refused medical attention.
The cause of the illness has not yet been confirmed, but authorities are investigating. Phillips tweeted that early indications point to the flu as a possibility.
One passenger on the flight, Erin Sykes, tweeted, "People were sick before we even took off from Dubai. Like really nasty colds." Sykes posted a video of passengers having their temperatures taken as they disembarked the plane.
Haynes told BuzzFeed News that "passengers who are not ill will be allowed to continue with their travel plans, and if necessary will be followed up with by health officials." The CDC will release additional information as passengers and crew members are evaluated.