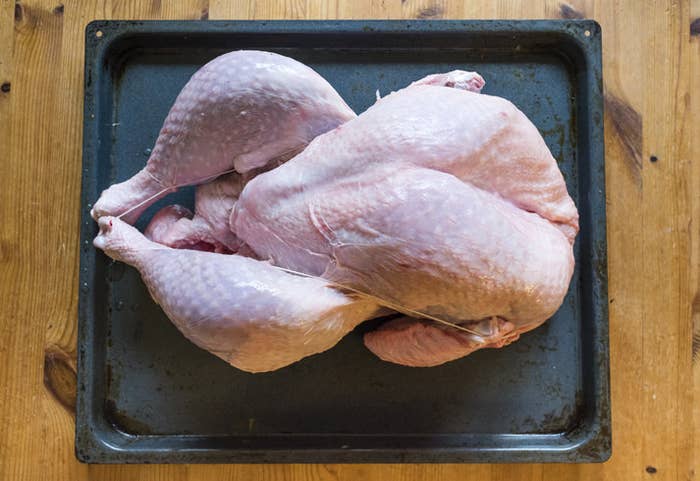 "Turkey" and "salmonella" are two words you probably don't want to hear in the same sentence, especially with Thanksgiving only two weeks away. Unfortunately, the Centers for Disease Control and Prevention (CDC) is warning consumers about a deadly outbreak of the foodborne germ linked to raw turkey.
The outbreak of multidrug-resistant salmonella has sickened an additional 74 people since July, bringing the total number of cases to 164, with 63 people hospitalized, according to an announcement from the CDC. The outbreak now spans 35 states in the US, and one death has been reported in California.
Laboratory evidence indicates that various raw turkey products (including ground turkey, turkey patties, and turkey pieces) are contaminated with Salmonella Reading, a type of bacteria that can infect the gastrointestinal tract. The strain causing the outbreak has also been identified in raw turkey pet food and live turkeys.
People who have gotten sick have reported eating various types of turkey products sold under different brands and purchased from multiple locations — so no single source or supplier has been identified, according to the CDC. "The outbreak strain of Salmonella Reading is present in live turkeys and in many types of raw turkey products, indicating it might be widespread in the turkey industry," the CDC said.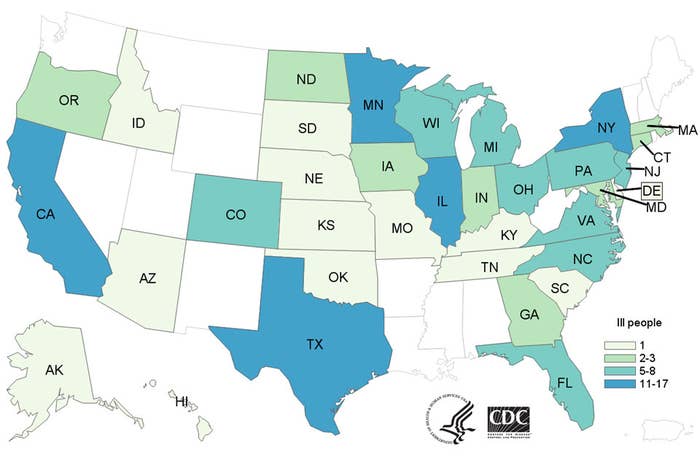 Salmonella is usually spread to people through food or water contaminated with feces from an infected animal. People who become infected with salmonella will typically develop symptoms such as diarrhea, abdominal cramps, and a fever within 12 to 72 hours after being exposed to the germ. In healthy people, the illness typically lasts about four to seven days and goes away on its own without any treatment.
However, infection with salmonella can be severe or life-threatening for young children, the elderly, and people with weak immune systems. In rare cases, the bacteria may get into a person's bloodstream and lead to other illnesses, such as endocarditis (an infection of the heart lining). An infection with salmonella can also potentially be deadly.
Without a common source or supplier identified, it's hard to tell exactly which raw turkey products could make you sick and which brands or types of turkey to avoid while shopping. However, the CDC is not asking people to stop eating turkey or retailers to stop selling raw turkey products — instead, they are advising consumers to take a few steps to prevent food poisoning and stay healthy.
Be careful when handling raw turkey products, and always wash your hands and any food preparation surfaces to avoid cross-contamination. The CDC recommends thawing turkey in the fridge, using cold water that's changed every 30 minutes, or by defrosting it in a microwave — never leave a turkey out on your counter to defrost. (Get more food safety tips for cooking turkey.)
Additionally, you should always cook turkey thoroughly, or until it reaches an internal temperature of 165 degrees Fahrenheit, which is high enough to kill foodborne germs.
The CDC does not recommend feeding your pets raw turkey because it could contain germs like salmonella that can make them sick — pet owners can also get sick from handling food or caring for their pet.