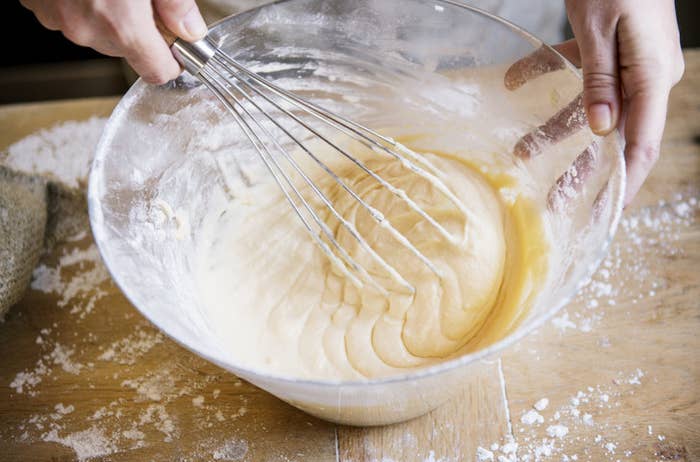 In case you were planning on baking and eating an entire confetti cake today while watching the election results come in, make sure to double check that box of mix in your pantry.
The US Food and Drug Administration (FDA) announced Monday that four types of Duncan Hines cake mix have been recalled over potential contamination with salmonella bacteria.
Conagra Brands is collaborating with health officials after a sample of their Duncan Hines Classic White cake mix tested positive for salmonella. The contamination may be linked to an ongoing outbreak currently being investigated by the FDA and Centers for Disease Control and Prevention (CDC), the company wrote in a statement.
A DNA analysis showed that the Salmonella agbeni in the cake mix was the same type of bacteria seen in people who have gotten sick, according to the FDA. Several of these people reported consuming cake mix before they became ill. The FDA has not concluded that the Duncan Hines products are conclusively the cause the outbreak, but the recall was made out of an abundance of caution.
In addition to the Classic White cake mix, the recall includes three other varieties: Classic Yellow, Classic Butter Golden, and Signature Confetti Cake (also known as the best one). The mixes are in 15.25-oz. boxes and have "best if used by" dates between March 7, 2019, and March 13, 2019. (Keep scrolling for more details about the recalled products.)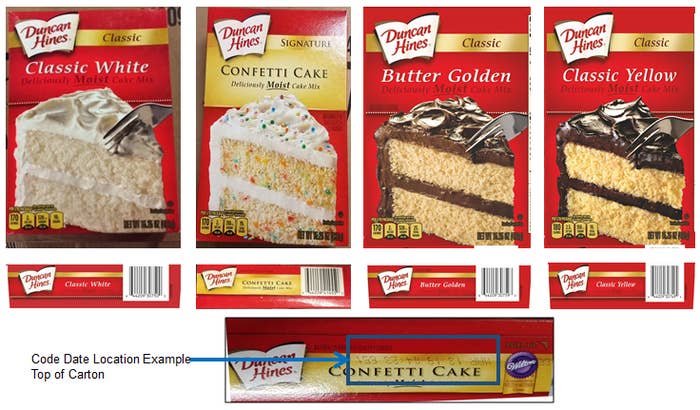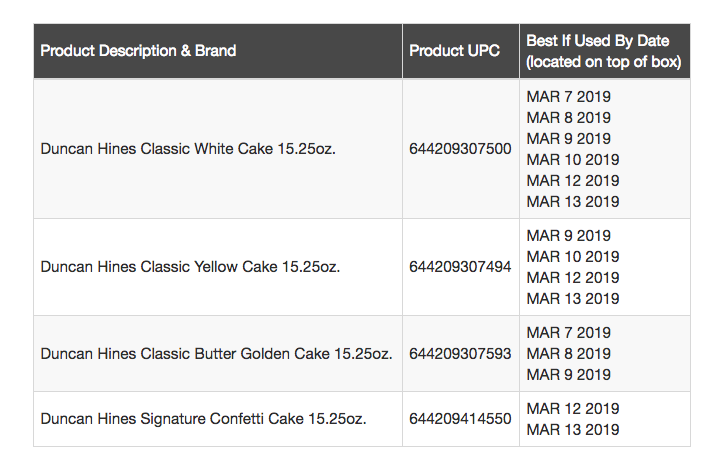 If you have purchased the recalled items, you shouldn't eat or bake with them, and instead return them to the store where you bought them. No other Duncan Hines products, such as frosting, are affected.
Salmonella is a type of bacteria that affects the gastrointestinal tract and is usually spread in contaminated food or water. Symptoms of infection with salmonella (which causes a condition called salmonellosis) include diarrhea, cramps, and a fever. The symptoms often begin 12 to 72 hours after exposure. In healthy people, the illness typically lasts about one week and goes away on its own without any treatment.
However, salmonella can cause severe or fatal infections that require hospitalization; young children, the elderly, and people with weak immune systems are at higher risk of serious complications. In rare cases, the bacteria may spread in the bloodstream and lead to other illnesses, such as endocarditis (an infection of the heart lining).
Salmonella bacteria are often linked to raw or undercooked meat, poultry, and eggs, and other prepared foods containing these products. You can prevent an infection by following food safety guidelines, including washing hands and food prep surfaces, avoiding cross-contamination, and cooking and refrigerating food properly. Conagra is advising all cake-bakers to follow instructions and thoroughly wash their hands and any surfaces or utensils that touch the cake batter. And never lick the spoon or eat any raw batter, regardless of what type of cake you are making.
Several of the people who have gotten sick may have eaten the cake mix batter raw or undercooked. "Cake mixes and batter can be made with ingredients such as eggs or flour which can carry risks of bacteria that are rendered harmless by baking, frying or boiling," the company said.