White House Holds Off On Military Options In Ukraine
The White House and State Department remain focused on diplomatic rhetoric and the threat of sanctions as Russia continues its push into Ukraine.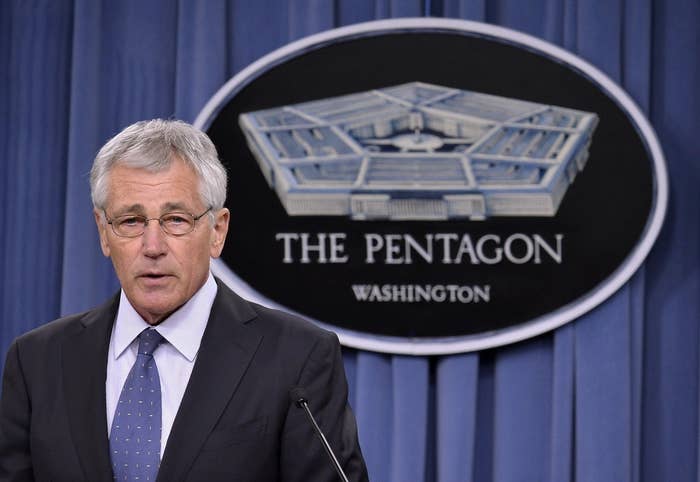 WASHINGTON — U.S. military and intelligence officials are facing a very limited range of possible military options, focusing on surveillance drones and other intel collection missions, should the Obama White House decide to take action in response to Russia's armed incursion into Crimea, former military and intelligence officials tell BuzzFeed.
The White House has focused away from possible military options for the ongoing situation in Ukraine, and administration officials have not formally requested Pentagon leaders begin drafting up such options, a senior defense official tells BuzzFeed.
Secretary of State John Kerry made clear Sunday that any potential U.S military option in Ukraine is "the last thing anybody wants."
"We want a peaceful resolution through the normal processes of international relations," he said during an interview on NBC's Meet the Press. U.S. threats have so far focused on sanctions.
Defense Secretary Chuck Hagel indicated the Pentagon was prepared to draft possible options to counter Russian military movements in Crimea and quell ongoing tensions in Ukraine.
"We have plans for everything all the time," Hagel said during an interview on CBS's Face the Nation on Sunday.
Washington is continuing to consult with its military counterparts in Kiev, but the goal of those talks is to de-escalate the situation in Crimea. "I don't think we're focused right now on the notion of U.S. military intervention," a senior administration official told reporters Sunday.
Hagel noted that any potential response by the U.S. military would take a back seat to ongoing diplomatic efforts. That said " this could be a very dangerous situation if [Russia] continues in a very provocative way," he added.
But if Moscow's provocation extends further into Ukraine, the White House could consider intelligence support missions, say former top military and intelligence officials.
Those support missions would likely focus on intelligence, surveillance and reconnaissance (ISR) operations, which include use of long-range surveillance drones and U.S. spy planes like the Navy's P-3 Orion or P-8 Poseidon and other reconnaissance assets, retired Lt. Gen. David Deptula told BuzzFeed.
Deptula, the former head of Air Force intelligence, said ISR operations are "the [United States'] biggest military option" to assist Ukrainian or allied military units, should those forces opt to launch a counteroffensive against Russian troops.
Aside from possibly flying intelligence-gathering drones and other assets to support Ukrainian forces, U.S. intelligence officials could also provide analysis teams as part of potential U.S. and allied-led support operations, former senior CIA official Fred Fleitz told BuzzFeed.
The type of intelligence support supposedly being considered by the Pentagon would fall in line with the kind of military assistance U.S. forces provided French units during recent counter terrorism operations in Mali last year, and again later that year when Paris launched a peacekeeping mission in the Central African Republic.
But Fleitz, who is now director of the Langley Intelligence Group Network, said intelligence collection and analysis support is likely as far as the Pentagon and Obama administration would be willing to go.
"We are not going to send any [U.S.] troops to the Ukraine," he said, adding there is "no chance the [White House] is going to do anything militarily" in the country.
Roughly 6,000 troops moved into the autonomous province of Crimea in Ukraine on Saturday, which Moscow claimed was part of an effort to protect Russian military installations located there. Members of Russia's parliament approved the military action, ordered by President Vladimir Putin on Saturday.
In response, Kiev has placed its armed forces on full alert.