Ukrainian Military Leaders Ignoring Chuck Hagel
Defense Secretary Chuck Hagel's efforts to reach out to top Ukrainian military leaders are falling on deaf ears in Kiev, as concerns mount over whether the armed forces will remain on the sidelines amid ongoing violence in the country.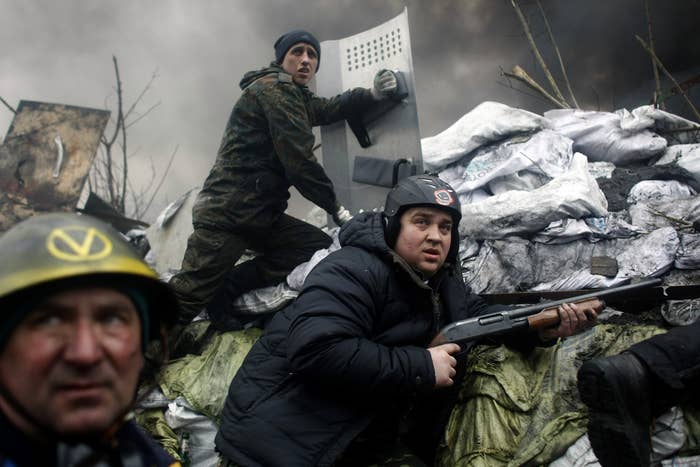 WASHINGTON — Ukrainian defense leaders have rebuffed attempts by Defense Secretary Chuck Hagel to make contact amid growing violence in the country, the Pentagon said on Thursday.
Hagel has repeatedly reached out to Acting Ukrainian Defense Minister Pavlo Lebedev over the past several days, as well as other senior members of the country's defense ministry, Rear Adm. John Kirby, the Pentagon's press secretary, told journalists.
Hagel tried to reach out to the country's top military brass as recently as Thursday, but so far Kiev "has been unresponsive," he said, declining to go into detail.
The last time Hagel and Lebedev spoke was in December, months before government police kicked off a bloody crackdown on anti-government protesters in Kiev.
Clashes between government forces and protesters in the capital this week have left more than 70 people dead, according to Ukraine's health ministry. Police snipers have reportedly moved into the the most contested parts of central Kiev, opening fire on groups of protesters in an attempt to clear the city.
"We have not been able to make contact" with the Ukrainian defense ministry, according to Kirby. "I'd say [that] is pretty unusual," he added, noting the government's crackdown on protesters will be a hot-button issue for Hagel during his upcoming trip to NATO headquarters in Brussels next week.
Hagel was in continuous contact with Egyptian military chief Abdel-Fattah al-Sisi and other interim government leader when violence swept through that country in the wake of former President Mohamed Morsi's ouster late last year.
However, Kirby said the department was not ready "to lay down an ultimatum" to Ukraine's armed forces and emphasized the Pentagon's ties with the Eastern European country remain strong. Washington and Kiev have participated in joint military exercises in the past as well as consulted with each other on regional security issues.
"That message ... will remain the same going forward," according to Kirby, who noted U.S. military leaders in the region have yet to begin planning for possible evacuation of American citizens in the country.
Lebedev has ordered Ukrainian troops to secure various military locations and facilities across the country.
However, Hagel and other top defense department leaders "generally have a concern" Ukrainian troops could be forced into the fray by Ukrainian President Viktor Yanukovych.
Maintaining direct contact between Hagel, the Pentagon and Lebedev would be critical in hedging against that scenario, Kirby said. "We would like to have this conversation and keep this dialogue going" with Ukrainian leaders, to ensure the country's armed forces remain on the sidelines during the ongoing crisis, he said.