Hagel Urges Restraint In Cyberwarfare Ahead Of Key China Visit
Defense Secretary Chuck Hagel on Friday called for restraint in U.S.-led cyberwarfare operations, as well as those conducted by foreign nations.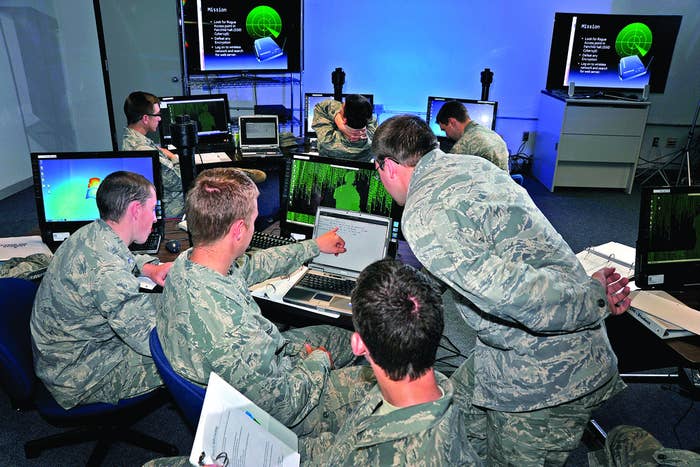 WASHINGTON — Defense Secretary Chuck Hagel urged restraint in cyberwarfare in his first major speech on the subject on Friday, days ahead of a visit to China.
"DoD will maintain an approach of restraint to any cyber operations outside of U.S. government networks. We are urging other nations to do the same," Hagel said during a speech given at the retirement ceremony for outgoing NSA chief Gen. Keith Alexander at the agency's headquarters in Ft. Meade, Maryland.
He said the United States "does not seek to 'militarize' cyberspace. Instead, our government is promoting the very qualities of the Internet ... in the United States, and around the world."
Hagel is due to visit China next week in his first trip as defense chief. A senior defense official told reporters that issues concerning cyberwarfare operations would be "a top priority" during Hagel's visit.
"We have an open conversation ... with the Chinese, with the Russians" on cyber issues, as well as other U.S. and allied military capabilities in place within the Asia-Pacific region, the official said in a call organized for reporters ahead of Hagel's visit. He insisted upon anonymity.
'We want the Chinese ... to [clearly] understand what we are doing" in the cyber world, the official said.
Such transparency, the official added, will "reduce the risk of misinterpretation and future conflict" between the United States, China and other nations in the cyber realm and elsewhere.
Hagel's China trip comes as the Pentagon and White House continue to face intense criticism for their own aggressive electronic intelligence and surveillance missions.
Claims of Chinese-led cyber attacks against Pentagon networks and major U.S. defense contracting firms have plagued negotiations between Washington and Beijing on cyber issues.
Recent revelations by NSA whistleblower Edward Snowden claim the NSA hacked into secure networks at top Chinese telecommunications firm Huawei, tracking the company's internal communications via virtual backdoors built into the company's network.
DoD networks are subjected to an average of 50,000 "persistent" probes or attempted intrusions on any given day, Hagel said Friday. While the origin of those incursions is often difficult to track or verify, U.S. military leaders suspect a majority of those strikes are carried out by China and other near-peer competitors.
That said, "our military's first responsibility is to prevent and de-escalate conflict — and that is DoD's overriding purpose in cyberspace," Hagel said.