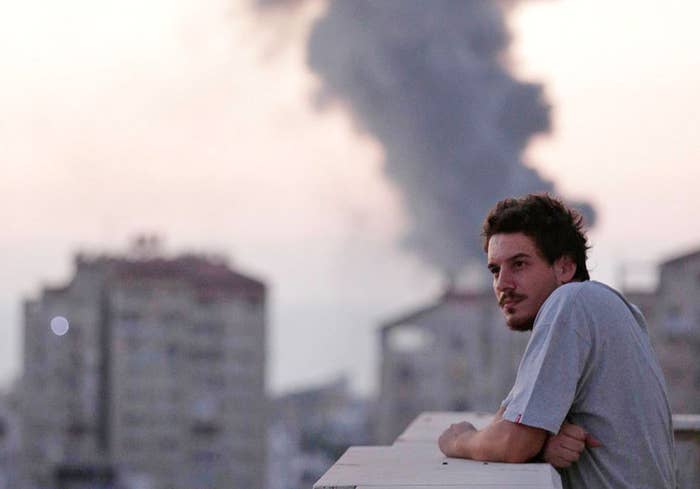 One of Gaza's leading bomb disposal experts and a video journalist working for the Associated Press were among five people killed in an explosion Wednesday in Gaza.
Hazem Abu Murad, 39, and Simone Camilli, 35, died as Palestinian police engineers were attempting to disarm some unexploded ordnance in the town of Beit Lahiya.
Murad was known as the man in Gaza to call if a bomb fell in your yard. He spent the last 15 years working as head of Gaza's bomb dispersal unit, leading a team of 70 people in collecting thousands of tons of unexploded ordinances that amassed in Gaza during the three wars fought over the last seven years.
His team worked with no protective gear, no portable scanning machines, and none of the robots used by bomb dispersal units in the West. A few days ago, in an interview with the Sydney Morning Herald, Murad said there were more than 1,000 unexploded ordinances in Gaza. As the head of the team, Murad had the most expertise in diffusing them.
"There is one minute between life and death," Murad told the Australian newspaper. "If I move my fingers two millimeters the wrong way, I am gone."
Camilli and his translator, Ali Shehda Abu Afash, were both killed in the explosion, according to the AP. Gaza police said four others were seriously injured, among them AP photographer Hatem Moussa.
Najib Jobain, the news agency's chief producer in Gaza, said Camilli was so keen to keep reporting on Gaza that he recently turned down an assignment in Iraq. "He was my brother," he said. "I have known him for almost 10 years. He was so happy to be with me working in Gaza. He was asked, 'Do you want to go to Irbil or Gaza?' He said, 'I'll go to Gaza.'"
Camilli, who was born in Italy, had worked for the AP since 2005. He is the first foreign journalist to be killed in the latest Gaza conflict, which saw more than 1,900 Palestinians and 67 Israelis killed in nearly a month of fighting.