Techies To Protest Schumer, Gillibrand, In New York
It may be the first physical protest directed at "Protect-IP" legislation, the Senate companion to the "Stop Online Piracy Act," which some warn would turn off the Internet's lights.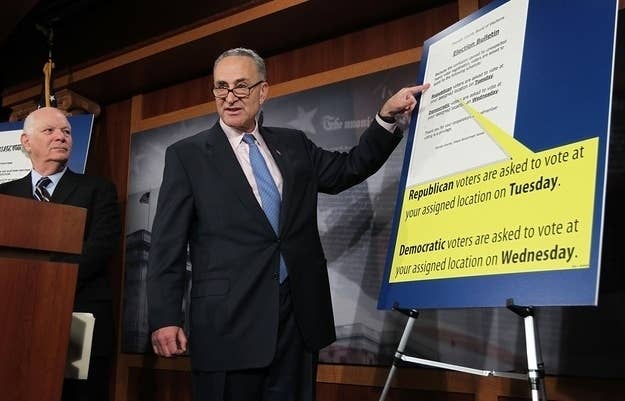 The New York Tech Meetup, which represents much of the city's booming technology scene, is organizing a protest next Wednesday outside the Midtown offices of Senators Chuck Schumer and Kirsten Gillibrand
Their complaint:
However, Congress is in the process of rushing through legislation which will not only severely damage the Internet as a marketplace and platform for entrepreneurship and open innovation, but will also seriously impact the ability of our New York tech community to continue to generate jobs, grow and flourish. Within the next two weeks, the US Senate is planning to bring the Protect Intellectual Property Act (PIPA) S.968 to the floor for a series of votes to ensure its passage.

This legislation would give the government and corporations the ability to censor the net in the name of protecting creativity simply by convincing a judge that a site is "dedicated" to copyright infringement. PIPA would give the government and corporations the ability to shut down any site connected to an accused copyright infringer. Its companion legislation in the House, the Stop Online Piracy Act (SOPA), H.R. 3261, contains many similar problems, as well as threatening ordinary users with jail for streaming any copyrighted work - even just video of themselves singing a pop song....

We believe it is imperative that we stop this bill from passage!

Legislators have said they will blunt some of the legislation's sharpest enforcement provisions. But the meetup's chairman, Andrew Rasiej, tells BuzzFeed he spoke to both senators' offices to ask them to oppose the bills or at least to lay out clear red lines on their contents. A Schumer aide, he said, responded by asking him to move the rally to Union Square.

"Usually when I say politicians don't know the difference between a server and a waiter, I'm joking. But in the case of PIPA and SOPA, it's no joke," Rasiej said. "These bills not only threaten the future of the New York tech industry, its other industries, and its economic future; but they fundamentally threaten the very nature of the Internet itself."

Spokespeople for Schumer and Gillibrand didn't respond to a question about the planned protest.