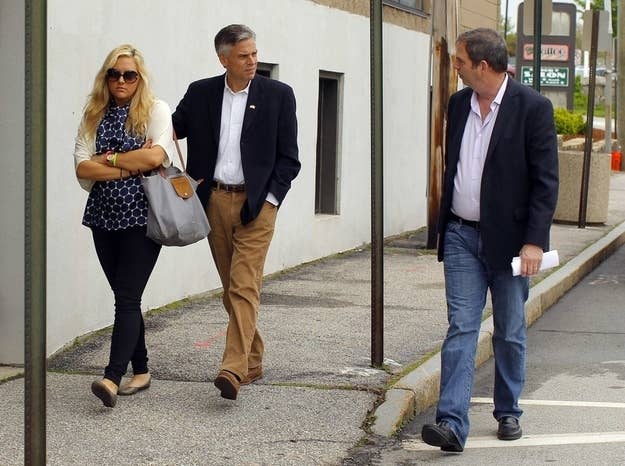 Jon Huntsman's campaign was a better idea than it was a reality, and the idea was John Weaver's.
Weaver, a rangy, 52-year old Texan has a storied and controversial career in Republican politics, and now an uncertain future. And the Huntsman campaign is the latest and purest version of a strategy that he's been pressing since he was at John McCain's right hand in 2000: A Republican campaign that embraces the mainstream media, sets itself against elements of conservative dogma, and builds a coalition of moderate Republicans and independents that – if it could only survive the primary – would be formidable in a general election. The campaign's birth in baroque intrigue and its high-level infighting are also Weaver signatures.
"You get a lot of good out of the guy, you get a lot of brilliance out of the guy – but you get a lot of dysfunction out of the guy," a Republican who has often worked with Weaver said Sunday night, after the news of Huntsman's departure had broken. Members of Huntsman's family blame what they saw as a debacle on Weaver, the Republican said. "It's really going to get ugly."
To Weaver's critics, he's a "Svengali," as one said, persuading a wealthy, talented former governor to blow his money and his name on a lost cause. To his admirers, Weaver had the right strategy -- to nip Romney in New Hampshire – and a message that would have made Huntsman formidable in November, and was let down by the candidate and his wealthy father.
"This should have been a well-funded campaign," said a Weaver ally. "There was no reason this should be a penniless campaign." (Weaver's June monthly retainer from Huntsman was $20,000; it had declined to $14,500 by fall, according to the most recently financial disclosure report, filed in October.)
But the core complaint about Weaver's strategy – which seems to have matched Huntsman's own views – is that the consultant was running for the nomination of a party whose leaders and members he seemed to view at times with disdain.
""There's a simple reason our party is nowhere near being a national governing party," Weaver told Esquire in June. "No one wants to be around a bunch of cranks."
A man with those views might be an unlikely strategist for a Republican candidate. He and Huntsman seemed to rely on the support of a silent moderate Republican majority that hasn't been shown to exist. And the consultant enjoys the loathing of his party's conservatives.
"[The] next candidate who hires John Weaver should be written off immediately as unelectable," wrote the Washington Examiner's David Freddoso.
"BREAKING IN 2015: John Weaver to con another rich guy into wasting millions of dollars running a losing campaign," snarked Commentary's John Podhoretz last week.
Weaver came by his alienation from his party honestly. He was, in fact, driven from the GOP after the 2000 election by a man whose enmity for him dated back to the 1980s, Karl Rove. Back then, Weaver and Rove were two leading young Texas consultants, and partners. They split, bitterly as consultants often do, over money; Rove was soon – reportedly – circulating a rumor that Weaver had hit on a young man at a party function, part of a successful campaign to push him out of state party politics.
Weaver and Rove were pitted against one another in 2000, when Weaver helped engineer a kind of campaign miracle: A mainstream media love affair with a Republican candidate, "straight talk" Senator John McCain. When Bush took McCain out with a nasty South Carolina campaign Weaver blamed Rove personally, and blasted him and Bush publicly; neither consultant had any interest in making amends. Rove reportedly told Republican groups that Weaver was toxic, and to stay away from him.
Weaver, battling leukemia, moved to a modest apartment on Horatio Street in Manhattan's Greenwich Village and started working for Democrats: The Democratic Congressional Campaign Committee and the Association of Trial Lawyers of America were among his high-profile clients. He also blasted away at the moral failings of the Bush campaign whenever asked. It was, for him, a trying time.
"Get divorced, quit your job, switch parties and get leukemia in one year--this is not a recipe for success," he jested wanly in March of 2004.
But Weaver stayed close to McCain. He held talks on the Arizona Republican's behalf with aides to John Kerry, who flirted with the idea of a bipartisan ticket. And that spring over coffee with Rove, he engineered a remarkable deal: In short, McCain would support Bush in 2004, and Bush would – at least – stay out of his old enemy's way in 2008.
The deal worked. McCain backed his old enemy over Kerry, an old friend and fellow veteran; and Weaver's bargain helped win McCain the 2008 nomination. Weaver ran that lavish, frontrunner-style campaign – ran it into the ground, critics said – until he was ousted in a financial collapse in the summer of 2007. His internal rivals shut him out, and then blamed him for a New York Times story hinting that McCain had conducted an extra-marital affair; Weaver was quoted in the story, but denied planting it.
Huntsman was Weaver's next project. He helped the Utah Governor make a national name for himself in 2009 as a voice of moderation, calling on Republicans to react to Obama's election by reforming and modernizing. The message had little traction on the right, but it scared the Obama White House, which saw him as a formidable candidate for president, and sent him to China to keep him out of the mix.
In 2011, Huntsman hinted that he might like to run for President. Ostensibly based on those hints, Weaver built a campaign-in-waiting for him. The unusual arrangement provoked wide suspicions of secret coordination, which Weaver denied.
"There's no other channel, there's no Wo Fat from 'Hawaii Five-O,' there's no carrier pigeons — there's none of that," Weaver said.
Weaver won some of the same buzz for Huntsman that he had for McCain. The newsmagazines that were always a favorite stop no longer had the kind of clout they once did, but they were hospitable to the unlikely campaign; another key Manhattan stop was the MSNBC show "Morning Joe."
Weaver, though, took more skeptical coverage very personally. Funny, open, and deeply knowledgeable about the folkways of political reporting, he had always enjoyed personally warm relationships with many reporters. He could be counted on to react furiously to negative coverage of Huntsman; at one point he accused a reporter whose coverage wasn't to his taste of harboring a personal "animus."
Weaver also clashed bitterly with some key figures inside Huntsman's circle, including campaign manager Susie Wiles and David Fischer, a longtime Huntsman family friend.
"If the story gets told, I want the story to be, because Weaver's history in past campaigns is when they don't work out, for whatever reason, he attacks the candidate.," Fischer told POLITICO's Jonathan Martin after he was forced out. "And in this case, I am hoping that people at least focus on, well, what went wrong here? The strategy went wrong. The strategy didn't work. At least to this day it hasn't worked."
Martin described "a campaign divided between factions loyal to Weaver and those who couldn't stand him."
Weaver forwarded an email inquiry from BuzzFeed to a campaign spokesman. A campaign source loyal to Weaver, however, downplayed the idea of internal division, noting that the campaign had not suffered the damaging public airing of dirty laundry that's common in presidential politics; the source said that there had never been any daylight between, at least, the candidate and the consultant.
"Weaver and Huntsman spoke every day during the last few months of this campaign," the source said.