McCain Hit Romney On Bain In 2008
Defends him today. In '08, "strip away the jobs." In '12, "Communism."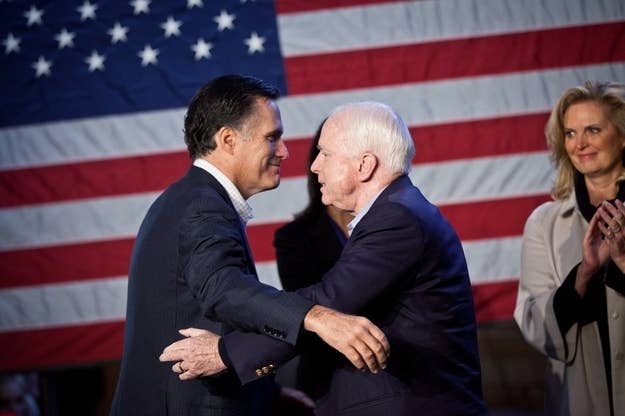 John McCain heatedly defended Mitt Romney's private sector record today:
"These attacks on, quote, Bain Capital is really kind of anathema to everything that we believe in," said McCain. "We believe in job creation, and the record of Bain Capital is to take companies that would otherwise fail and restore them to some kind of viability, and sometimes that doesn't work, but, you know, when it always works is a thing called communism, where you keep everybody in business."
But that's exactly not what McCain was saying in 2008, when the rapaciousness of Bain was part of the endgame he and his aides pressed against Romney.
Mr. McCain also went after Mr. Romney for his work as head of Bain Capital, a leveraged-buyout firm. 'As head of his investment company he presided over the acquisition of companies that laid off thousands of workers.'"
McCain sideswiped Romney's credentials as a successful business leader while answering a question about who would best run the nation. 'I think he managed companies and he bought and he sold and sometimes people lost their jobs,' McCain said. 'That's the nature of that business.'
And the Globe:
"Rick Davis, McCain's campaign manager, leveled similar criticism against Romney, the former head of Bain Capital in Boston. 'He learned politics and economics from being a venture capitalist, where you go and buy companies, you strip away the jobs, and you resell them,' Davis said in an interview with National Journal. 'And if that's what his experience has been to be able to lead our economy, I'd really raise questions.'"