Last Night In New Hampshire
Our takes where Romney's headed, how Paul did it, and what happened to Huntsman. In case you missed it: Delusions and neck tattoos.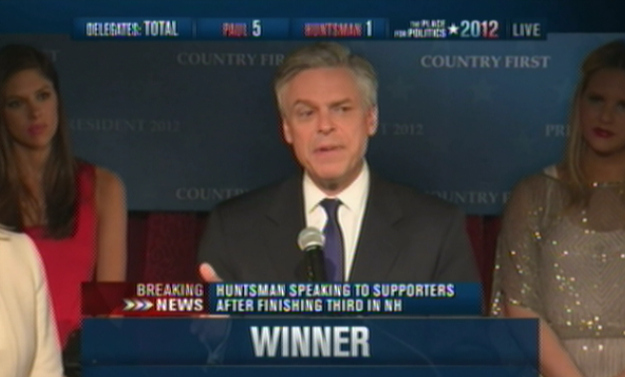 While the ongoing campaign to cast Romney as a greedy Gordon Gekko could come back to haunt him in the general election, perhaps the more daunting obstacle in South Carolina will be the Mormon question.

Aside from a couple rhetorical bombs lobbed at Romney's faith by his opponents' surrogates, Mormonism has yet to become a serious issue this cycle. But in South Carolina, the evangelical Christians who make up a significant portion of the state's GOP widely view Romney's faith with suspicion and even outright hostility.

To deal with this fact, Romney has tried to walk a fine line, highlighting his commitment to his faith without actually delving into the details of his beliefs. His religious rhetoric tends to be vague and general. In Tuesday's speech, for example, he said, "In these difficult times, we cannot abandon the core values that define us as unique: we are one nation, under God."
Paul supporters' outreach tactics were more creative -- and frankly fun -- than those of other candidates' supporters. A Ron Paul pub crawl last Friday attracted a crew of diehard fans carrying Paul balloons with a "Who Is Ron Paul?" slogan and sporting temporary Paul neck tattoos.

"The Newt Gingrich people don't have this kind of balls," Paul fan Lisa Gravel, 41, said en route from one pub to another. As the group staggered down the main drag in Manchester, cars honked, passersby cheered, and an unrelated group of Paul fans appeared across the street.
Despite the upbeat song and the confetti — yes, there was confetti —
Huntsman's path forward is non-existent.

Here's the reality: Huntsman is out of money after a last-ditch advertising push in the Granite State, and his father is unlikely to continue pumping money into his Super PAC after the disappointing finish.

Huntsman is polling in last place in Florida and New Hampshire — and had only a barebones operation in the two states.

In short, he's not going anywhere but home.
The longer this thing goes on, the more likely it is that some kind of coalition comes together around someone who is "not-Romney." Kill that before it is born and the nomination is Romney's by the end of the month. That means "all in" on South Carolina. That's what Atwater did. That's what Boston should do.