In The Home Stretch, Newt Falling Flat
Just a little energy, courtesy of Herman Cain.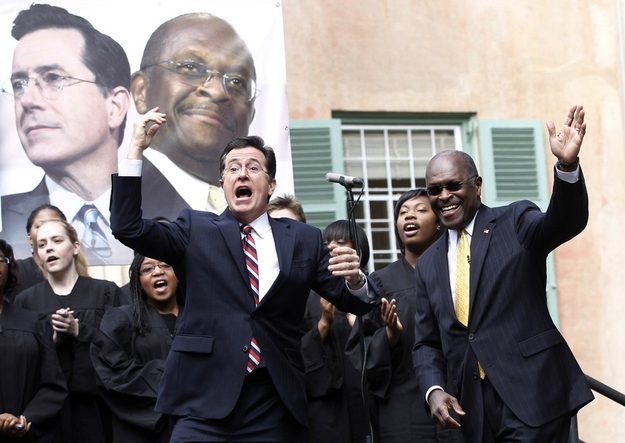 TAMPA, Florida—Not even Herman Cain could get people to turn out to see Newt Gingrich.
An event billed with the former candidate and the former Speaker of the House started an hour and a half after the scheduled start time — just one element of a chaotic afternoon for Gingrich's floundering campaign.
Gingrich's charter plane arrived at 2 p.m., and before addressing the audience (he never apologized for being late) he first met with local and network television reporters. He was supposed to hold a media availability for the broader press corps, but that was canceled, according to spokesman R.C. Hammond because "we want you to cover the speech."
Gingrich addressed a cavernous — and nearly empty — aircraft hangar here, claiming a new poll shows he's tied with Romney in the state at 35 percent.
In fact, a poll came out this afternoon showing him down 20 percent to Romney, and he's trailing the former Massachusetts governor by over 12 percent in the RealClearPolitics poll of polls. The poll he cited came out on Saturday, and was conducted from Monday to Wednesday last week, rendering it long-ago obsolete.
"The liberals want you to believe the game is over. The game is just getting started," Cain said introducing Gingrich in a speech mostly about himself and his 9-9-9 plan.
"Stay inspired," he added in a line reminiscent of concession speeches, not victory rallies.
Gingrich got his strongest applause when he referenced Cain's 9-9-9 plan, and struggled to fire up an audience too small to get enthusiastic.
"Money power can't buy people power," Gingrich closed, saying "with your help we're going to win a great victory tomorrow."
But if this audience is any clue, his people power may be coming up short.