Reports: Hillary Clinton Chased Out Of Malawi By Bees
The local headline: "It was a bees bye for Clinton at Kamuzu International Airport." State Department confirms bees, denies "panic or fleeing."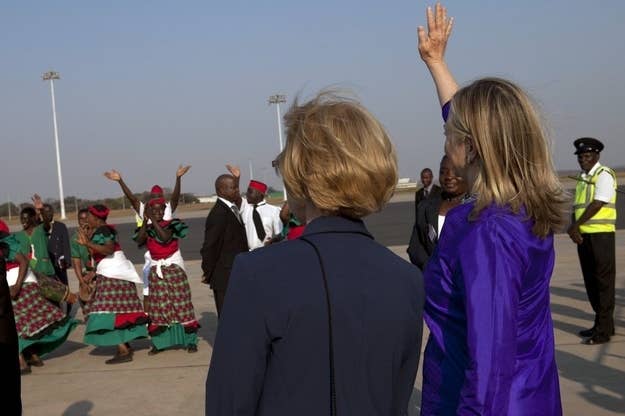 Two local press reports say Secretary of State Hillary Clinton was driven into her plane by a swarm of bees on departing Malawi today — but the State Department downplayed the effects of what a spokeswoman said were "normal bees."
The Nyasa Times reports:
[T]here was a mini panic at the international airport after bees thronged the area.

According to eye witnesses, scores of both Malawians and Americans including security agents scampered in different directions to take cover.

"There was a slight panic as the bees winged across the airport. People could be seen running away to keep cover as the Secretary of State swiftly boarded her plane to avoid any stings," an eye witness told Nyasa Times.
The Malawi Voice has a similar account:
The bees caused panic among the Americans and some government officials as the US envoy left the country. This forced Mrs. Clinton to quickly board her plane to avoid any bee stings.
A State Department spokeswoman, Victoria Nuland, confirmed that bees met Clinton's party on the tarmac, but downplayed the Malawian reports.
"Nothing to this," said Nuland. "No panic or fleeing at all."
They were, she said, "normal bees."
UPDATE: The author Ayelet Waldman tweets that Clinton was not pursued by the swarm of bees.