HERE ARE THE TOP STORIES
The next two days could change the US Senate, the Supreme Court, and America.
The Senate is controlled, barely, by Republicans, 52–48, but it ordinarily takes 60 votes to get things done. Because they can't agree, the leader of the Senate will try to change the rules so the Republicans can get one Very Big Thing done: confirming Neil Gorsuch to the Supreme Court.
The rule change, often called the "nuclear option," will — if successful — seriously shift how the US picks judges to sit on the highest court in the land. It will resolve some hotly contested national legal issues and it could change the Supreme Court as an institution. BuzzFeed News' Chris Geidner explains what it all means.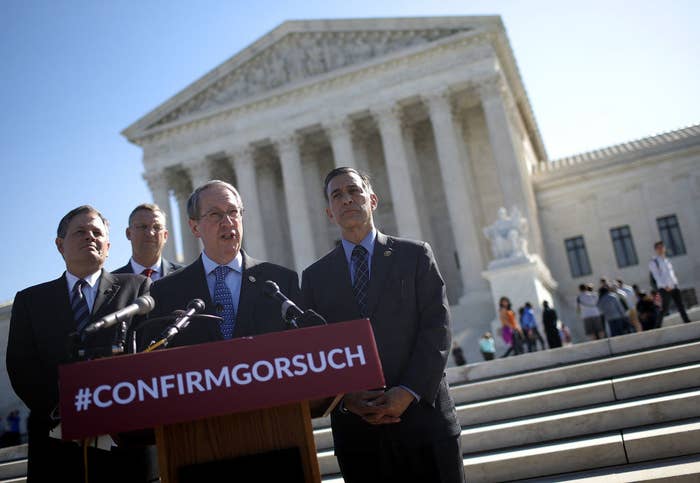 WE'RE KEEPING AN EYE ON
Trump's America
President Trump removed his chief strategist, Stephen Bannon, from the National Security Council. Administration officials tried to spin Bannon's dismissal, saying it was only a temporary posting to begin with and that he was there in part to keep tabs on the now-ousted national security adviser Ret. Gen. Michael Flynn. Several news outlets reported that Bannon never went to a council meeting.
Trump is meeting Chinese President Xi Jinping for the first time in Florida Thursday. Given the differing styles between the US and Chinese presidents — and lack of coherence so far on China policy — it's unclear whether the Florida summit will come to anything.

During Sexual Assault Awareness Month, President Trump defended alleged sexual harasser Bill O'Reilly. On Wednesday he called the Fox News star a "good person," even though O'Reilly's own network is reported to have paid out millions of dollars to multiple women who claim he sexually harassed them.
Almost 50 advertisers have pulled commercials from O'Reilly's show, after it was revealed that Fox News made payments totalling about $13 million to five women who accused the television star of acting inappropriately or sexually harassing them. It's possible that, despite the allegations, O'Reilly will be too valuable for Fox to dismiss.
One of O'Reilly's accusers, Rebecca Gomez Diamond, who was a host on Fox Business Network, criticized the president for his defense of the Fox News host. Via Twitter
DID YOU HEAR ABOUT THIS?
Nivea says it's sorry for an ad tagline boasting "white is purity."
The German skin care brand pulled the ad for its Invisible deodorant after an internet outcry.
A representative for Nivea's parent company Beiersdorf told the New York Times it was meant to speak to the idea that the color black was "strength" and white was "purity." "We never intended to hurt anybody or to raise any wrong interpretation," the representative told the Times.
And about that other advertising backlash: Pepsi pulled its widely ridiculed ad in which Kendall Jenner joins a street protest, saying the company "missed the mark." Here are the best tweets about it.