HERE ARE THE TOP STORIES
Former acting attorney general Sally Yates said she warned the White House that Russia could have blackmailed former national security adviser Michael Flynn.
Yates, who was testifying at a Senate Judiciary subcommittee hearing on Russian meddling in the 2016 presidential election, said she first warned the White House of the Department of Justice's concerns on Jan. 26.
In February, Flynn resigned after he misled Vice President Mike Pence about his conversations with the Russian ambassador. Flynn stayed on as national security adviser for the administration for 18 days after Yates first brought those concerns to the White House counsel's office.
"To state the obvious, you don't want your national security adviser compromised with the Russians," Yates said Monday.
The White House also confirmed that former president Barack Obama advised Trump against hiring Flynn, less than 48 hours after the November 2016 election.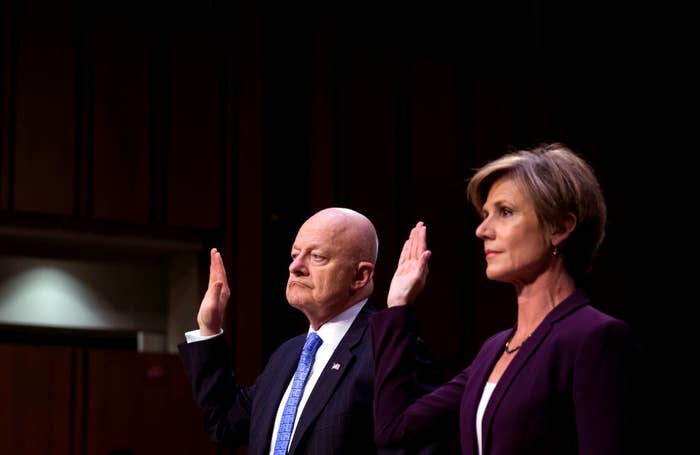 And a little extra.

Yates also revealed that nobody told the Justice Department in advance about Trump's travel ban. She said the department learned about the policy — described by some as a Muslim ban — from media reports as it was rolled out.
Trump's executive order, which banned Syrian refugees from entering the US as well as people from seven Muslim-majority countries, caused chaos at airports and drew protests around the country.
Meanwhile, the president's statement that calls for a ban on Muslims entering the US has been deleted.
WE'RE KEEPING AN EYE ON
The race is on for the first trillion-dollar company.
Apple should be worth more than $1 trillion, a Wall Street analyst said on Monday, as a surge in the company's stock price pushed its valuation above $800 billion for the first time.
Apple isn't the only company in the race to $1 trillion. Amazon is currently valued at $450 billion but is in the process of rolling out businesses that could crush entire segments of the retail industry. Google's parent company, Alphabet, is currently worth about $650 billion, with almost all its revenue coming from its online advertising business.
But...

As the giants of technology hurtle toward a 13-figure valuation, a titan of the old economy could beat them to it. Saudi Arabia's state energy company, Saudi Aramco, is in the middle of the lengthy process of becoming a publicly traded company. Aramco controls an estimated 18% of global oil reserves and could be worth up to $2 trillion after its stock market debut, Saudi officials have said, although some analysts have guessed its valuation could end up being as low as $400 billion.
QUICK THINGS TO KNOW