HERE ARE THE TOP STORIES
Emmanuel Macron will be France's youngest president ever.
Centrist, pro-free trade, and pro-globalization Macron, 39, beat out far-right candidate Marine Le Pen for the French presidency in a landslide victory on Sunday.
His victory rewrites the playbook of European politics: He launched a party from scratch, ran as unapologetically pro-European Union, engaged with right-wing voters, and directly countered fake news.
Macron's campaign was hit by a hacking attack on Friday night.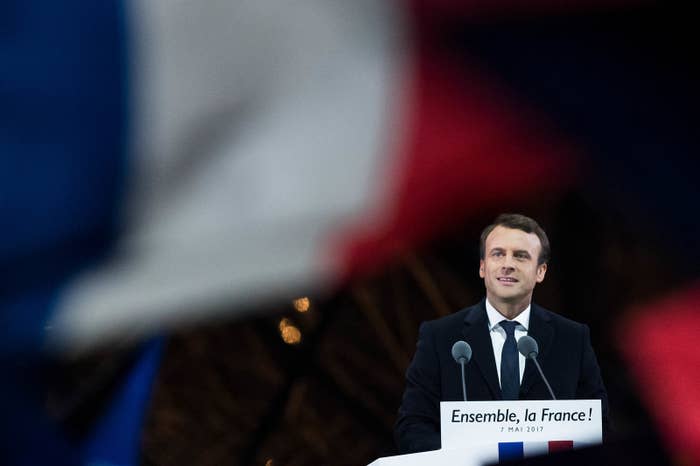 And a little extra.
The far-right National Front still won more votes than it ever has. Europe's populist far-right wave hasn't suddenly vanished, but neither is its continued rise as inevitable as some of the media coverage since the Brexit vote, and Trump's election in the US, often seems to imply. The state of France's economy has been instrumental to the National Front's rise, and few can predict what the economy will look like in 2022.
WE'RE KEEPING AN EYE ON
There's a lot of confusion about the US House Republicans' health care plan.
So BuzzFeed News did some fact-checking. The American Health Care Act hasn't been passed by Congress and Obamacare isn't going away — yet. Here's what's actually true about the AHCA:
It doesn't make rape a pre-existing condition and assault survivors won't lose their health care.

It'll make it a lot harder and more expensive for many women to get abortions.

The bill is a massive wealth transfer to the rich.

People won't lose coverage because of pre-existing conditions, but their insurance could be expensive. Oh, and there's no official list of pre-existing conditions either.
Former president Barack Obama has warned Congress to have the "political courage" to protect health care access for Americans.
More US news
The White House on Monday will announce 10 of President Trump's nominees for the federal courts, a source familiar with the nominations process told BuzzFeed News — moving faster to change the face of the judiciary than any new president in the past quarter-century.
The Trump administration sent shockwaves through the historically black college community by suggesting in a statement on Friday night that a funding program for black college campuses may unconstitutionally allocate federal money on the basis of race.
DID YOU HEAR ABOUT THIS?
How a federal agent got away with terrorizing his Brazilian ex-girlfriend — even as she repeatedly begged the US government to stop him.
A US law enforcement agent based in São Paolo, Brazil, shared sensitive information about international drug-trafficking investigations with his girlfriend — and then, after she ended their affair, pursued a campaign of stalking and harassment that continues to this day.
Even within the Drug Enforcement Administration, an agency frequently criticized for failing to punish misconduct by employees, Special Agent Scott Nickerson's actions stand out. Months after returning to the United States, he still frequently messages the woman, Larissa Carvalho. He manages to learn her precise location, even seemingly down to her parking spot, while living thousands of miles away. At one point she logged on to her wedding website to find it filled with vivid photographs of her and Nickerson engaged in sex acts.
Through it all, she has filed multiple formal complaints — as have her friends and family — with the US government, begging for relief from her tormentor. But nothing has changed.