HERE ARE THE TOP STORIES
Donald Trump has embarked on his first foreign trip as president.
The president urged Middle Eastern nations to "drive terrorists out" of their communities and countries without waiting for the US's help during a speech on Islam in Saudi Arabia on Sunday. "Drive them out of your places of worship, drive them out of your community, drive them out of your holy land, and drive them out of this Earth," Trump said.
He also announced the signing of multiple agreements with Saudi Arabia and other nations to counter terrorism. The speech was met with disappointment from human-rights advocates who criticized him for not mentioning human rights, democracy, or freedom.
And American Muslims noticed a glaring omission from Trump's speech on Islam: themselves. There was no acknowledgment of the contributions of the athletes, doctors, actors, and tech entrepreneurs who are among more than 3.3 million Muslims living in the United States.
A list with the personal information of thousands of anti-Trump activists is being built and shared online. The president made a "rude" thumbs-up sign in Saudia Arabia, but really everyone needs to calm down for a minute. And Trump put his hands on a glowing orb in Saudi Arabia and people made a lot of jokes.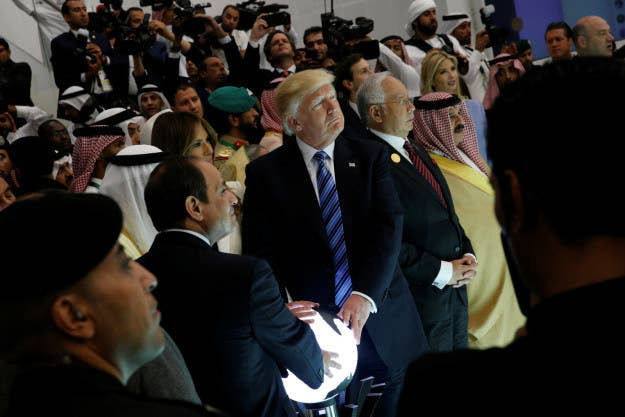 DID YOU HEAR ABOUT THIS?

University of Notre Dame students walked out of their own graduation on Sunday in protest of Vice President Mike Pence.
As soon as Pence took the stage to a mixture of boos and applause, a large group of students stood up and started filing out of the university's football stadium. The students called their university's choice to invite an "anti-LGBT" politician "sad and frustrating," adding that he's part of an administration that has shown disrespect for women, people of color, and Muslims.
US police forces are sending a message to black suburban residents: You're not wanted.
Small and mid-sized American cities that used to be nearly all white are in the middle of a huge demographic shift, but police forces aren't keeping up, creating a combustible mix that leaves black and brown residents feeling targeted by cops and shunned by their white neighbors.
BuzzFeed News' Albert Samaha went to one of these cities — Troy, New York — to see what happens when white police forces enforce the law in rapidly changing communities.