HERE ARE THE TOP STORIES
The latest scandals plaguing Donald Trump's White House.
Trump asked former FBI director James Comey to stop the investigation into fired national security adviser Michael Flynn during a meeting in February, according to a memo Comey wrote, the New York Times reported Tuesday.
"He is a good guy. I hope you can let this go," Trump told Comey, according to the memo, which was read to, not viewed by, a Times reporter.
The two-page memo was one of several Comey created that detailed conversations and interactions with the president in what he believed were improper attempts to influence the FBI's investigation into links between the Trump administration and Russia.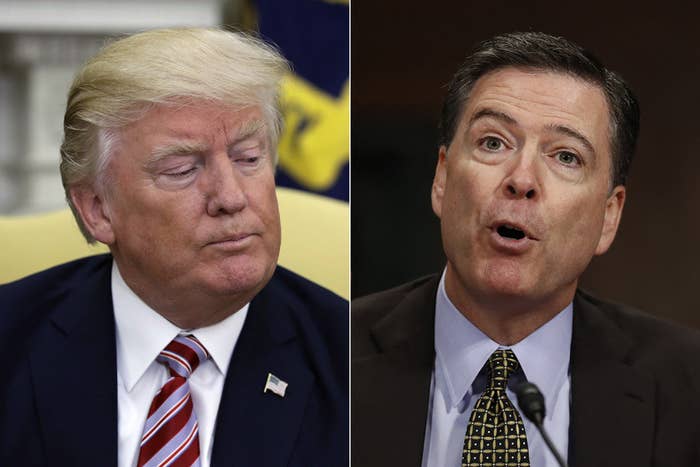 There's more

Two Israeli officials told BuzzFeed News that the intelligence Trump shared with Russia "syncs up" with information Israel shared with its US counterparts regarding ISIS plots to smuggle explosive laptops onto planes.
The revelation that Trump had shared that intelligence with Russian officials was Israel's "worst fears confirmed," said one of the intelligence officers.
On Tuesday, Trump tweeted it was his "absolute right" to share "facts pertaining to terrorism and airline safety" with Russia, seemingly contradicting statements from his own national security adviser, H.R. McMaster (whose credibility is on shaky ground at the moment), who told reporters that at no time "were any intelligence sources or methods discussed" during the meeting.
And a little extra.
Republicans in Congress are getting exhausted from the chaos coming out of the White House. Slowly, they're starting to break from the president and demanding more information from the White House, which they say has kept them in the dark on potentially leaked classified material.
Meanwhile, Washington Democrats are warming up to the idea of impeaching Trump as scandals continue to plague the administration. Democrats, who are in the minority in both houses, can't actually impeach a president without significant Republican support. Trump can only be removed "if a majority of the House votes to impeach and a two-thirds majority of the Senate votes to convict," Vox writes.
Stay quiet. Play the blame game. Change the news cycle. Close the loop. Here's how the pro-Trump media responds to a crisis in four steps.
WE'RE KEEPING AN EYE ON
Iran's president is campaigning against the system he helped create.
Though a moderate pragmatist, Iran's Hassan Rouhani — the incumbent — is running for re-election as a tough critic of the regime.
The country's political restrictions have loosened during the short campaign season. Lively ads have aired on television while candidates troll each other. Hardliners running against Rouhani blame him for failures they themselves created.
A bit of background

Iran's hybrid system combines elements of a theocratic dictatorship with those of an electoral democracy. After vetting by a panel of religious scholars and jurists, the president and parliament are popularly elected. But it's the country's supreme leader, Ali Khamenei, a top-ranking Shia cleric, who ultimately calls the shots on national and international matters.
QUICK THINGS TO KNOW