HERE ARE THE TOP STORIES
From armed drones to car bombs, ISIS has turned its last stronghold in Iraq into a "Mad Max-style" battlefield.
Iraqi forces backed by US artillery and airstrikes have been waging a bloody offensive for Mosul since October, working to drive ISIS from the city where in June 2014 they had declared their caliphate. With the city encircled and the road to Syria blocked by pro-government Shiite militia, the ISIS fighters hunkered down in western Mosul also have nowhere to run. The cornered militants are increasingly using drones armed with grenades and armored car bombs to inflict a heavy toll on Iraqi soldiers. Mike Giglio reports from Iraq.
"They build kind of Mad Max-style up-armor in order to stop or reduce [rocket-propelled grenade] fire or anti-tank weapons systems," said Col. Arkan, an Iraqi special forces officer who calls in US-led airstrikes, who asked that his last name be withheld for security reasons.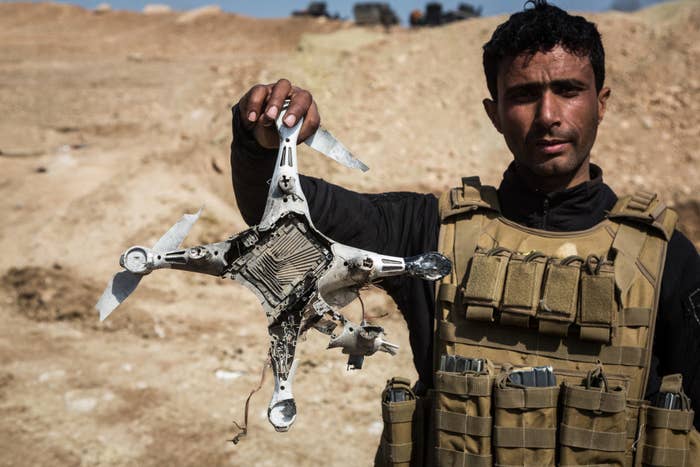 WE'RE KEEPING AN EYE ON
The ACLU filed a complaint against Attorney General Jeff Sessions, claiming he engaged in professional misconduct during his testimony about Russia.
A lawyer with the American Civil Liberties Union filed the complaint Thursday, asking the Alabama Bar to "determine whether he violated the Alabama Rules of Professional Conduct" in his sworn testimony before the Senate Judiciary Committee regarding his contact with Russian officials.
And a little extra
The Senate Intelligence Committee has been given sweeping powers, unseen since the Watergate era, to investigate Russian meddling in the US election. As its scope grows to include suspected ties between the Trump camp and Russia, investigators are starting to worry politicians have overhyped the probe.
Even some Democrats on the Intelligence Committee now quietly admit, after several briefings and preliminary inquiries, they don't expect to find evidence of active, informed collusion between the Trump campaign and known Russian intelligence operatives, though investigators have only just begun reviewing raw intelligence.
DID YOU HEAR ABOUT THIS?
South Korea's first female president has been removed from office over a corruption scandal.
The country's Constitutional Court upheld President Park Guen-hye's impeachment Friday in a ruling that was televised live in South Korea, marking the first time a democratically elected leader of the nation has been ousted from office.
Members of the country's National Assembly voted overwhelmingly to impeach the embattled president in December after she admitted to letting a close associate with no government role, Choi Soon-sil, influence public policy and edit some of the speeches she made while in office.