What's Going On In The News Today?
In January, Trump said NATO was "obsolete" — yesterday, he changed his mind. The first Muslim woman judge in the US has been found dead in a New York river. And a man is getting out of prison following a BuzzFeed News investigation.
HERE ARE THE TOP STORIES
President Trump said there are no plans for the US military to go into Syria, even though the US is already there.
"We're not going into Syria ... but when I see people using horrible, horrible chemical weapons … and see these beautiful kids that are dead in their father's arms, or you see kids gasping for life … when you see that, I immediately called [Defense Secretary] General Mattis," Trump said during an interview with Fox Business that aired Wednesday morning. He also called Syrian President Bashar al-Assad "truly an evil person."
Despite Trump's claims, the presence of US military forces fighting in Syria is well documented. BuzzFeed News has reported on the US's growing presence in the region — in March, US troops took part in a surprise attack on an ISIS-controlled dam. Marines have also set up an outpost outside Raqqa, the de facto capital city of ISIS.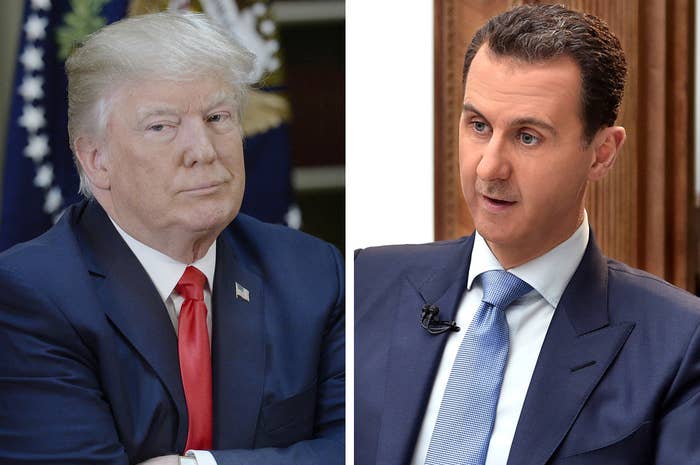 In other Trump news:

In January, Trump said the NATO was "obsolete." But yesterday, he changed his mind.

The Trump administration has hired a retired lieutenant colonel with decades of experience in special forces and counterterrorism for the position of senior director for Africa, a White House official told BuzzFeed News.


The president said he was "eating the most beautiful piece of chocolate cake" when he gave the order to launch 59 missiles at a Syrian base.
DID YOU HEAR ABOUT THIS?
How Russia hacked Obama's legacy.
In its last year, the Obama administration had its eyes on burnishing the outgoing president's legacy — and ignored the threat from an old foe.
BuzzFeed News spoke with 10 former administration officials to get the full story about the realization that Russia was attempting to sway the election and the delayed retaliation.
The White House was so concerned about looking political when responding to Russia's hacking that Ben Rhodes, one of Obama's longest-serving foreign policy advisers, was sidelined due to his close friendship with Jake Sullivan, a top Clinton campaign staffer. Even after the election, it was Barack Obama who delayed the response through all of November as he tried to form a relationship with his successor.
A man is getting out of prison after a BuzzFeed News investigation.
The Cook County State's Attorney's office said Wednesday it would free Roberto Almodovar, who claims he was framed for a 1994 double murder by retired Chicago Police Detective Reynaldo Guevara.
The decision to release Almodovar, and drop all charges against him, comes eight days after a BuzzFeed News investigation into his case and the former detective who got him locked away for more than two decades. The investigation found that at least 51 people have accused Guevara of framing them for murder and that Chicago authorities had ample warnings about the long series of allegations against him.
QUICK THINGS TO KNOW