What's Going On Around The World Today?
Mike Huckabee is running for U.S. president. A new Amnesty International report alleges human right atrocities in the Syrian civil war. And follow the blue light: astronomers have identified the most distant galaxy measurable in the night sky.
HERE ARE THE TOP STORIES
A new report alleges that the Syrian government and many rebel groups are committing war crimes daily, according to BBC News. The Amnesty International report accused Syria of using barrel bombs, "so-called because they are often made from oil barrels packed with explosives and metal fragments [and] are crudely made but extremely deadly weapons that are dropped during aerial attacks," BuzzFeed News' Shyamantha Asokan writes. Barrel bomb attacks have killed more than 3,000 civilians in and around Syria's second largest city of Aleppo since the start of 2014, according to the report. In February, President Bashar al-Assad denied using barrel bombs, but U.S. and European officials have said that statement is not credible.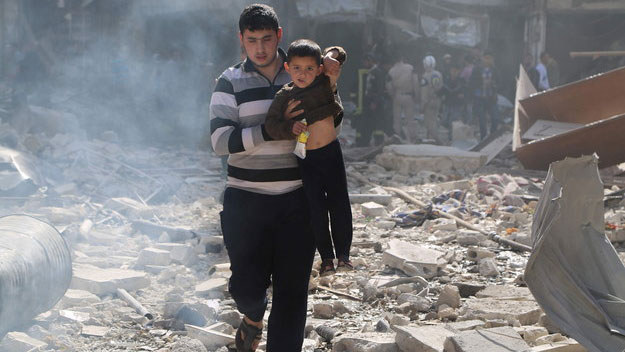 "Such a systematic attack on the civilian population, when carried out as part of government policy as appears to have been the case in [the city of] Aleppo, would also constitute a crime against humanity," the report said. Syria's civil war is now in its fifth year. An estimated 310,000 people have been killed since and 7.6 million Syrians have been driven from their homes.
And a little extra. The United Nations began a new effort yesterday to restart peace talks with the Syrian government and opposition officials. More than 40 groups and 20 countries have been invited to attend meetings over the next five to six weeks, BBC News reports. The last round of peace talks in Geneva took place in early 2014, but failed. "These are not yet peace talks," the U.N.'s special envoy to Syria Staffan de Mistura said, acknowledging that the chances of success were slim.
Mike Huckabee is officially running for U.S. president. The former governor of Arkansas announced his candidacy yesterday in his hometown of Hope, Arkansas. He's the sixth Republican candidate to join the 2016 U.S. presidential race and the third Republican to announce his nomination this week, after former tech CEO Carly Fiorina and retired neurosurgeon Ben Carson. Huckabee, a social conservative, ran for president in 2008 and got a surprise win in the Iowa caucus.
"In a GOP field packed with candidates working to define themselves by their youth, Huckabee is unapologetically positioning himself as an avatar for conservative baby boomers," BuzzFeed News' McKay Coppins writes.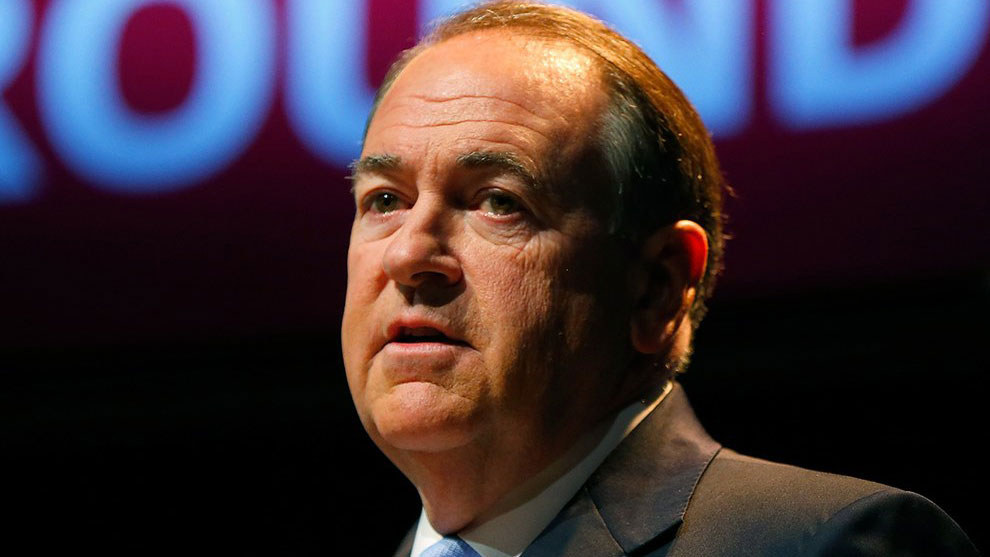 And a little extra. In other 2016 presidential race news, Hillary Clinton is making an effort to win over the skeptical immigrant activist movement. At her first campaign stop in Nevada, Clinton outlined an aggressive and detailed policy agenda that called for a path to "full and equal citizenship," BuzzFeed News' Adrian Carrasquillo and Ruby Cramer report. Her proposals for the immigration system would expand President Obama's current efforts and go even further. Twenty-six states, including Nevada, have sued to block President Obama's executive actions on immigration and a ruling is pending, according to the Associated Press.
Photo credit: John Locher / AP Photo
WE'RE KEEPING AN EYE ON
The U.K. elections are tomorrow. This is the U.K.'s first general election since 2010, and there has been a lot of upheaval in the country's political power dynamics since then. Historically, the elections are a fight between two dominant parties, Labour and the Conservatives. But smaller parties gained traction over the last five years as the public grew increasingly disillusioned with the two major parties — mainly because of the economy. So this election is more fractured than ever before.
Here's everything you need to know about the U.K.'s general election, courtesy of BuzzFeed News' Jim Waterson and Hayes Brown. You can follow BuzzFeed UK's election coverage here.
What's next? The election tomorrow may be one of the closest elections in decades with no single party winning a majority. "Either Tory incumbent David Cameron or Labour challenger Ed Miliband will almost certainly emerge as prime minister, but neither has any realistic hope of securing a majority for his party," Washington Post's Griff Witte and Dan Balz write. And the Scottish National Party is expected to turn out a strong performance, potentially becoming the third-biggest party in the House of Commons, according to Time.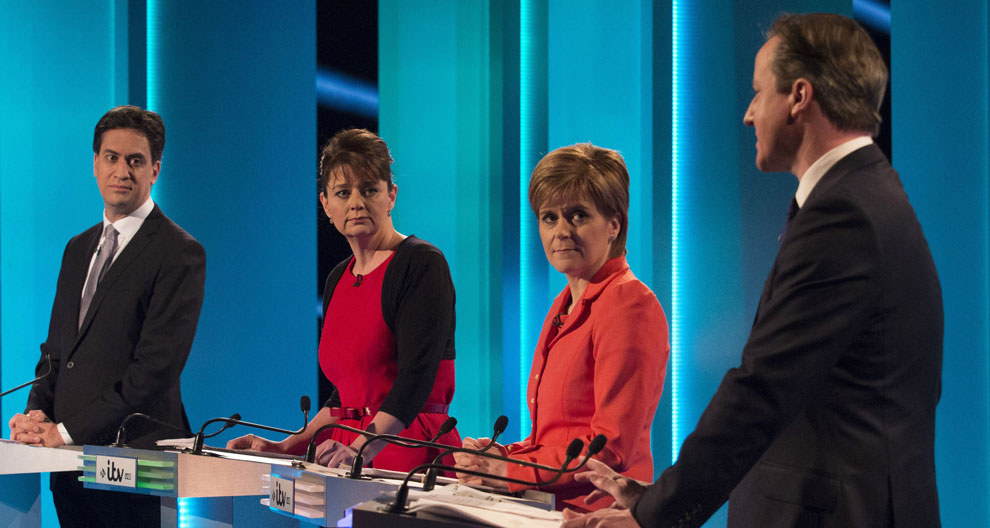 Burundi's constitutional court approved the president's decision to run for a third term in June, sparking another round of violent demonstrations. The announcement reignited protests, which began last week following President Pierre Nkurunziza's initial decision to run again, in apparent violation of the the Arusha Peace Accords signed at the end of Burundi's most recent civil war in 2005.
What's next? "The flare-ups in Burundi threaten wider repercussions in a region with a history of ethnic conflict and where other presidents are also facing term-limit deadlines soon," Reuters' Patrick Nduwimana writes. The protests have also triggered migration, with about 30,000 Burundians seeking refuge in neighboring countries, according to the New York Times. Burundi's elections are June 26.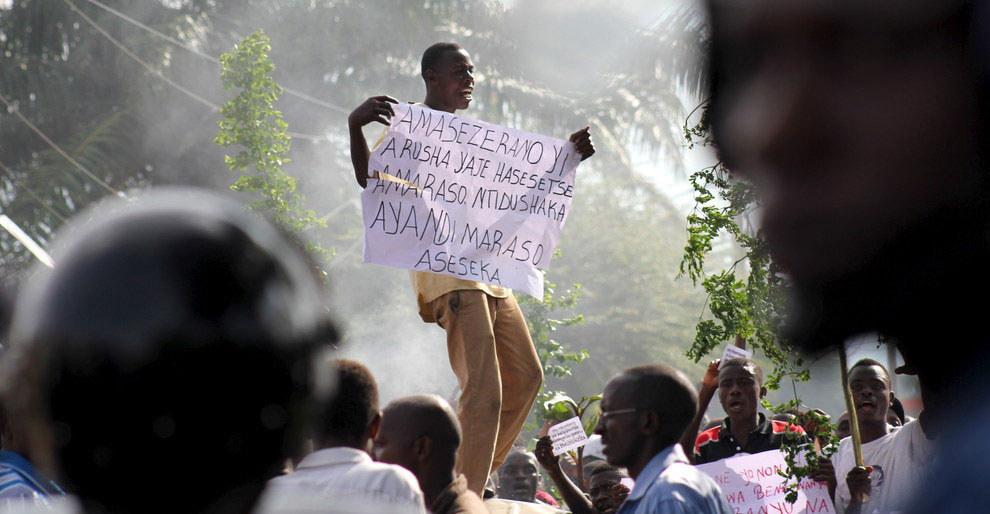 DID YOU HEAR ABOUT THIS?
The French parliament has approved a law that grants authorities the ability to carry out domestic surveillance efforts with almost no judicial oversight, the New York Times reports. The bill had been in the works since last year, but it received extra momentum after the terrorist attack against the offices of the satirical newspaper Charlie Hebdo and a kosher grocery store. Critics have said the law gives too much power to the state and have called it France's version of the Patriot Act, the American legislation that allowed for mass electronic surveillance following the 9/11 attack. The bill now goes to the French Senate, where it is expected to pass. Meanwhile, the U.S. Justice Department is reviewing America's secret cell phone tracking program.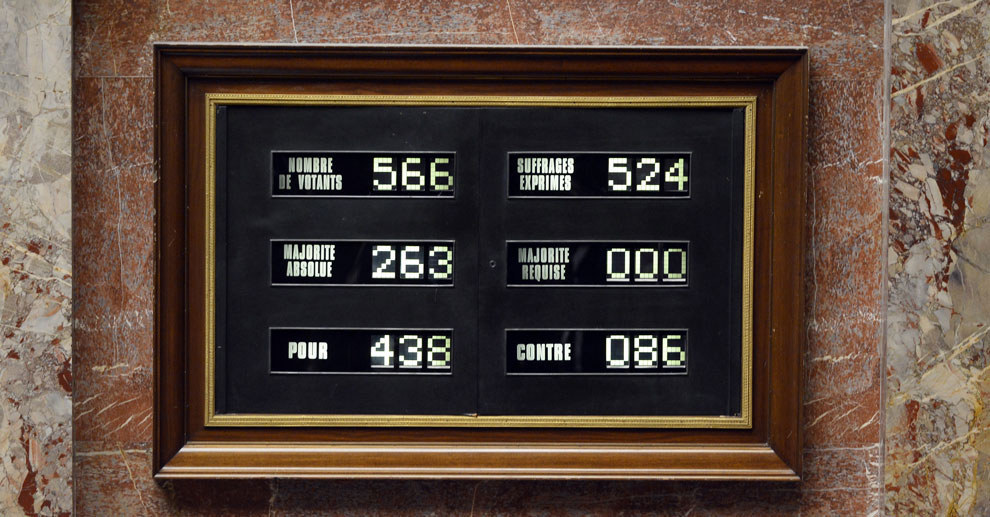 The number of college sex assault complaints in the U.S. has steeply increased over the past five years, according to new data released on Tuesday by Sens. Barbara Boxer and Kirsten Gillibrand. The data showed that the number of Title IX sexual assault complaints rose from nine in 2009 to 102 in 2014. The senators published the data to pressure U.S. Secretary of Education Arne Duncan for greater transparency into how the department is fighting sexual assault on college campuses.
California approved unprecedented water restrictions yesterday to cope with a historic drought. The new regulations come in the form of a tiered system that requires the biggest cuts from communities that have so far made the fewest reductions. Cities such as Beverly Hills and Indio, near Palm Springs, are required to make some of the largest cuts, with reductions of up to 36%. "The new system comes after Gov. Jerry Brown announced a plan requiring cities to reduce their water consumption by 25%," BuzzFeed News' Jim Dalrymple II writes. The drought is currently in its fourth year. The new restrictions go into effect June 1.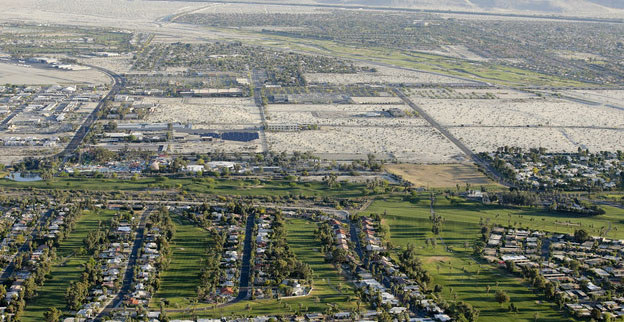 Quick things to know:
The White House described Sunday's shooting at a Muhammad cartoon event in Texas as an "attempted terrorist attack," but said it is unclear if ISIS was involved in the incident, though the group claimed responsibility. (BuzzFeed News)

The latest Edward Snowden leak reveals how the NSA is able to convert words spoken in phone calls into searchable text, giving them greater ability to monitor private conversations. (The Intercept)

JetBlue will begin operating weekly flights between New York and Havana this summer (Time) and the U.S. has approved licenses for ferry services to and from Cuba. (BuzzFeed News)
Some insurance plans still aren't complying with the Affordable Care Act when it comes to providing free birth control. Here's a guide on what to do if you're getting charged at the pharmacy. (BuzzFeed)
HAPPY WEDNESDAY
"A galaxy far, far away — farther, in fact, than any other known galaxy — has been measured by astronomers," according to Space.com. The exceptionally bright galaxy is called EGS-zs8-1, and it's so far away from Earth that we're only seeing the galaxy as it was 13 billion years ago. Way cool.