What's Going On Around The World Today?
Two Republican candidates joined the 2016 presidential race yesterday, with a third scheduled to announce today. ISIS has claimed responsibility for the attack at a Muhammad cartoon event in Garland, Texas. And strike a pose: check out the looks from the 2015 Met Gala red carpet.
HERE ARE THE TOP STORIES
ISIS has claimed responsibility for Sunday's attack at a Muhammad cartoon event in Texas. Yesterday, authorities identified the gunmen as Elton Simpson and Nadir Soofi, who were both shot dead by police after wounding a security guard. Simpson was investigated by the FBI for terrorism five years ago. ISIS justified the gunmen's actions via an audio bulletin on the group's al-Bayan Radio.
"It was the first time the Islamic State, which frequently calls for attacks against the West, had claimed responsibility for one in the United States," according to the Associated Press. "While ISIS claimed responsibility two days after the Sunday attack, there was no immediate indication that the terror group in Iraq and Syria actually had contact with Simpson or Soofi, who both lived in Phoenix," CNN's Holly Yan writes.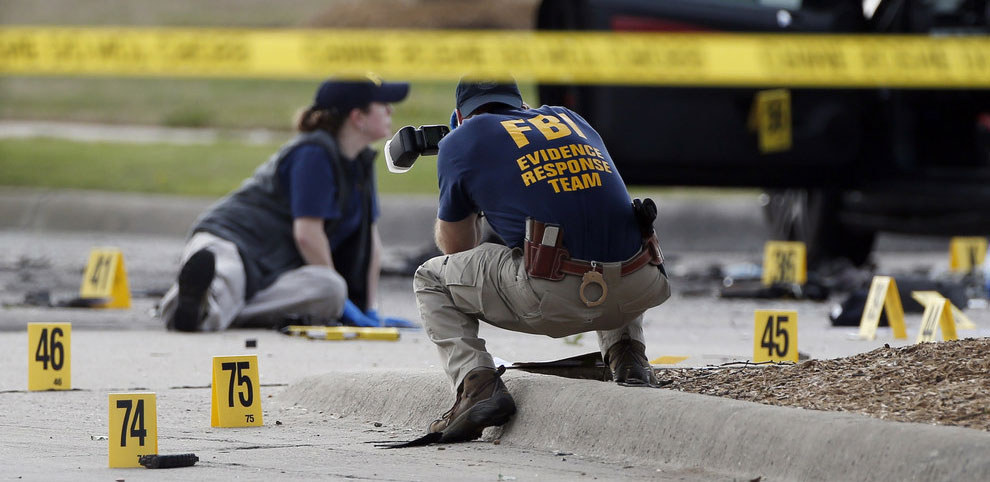 Two Republican candidates formally joined the 2016 U.S. presidential race yesterday, and a third will join them today.
Former Hewlett-Packard CEO Carly Fiorina announced her candidacy on ABC's Good Morning America. She is the first woman to join the Republican presidential race.

Ben Carson, the famed retired neurosurgeon, made his own announcement later in the day in his hometown of Detroit. He is the first black candidate running for president in this election cycle.

A third Republican candidate, former Arkansas Gov. Mike Huckabee, is expected to launch his own campaign for the White House in Hope, Arkansas, later today, according to USA Today.
And a little extra. Both Carson and Fiorina are considered long-shot candidates, and it is virtually impossible for a candidate to win a presidential nomination without previously holding an office or serving in the military — neither of which applies to either candidate, as The Atlantic's David Graham observes. However, "even if they don't win, any one could play a major role in determining which candidate does prevail and what that person's platform looks like," MSNBC's Benjy Sarlin writes.
Having trouble keeping track of who's running? Head on over to the New York Times' 2016 presidential candidate tracker to brush up on who's in, who's out, and who might join the race.
WE'RE KEEPING AN EYE ON
Tamir Rice's body remains unburied as the criminal investigation into his death drags on. Five months after a Cleveland police officer shot and killed 12-year-old Tamir Rice, who was playing with a toy gun in a park, delays in local law enforcement's criminal investigation have left the boy's family unable to bury his body, according to a court document filed Monday, BuzzFeed News' Nicolás Medina Mora writes.
What's next? The City of Cleveland is trying to get the Rice family to suspend a federal civil rights lawsuit, which the family filed in January, while officials continue their criminal investigation. The family argues that the criminal investigation has already taken too long and has filed a formal objection to the request.
The U.S. Department of Justice has launched a review of its secretive cell phone surveillance program, following pressure from Congress and civil liberties groups. The program uses "Stingray" devices that act like cell phone towers and allow law enforcement to collect location data and other unique identifying information from nearby mobile phones. Several agencies use Stingrays to track criminal activity, "but the rules surrounding their deployment — such as whether they require a warrant — have been inconsistently enforced," BuzzFeed News' Hamza Shaban writes.
What's next? Critics argue that the surveillance program gives law enforcement agencies too much power without holding them accountable. These critics, which include members of Congress and civil liberties groups, have called for the program to exercise greater transparency. The Oversight and Government Reform Committee has asked the Justice Department to submit policy guidelines on the surveillance program, detailed information about the Stingray devices in use, and a list of alleged abuses by May 8.
DID YOU HEAR ABOUT THIS?
"Our demand is simple: stop killing us." Since the August 2014 death of Michael Brown, the unarmed black teenager who was shot and killed by a police officer in Ferguson, Missouri, a small group of young, black activists have been using social media to swiftly mobilize protests in cities where a police shooting takes place. Writing for the New York Times Magazine, Jay Caspian Kang follows the group and explores their efforts to build a civil rights movement for the 21st Century.
Corinthian Colleges filed for bankruptcy yesterday, concluding the for-profit college operator's yearlong legal troubles with the federal government. News of the bankruptcy comes more than one week after the company announced it was closing down operations on all its campuses, and several weeks after the U.S. Department of Education fined the company's Heald College chain $30 million for lying to students about its job placement rates. Corinthian is the largest-ever for-profit college operator to shut down, and its closure left some 16,000 students without a school to attend.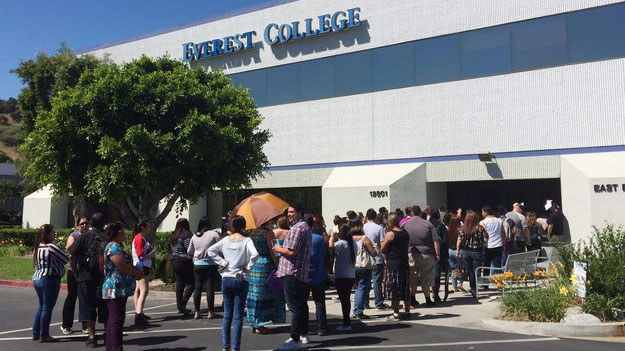 The New York Times launched a series of editorials on transgender rights. In the coming weeks, the Times will focus on issues like transgender people in the military, hate crimes, workplace discrimination, and discrimination in health care. In an interview with BuzzFeed News, Andrew Rosenthal, editorial page editor for the Times since 2007, explained why he sought to build on the paper's advocacy for LGBT rights. "One of the great things about an editorial page is that you can decide to make a big deal out of something, and we decided to make a big deal out of transgender equality," he said. "This is not a front-burner issue for people, and we hope to make it one."
Quick things to know:
HAPPY TUESDAY
Last night was the 2015 Met Gala, the annual fundraising event for the Metropolitan Museum of Art's Costume Institute in New York City. The stars brought their best fashion game to the gala (here's a guide to what everyone wore). Some were strong. Some inspired jokes. Some did both.