HERE ARE THE TOP STORIES
Donald Trump came under heavy attack during last night's Republican debate.
The candidates managed to agree on one crucial thing, though: Ted Cruz, Marco Rubio, and John Kasich said they'd support Trump if he was the Republican nominee, BuzzFeed News reports. But overall, things got feisty:
Cruz claimed Trump supported Democratic candidate John Kerry over George W. Bush in the 2004 presidential election, but there's little proof of that.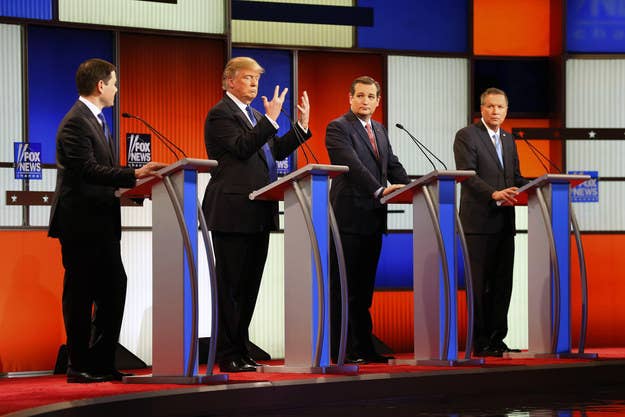 And a little extra.
Trans woman Caitlyn Jenner said she wants to be Ted Cruz's trans ambassador if he becomes president. In an interview with The Advocate, Jenner spoke highly of Cruz, who's known for his anti-trans sentiments, BuzzFeed News' Claudia Rosenbaum reports.
Want more? Politico fact-checked last night's debate. And here's what's coming up this weekend (spoiler: more voting).
WE'RE KEEPING AN EYE ON
Thousands attended the funeral of the man responsible for one of Pakistan's most high-profile assassinations.

Mumtaz Qadri was hanged on Monday, five years after he killed Salmaan Taseer, the governor of the country's heavily populated Punjab province "who was an outspoken critic of Pakistan's harsh blasphemy laws and supported liberal reforms," BBC News reports.
Qadri's funeral on Tuesday was attended by tens of thousands of people, who "lionized the convicted murderer, believing he acted in defense of Islam," according to the Wall Street Journal.
Qadri claimed it was his religious duty to kill the liberal Taseer. In the months before the assassination, Taseer had spoken out in support of a Christian woman who had been sentenced to death for insulting the prophet Muhammad, sparking anger among conservatives. Human rights groups say Pakistan's strict blasphemy laws convict hundreds of people for insulting Islam, often on flimsy evidence, The Guardian writes.
What's next?
The execution raises the question of whether narratives about extremism are starting to shift for the better. Pakistan has, at the end of the day, "hanged a man who was revered by the radicalized elements of society. This is no small matter," The Diplomat writes.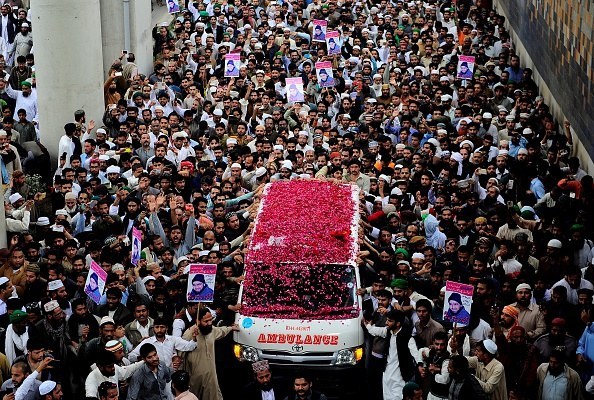 Regulations in China are blocking TV shows with gay characters.
Broadcast officials in China are censoring programs that feature gay characters as part of a new series of measures to tighten control on media and the arts in the country, BuzzFeed News' J. Lester Feder and Beimeng Fu write.
Several shows have recently disappeared from streaming sites, including a web series called Addiction about gay teenagers. It's a powerful signal to the industry that producers should self-censor in order to avoid running into trouble with authorities, Feder and Fu write.
A bit of background.
Stepped-up censorship of LGBT content comes at a time of growing visibility for gay and lesbian people in China. Last year, massive Chinese online commerce company Alibaba ran a public competition for 10 same-sex couples to win a trip to get married in California and Chinese courts are allowing a lawsuit by two men seeking to marry to proceed, Feder and Fu write.
For the latest news and stories, download the BuzzFeed News app for iOS and Android.
DID YOU HEAR ABOUT THIS?
One man is using live video streaming app Periscope to shame Mexico City's wealthy lawbreakers into behaving.
Meet Arne aus den Ruthen, the director of borough management in one of Mexico City's most affluent neighborhoods, who has streamed hundreds of videos of "people breaking regulations caught in the act," BuzzFeed News' Karla Zabludovsky writes. A heated debate has emerged: Is he a hero who works as the first line of defense against corruption and entitlement or do his live videos violate people's rights?
"Seeing the wealthy and relatively powerful, those who navigate life with a devil-may-care attitude toward the law, publicly exposed is an irresistible spectacle for Mexicans," Zabludovsky writes. "In the most extreme cases, the lack of trust in a working judicial system has led to a rise in lynchings throughout Mexico. In that context Den Ruthen's work has made him a kind of folk hero for many people."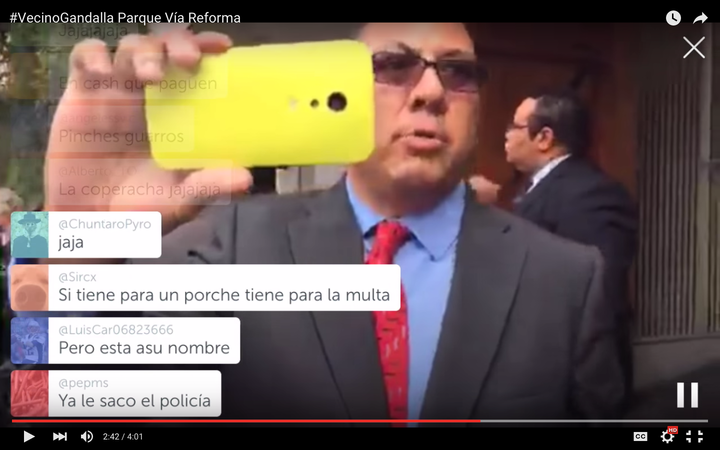 Quick things to know:
Happy Friday
After his dog died in a coyote attack, Paul Mott began developing dog vest prototypes that could prevent other small dogs from suffering the same fate, BuzzFeed News' Leticia Miranda writes. The vest is made of the same type of fabric used in bulletproof vests, and the full armor includes a spiked collar and porcupine-like nylon whiskers along the vest's spine to make your dog look too ~crazy~ to be attacked by a coyote. This feels like the beginning of a self-protection revolution.